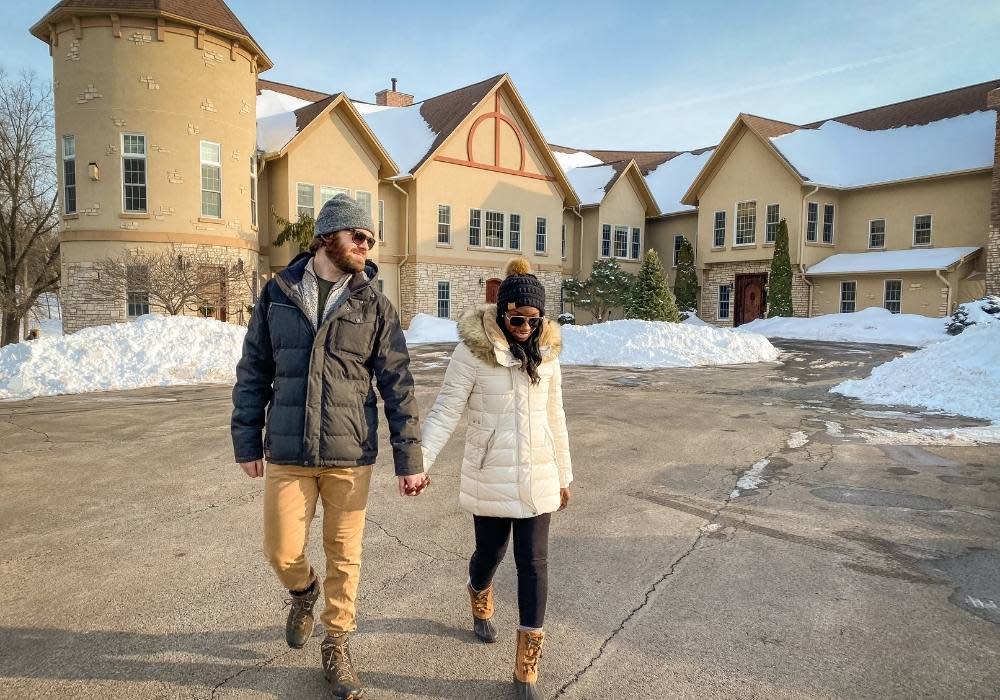 Image: Goldmoor Inn & Dining
The day of love and romance is almost upon us! Step aside teddy bears and chocolates; instead, sweep your soul mate off their feet with these unique finds from Galena Country, where romance thrives! 
Sensual Scents 
Imagine how romantic it would be for you to hand your sweetheart a bottle of perfume or scented candle that you made yourself? Make this a reality at the Scent Workshop, where you will learn French Perfuming techniques. Noty Kity stocks sexy lip balms, body lotions, massage oils, accessories, and more! Galena Apothecary not only offers a wide assortment of beautifully scented candles and natural beauty products, but they also sell circa 1850 salvaged wood boxes and trays, jewelry, books, and paper goods. For locally handmade soap, Beautifully Berkeley Botanical Bars are a treat for the skin! 
Made with local love    
A gift carefully handcrafted by local artisans holds value beyond the price tag! Galena Spoon Co. offers a wide selection of both new and vintage hand-carved wooden items. Choose from spoons, handcrafted kitchen boards, hand-turned bowls, and more to impress your loved one!
For exquisitely sculpted animals, roses, and even pens, visit Marie's Wood Carvings, where each artisanal piece has been hand-carved and finished with intricate detail. Now is your chance to give roses that last a lifetime. Find contemporary functional designs at Eshelman Pottery, showcasing stoneware that features glazed and unglazed surfaces for visual and tactile contrast.
Choose a bottle of local award-winning wine from Fergedaboudit, Galena Cellars, Massbach Ridge, and Rocky Waters, or grab one bottle from each! If your better half is more of a beer connoisseur, grab a growler of their favorite local brew from the Highway 20 Brewing Company, Pecatonica Beer Co. Tap House, Galena Brewing Company, or Mud Run Beer Co. Cocktail kits are available from Blaum Bros. Distilling Co. and bottles of their premium whiskey, vodka, and gin. Of course, nothing shouts romance quite like a bottle of bubbly from Champagne on Main! 
For the love of leaves   
Nine Generals Cigar Shop curates the best selection of cigars for every palate, specializing in handpicked unusual choices to tease the taste buds of new and seasoned cigar smokers! They also carry a variety of men's shaving & grooming items for your bearded fella! 
For all things Hemp Botanicanna Herbal Hemp Co., Sulcanna Hemp Cooperative, and Verilife Cannabis Dispensary carry extensive cannabis and hemp products, including CBD and full-spectrum hemp. Find edibles, hemp seed, oil drops, topicals, and hemp-infused massage oils. 
For your cannabis lover, you may also consider a gift certificate to the Aldrich Guest House, Galena's first and only cannabis-friendly lodging. As a guest, you have access to their 'Potting Shed,' complete with snacks!
Quality Time  
If you really want to impress your sweetheart, give them the gift of quality time together in Galena Country! Book a romantic weekend escape or a day trip – just the two of you! Include the following unique experiences in your itinerary or give a gift card to use at a later stage. 
Float on cloud nine with your love in a hot air balloon ride with Galena on the Fly! Glide peacefully above the rolling landscapes of Galena Country, ending with a champagne toast and chocolates! Hike through beautiful native prairie and forest with some entertaining four-legged companions at Hoof It Goat Treks.
Does your partner have a love affair with coffee? Book a Brew Methods experience with Trolley Depot Coffee, where an expert barista will guide you through the journey their beans take from farm, to roastery, to coffee shop, and finally, your home! For more bucket list ideas, click here. 
Could this Valentine's Day be the day that you pop the question? Nudge, nudge, wink, wink! We also happen to know of an incredible wedding destination! 
In Galena Country, we've never been anything other than ourselves, and that's truer than ever today. Learn more about what this romantic destination has to offer by browsing the Digital Visitors Guide and you can even enjoy it as a couple from the comfort of your own home.