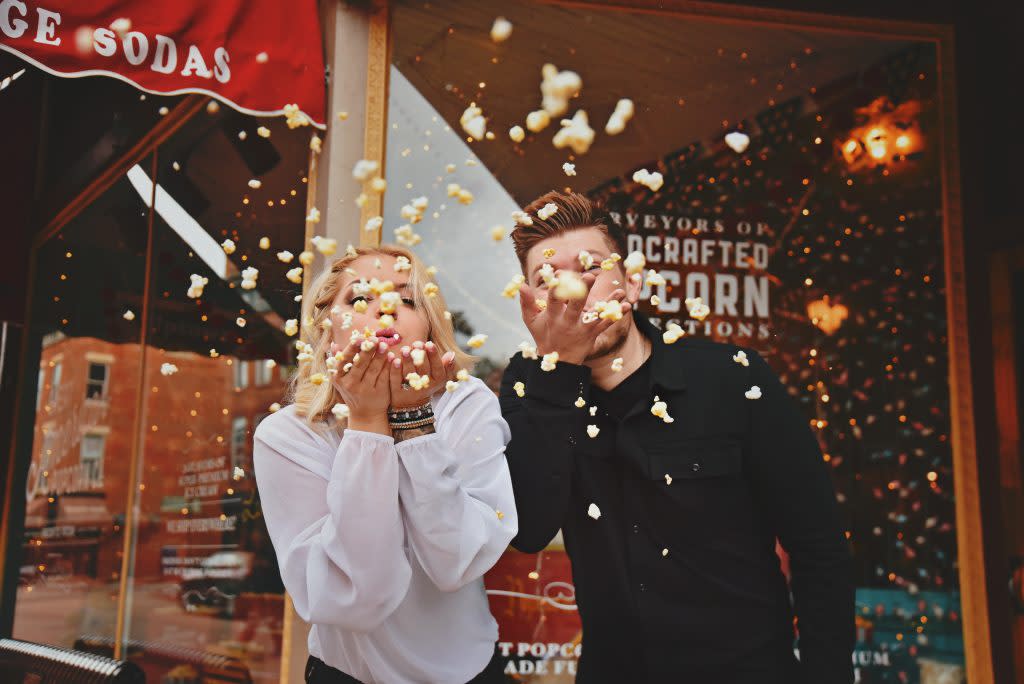 © Orangeanchor Photography
From breathtaking views and romantic eateries to hot air balloon rides and magical winter celebrations, Galena Country has everything you need to pop the question in the setting of your dreams. Consider one of these dreamy locations for an unforgettable marriage proposal.
Say 'Yes' to Fresh
The lush landscape of Galena Country provides a beautiful backdrop for any proposal. A romantic sunset picnic with a bottle of wine at Horseshoe Mound Preserve is sure to get rave reviews. If you're staying in The Galena Territory, the Thunder Bay Falls are a lovely option. Or in Apple River, atop the bluffs or along the river at Apple River Canyon State Park are locations that include a romantic scenic drive! Galena's Grant Park offers many proposal-worthy locations and landmarks, not to mention the breathtaking town perched along the hillside! Take a stroll along Main Street or overlooking the city, atop the Green Street Stairs during golden hour!
A Rehearsed Dinner
Rich in historically amazing eateries, you'll want to indulge in the fine dining of Fried Green Tomatoes, Log Cabin Steakhouse, or Fritz and Frites Bistro. For dinner with a view, check out Highlands & Lounge 289 at Eagle Ridge Resort & Spa or Timmerman's Supper Club, The Goldmoor Inn, or Chestnut Mountain Resort - all showcasing priceless views of the Mississippi River.
Enchanting Accommodations
A romantic getaway is a perfect time to further your love story! Galena Country's award-winning, luxury lodging properties offer an intimate and romantic setting for just the two of you. Consider indulging in Jail Hill Inn, Aldrich Guest House, Lamberson Guest House, Inn at Irish Hollow or Hawk Valley Retreat as your home-away-from-home. Whether you choose to lodge immersed in mother nature, amidst history, or in the heart of downtown Galena, this vacation is one you'll never forget!
'Head over Heels' Experiences and Events
Book a private flight and propose on a hot-air balloon, among the vines of a local vineyard, or at one of many epic events. Consider happenings with a more romantic flare such as the Night of the Luminaria and Living Windows, Holiday Fire in the Sky, Corkless in Galena, Great Galena Balloon Race, or Galena Cellars Fall Harvest Festival.
In Galena Country, we know the importance of taking the time for the things that matter most. Whatever the location, make it meaningful, personal, and don't forget to use #GalenaCountry on those snaps! Begin planning the next chapter by booking your stay and checking out the digital visitor's guide.