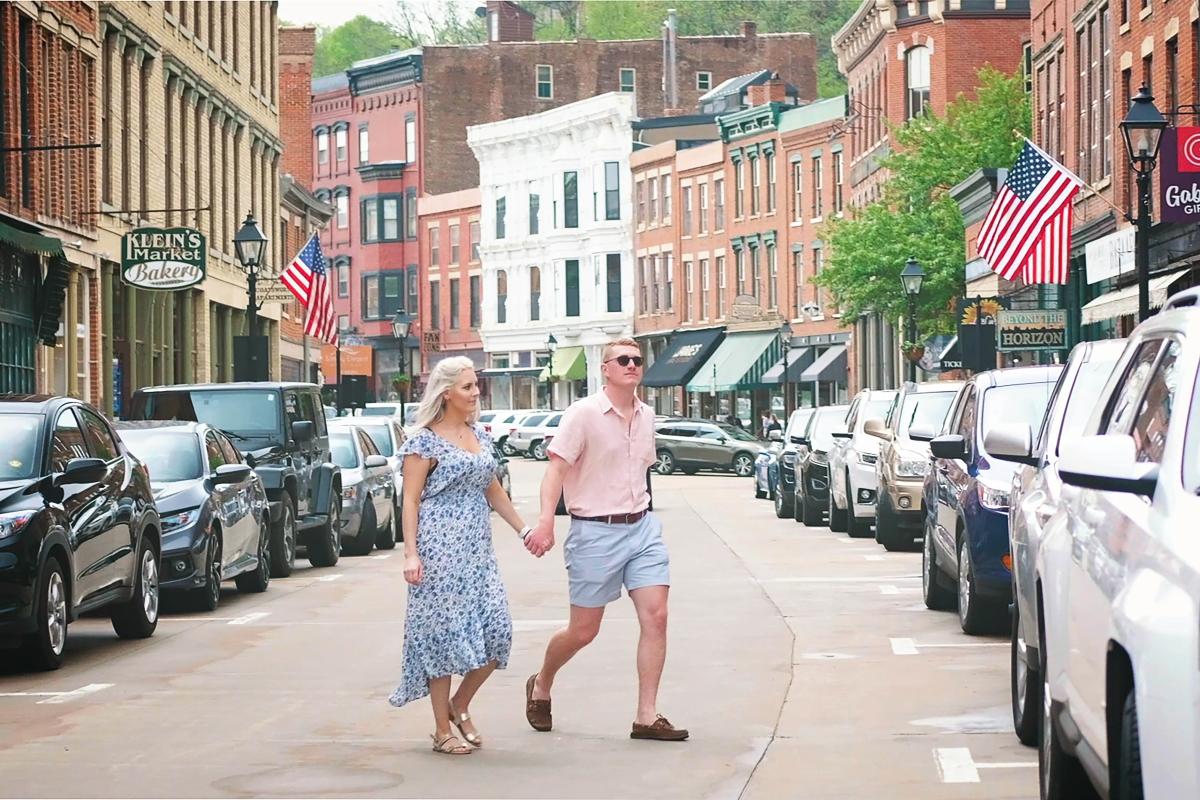 Beautiful year round, Galena Country offers breathtaking views, delicious food, one-of-a-kind boutique shops and priceless memories waiting to be made on a scenic road trip. 
Elizabeth
Traveling west on Highway 20 towards Galena, you will drive through the charming village of Elizabeth. Stretch your legs and enjoy a scrumptious breakfast at E-Town Coffee Co. Pick up a bottle of wine from their great selection for that sundowner later on, and browse the local art on display.
Before you leave, grab a cup of E-Town's locally roasted, freshly ground coffee for the road! Elizabeth is where the battle of the Apple River Fort took place as part of the Black Hawk War in 1832. An exact replica of the fort lies on Myrtle Street if you want to take a peek.
Long Hollow Scenic Overlook
As you leave Elizabeth, you will be treated to views of wooded countryside interspersed with neat farmsteads and hilly terrain. Who says Illinois is flat? Not here! A must-stop is the Long Hollow Scenic Overlook. The breathtaking scenery of Galena Country's rolling countryside is quite something! Be sure to use this perfect backdrop to snap your selfies!
Tapley Woods
Traveling just a little further will take you into the Tapley Woods Conservation Area, home to the Long Hollow Canopy Tours. Driving through this area is a special treat in any season! The forest crowds in close to the roadside, and with low speeds and open windows, you can enjoy the sounds of birdsong and the buzz of insects. There are spots where the trail breaks clear of the woods and opens up to views of the hilly landscape.
Galena
Ahhhh, Galena! Such beauty and so much history! As you enter this town, you feel like you've stepped into a movie set. Frozen in time, the Historic Main Street is lined with beautifully restored 19th Century buildings which house art galleries, eclectic boutiques, and stores as well as restaurants. Nearly every scene offers a picturesque background you won't forget.
Stop in at the 1864 American Old-Fashioned Ice Cream Parlor which features an old-fashioned fountain and original cabinets. Grab a refreshing ice cream and take a seat on a sidewalk bench to take in the sights and sounds of Galena. Directly next door to the ice cream parlor is Galena's Kandy Kitchen. You can't pass up the opportunity of purchasing some lip-smacking homemade candy for the rest of the drive!
Everywhere you go in Galena Country turns into a classic road trip, packed with adventure and places to explore. There is no hurry, take your time and soak it all in. Start planning your trip today by browsing the latest Galena Country visitors guide, and be sure to book your accommodation early!