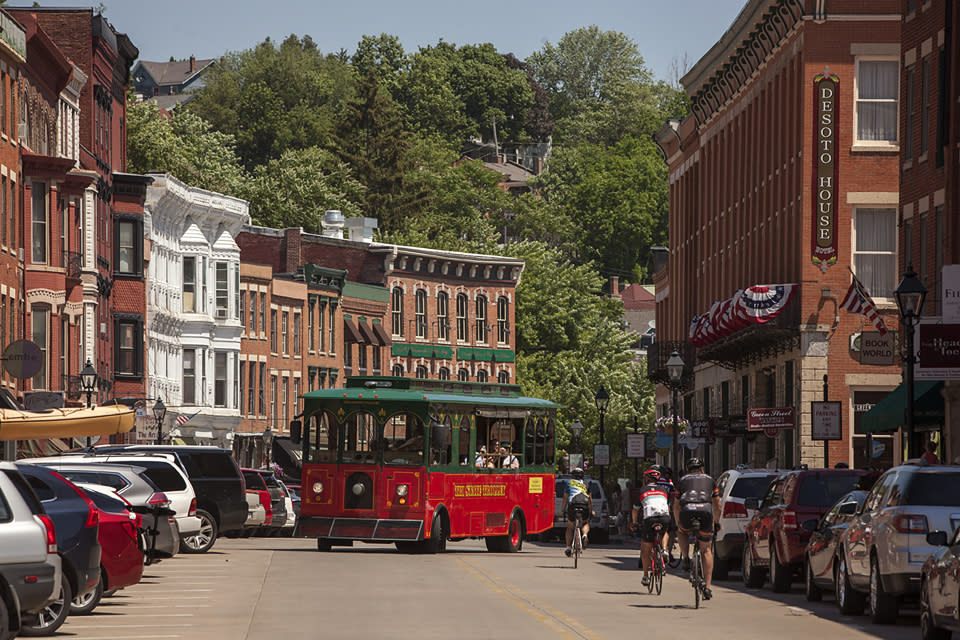 Galena Country is an area with a rich and storied past, and just like the area it represents, it is full of great stories and colorful characters. While it's many years in the making, our story only gets better with time! We have a history of seeing things others don't. And when you're here, you'll see and do things you won't see anywhere else. We call it being original.
Explore the 11 unique locations that make up Galena Country with this adventure-filled, 4-day itinerary!
Day 1
Plan to have lunch in Stockton. With fun features for the whole family, this is the perfect spot to get out and stretch your legs. Fill up on a juicy burger at JJ & Freddies, shop at Savvy Scavengers, and bag your own candy at Sweet Alice's. Stroll the town to find memory-making opportunities with the artistic murals and the Kidstown wooden playground! Everyone loves a good story. And here, one story always leads to another. Learn something new at the Stockton Heritage Museum, featuring N-scale model trains and Kraft Foods' history (Fun fact: Kraft started in Stockton, Illinois).
Take in magnificent views while heading to Apple River for an outdoor adventure! Fuel up at Thriving Thistle Market and stock up on organic goodies and fresh-made smoothies for a picnic lunch. One is sure to find plenty of delectable items to enjoy now and later! Journey along to Apple River Canyon State Park with a picnic lunch and camera! Unplug and enjoy each other!
After exploring, cruise the historic Stagecoach Trail and head towards Scales Mound. Stop into the Country House Grocery for last-minute essentials, snacks, and yummy treats! Follow the route to Galena and check into your lodging to rest up or drop off suitcases and explore Main Street for live music performed by local musicians in one of the many entertaining pubs. In Galena Country, we've never been like anywhere else, and we're proud of it.               
Day 2
Elizabeth: Arrive early, come hungry and ready to shop! Be sure to stop by the Scenic Overlook on the way! Start the morning off with a breakfast sandwich and coffee from E-town, followed by treasure hunting at Common Cents Resale, Elizabeth Grand Antique Co., and Three Sisters Sweet Shoppe. Make time to check out the Apple River Fort State Historic Site and Chicago Great Western Railway Depot Museum to experience a bit of history. To us, history isn't about endings; it's where stories begin. And one good story always leads to another.
Take a break to indulge in a tasty lunch at Cajun Jack's and delicious local brews at the Highway 20 Brewing Company before heading to Hanover. In Galena Country, you'll find us running, cycling, or hiking up hills, gliding through trees, or paddling on the water! Enjoy a scenic hike at the beautiful Wapello Land & Water Reserve, nestled along the Apple River. For the drive back to Galena, consider following Blackjack Road for a scenic pit-stop at Chestnut Mountain Resort, an all-seasons resort with zip-lining, alpine slide, mini-golf, segway tours, boat rides, and winter sports!
Menominee and East Dubuque are calling! Delight in dinner at Timmerman's Supper Club, nestled among the bluffs of the Mississippi River; the food and views offer a memorable experience for the family or a romantic dinner for two. Millennium Bar & Marina and Frentress Lake Marina are great spots to watch beautiful sunsets! Head back to Galena for an epic magic show with P.T. Murphy! We've always been known to have a good time. Times may change, but that never will.
Day 3
Breakfast in Galena: some local favorites include Otto's Place, Dillon's, Paradise Grill, and Galena Bakehouse. Hit up Galena's Main Street for an incredible shopping experience with more than 125 independently owned stores. Get your history fix with a tour of Grant's Home, The Dowling House, and The Old Blacksmith Shop. Sight-see the streets of Galena via trolley to further discover the beautiful homes and views that are often raved about. The best thing about being where time is forgotten is that you lose all track of it.
Enjoy lunch at Green Street Tavern in the Historical DeSoto House Hotel before continuing to Warren for a beer tasting at Pecatonica Beer Company and Tap House. To further extend the scenic adventure, swing back onto Stagecoach Trail and make your way toward Nora. A small community with a hoppin' bar! Kick back and enjoy a refreshing beverage and appetizer before journeying on to the next stop! Venture back onto the beautiful Stagecoach Trail to Galena. 
Day 4
Enjoy locally roasted coffee and a delicious breakfast sandwich at Big Bill's in downtown Galena before a little shopping and wine/spirits tasting. Begin the leisurely trip home with lunch at Small Town Saloon in Elizabeth. (Vegan's...get excited about the Impossible Burger!) Might as well stock up on apple cider donuts at Dittmar Farms Orchard station while in town.
The last stop to complete the tour of Galena Country - Woodbine. Search for specialty gifts at Nature's Treasure and stop for a round of golf at Woodbine Bend; at the very least, indulge in their delicious fish fry! (Did you know that Galena Country is home to 10 golf courses?)
There it is... 11 wonderful Galena Country locations included in one itinerary. Switch it up and try new things each visit; with so much to do, it's always an adventure! 
Galena Country transports people to another time and place to enjoy one-of-a-kind experiences and adventures. Some historic, some timeless, and some brand-new, but always original! Start planning a trip today by browsing the latest Galena Country Visitors Guide, and be sure to book your accommodation early!