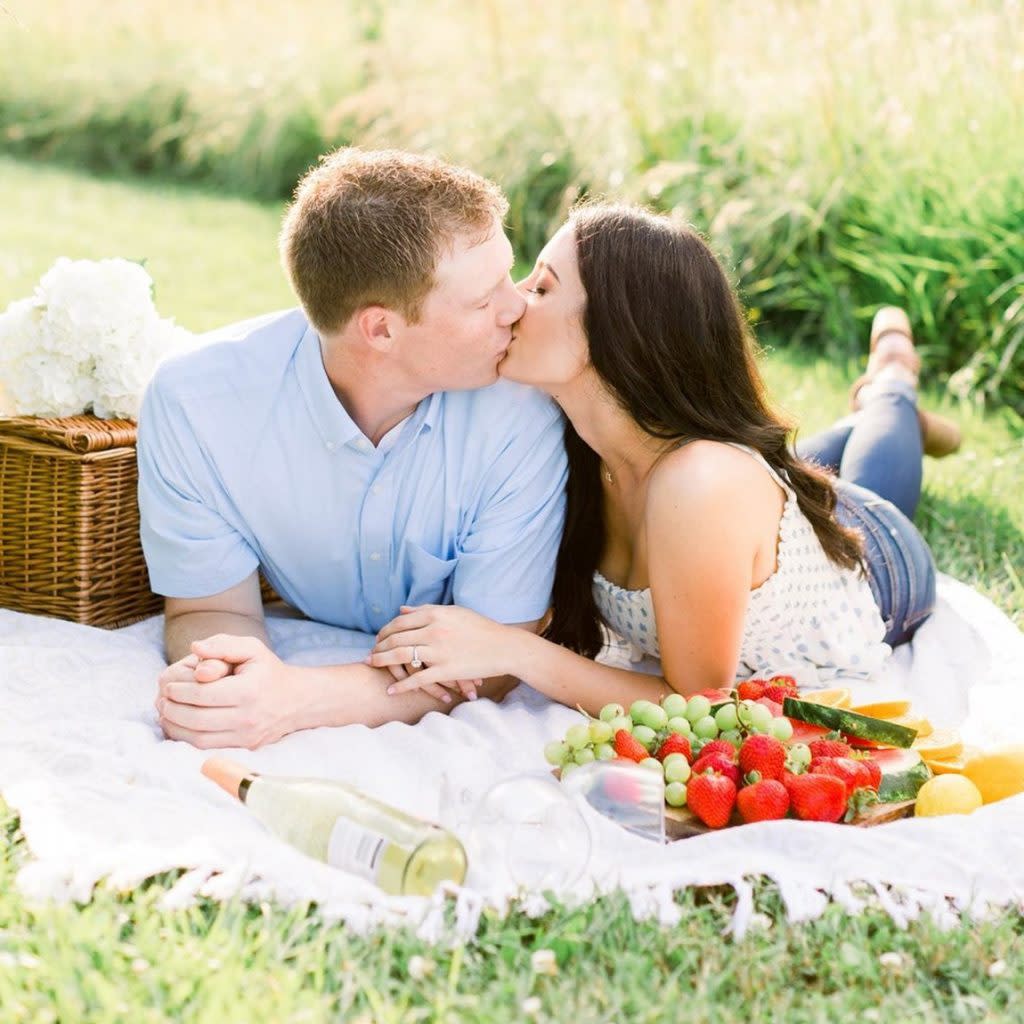 Credit: @lindseytaylorphotography
As the weather invites us outside with its blue skies and fresh breeze coupled with blossoming blooms and cheerful bird chirps, it's hard to resist the urge to picnic! With social distancing in place, it's an ideal way to dine safely with your family.
Sit in the sun or the shade of a mossy tree, take your shoes off and lie back in the cool grass, all while enjoying delicious treats and the company of loved ones while chasing a flying napkin or two. Speaking of chasing things... your fur baby would love a new frisbee from New Earth Animals to enjoy at the picnic!
What's in the basket?
Part of the adventure is the unveiling of what has been packed in the basket! Let's take a peek at the deliciousness that awaits: A selection of gourmet cheeses, sausages, and pâtés from Galena River Wine and Cheese, freshly baked bread and pastries from Tammy's Piggly Wiggly and delicious sandwich meat from Pat's Country House Grocery.
Digging a little deeper, we have tasty dips and spreadables from Galena Canning Co. and the Grateful Gourmet Co., as well as yummy gourmet popcorn from the Great American Popcorn Co. Oh, what's this we have here… some chocolate covered strawberries from Galena's Kandy Kitchen for dessert. Yum!
What's in the cooler bag?
No picnic is complete without a refreshing beverage! Pack a bottle of wine from one of Galena Country's award-winning wineries or a growler of flavorful locally brewed beer! Looking for something a little different? Substitute the wine and beer with a cocktail kit from Blaum Bros. Distilling Co. or from Miss Kitty's Grape Escape for the perfect sundowner! Cheers!
Great spots to lay down your picnic blanket
Casper Bluff Not only does this preserve boast some of the most commanding views of the Mississippi River and its backwater sloughs but the site also contains Native American mounds which were created centuries prior by local natives of the land. The most fascinating mound being the Thunderbird Effigy Mound, the only one known of its kind in Illinois. Gramercy Park Located on the bluff in East Dubuque overlooking the Mississippi River, this 10-acre city park is an Illinois Natural Heritage Landmark. It is home to 26 ceremonial and burial mounds from the Hopewell Native American Culture.
Grant Park Pack a bottle of bubbles for the kids from Gabby's Gifts or Poopsie's online stores and enjoy a picnic in this historic and scenic park! Take in the stunning views of the city of Galena, watch the trains go by and check out the historic cannons and monuments. It's selfie time with U.S Grant!
Horseshoe Mound This 40-acre preserve offers one of the most scenic outlooks in Galena Country! The breathtaking views stretch across three states. Take a closer look through the viewing scopes! After your picnic, enjoy the hiking trails that extend throughout the preserve.
Wapello Land and Water Reserve Based on its significance as a meshing point of two Native American cultures, this 79-acre site south of Hanover, was accepted into the National Register of Historic Places. It now boasts one of the premier prairie restorations in the Midwest.
It's true. You can't change time. But if you spend it right, it can change you. Make the most of your time with a perfect picnic, making memories...where one good story always leads to another! Start planning a trip today by browsing the latest Galena Country Visitors Guide and be sure to book your accommodation early!
Please be prepared to enjoy Galena Country responsibly by wearing a mask and keeping your distance.