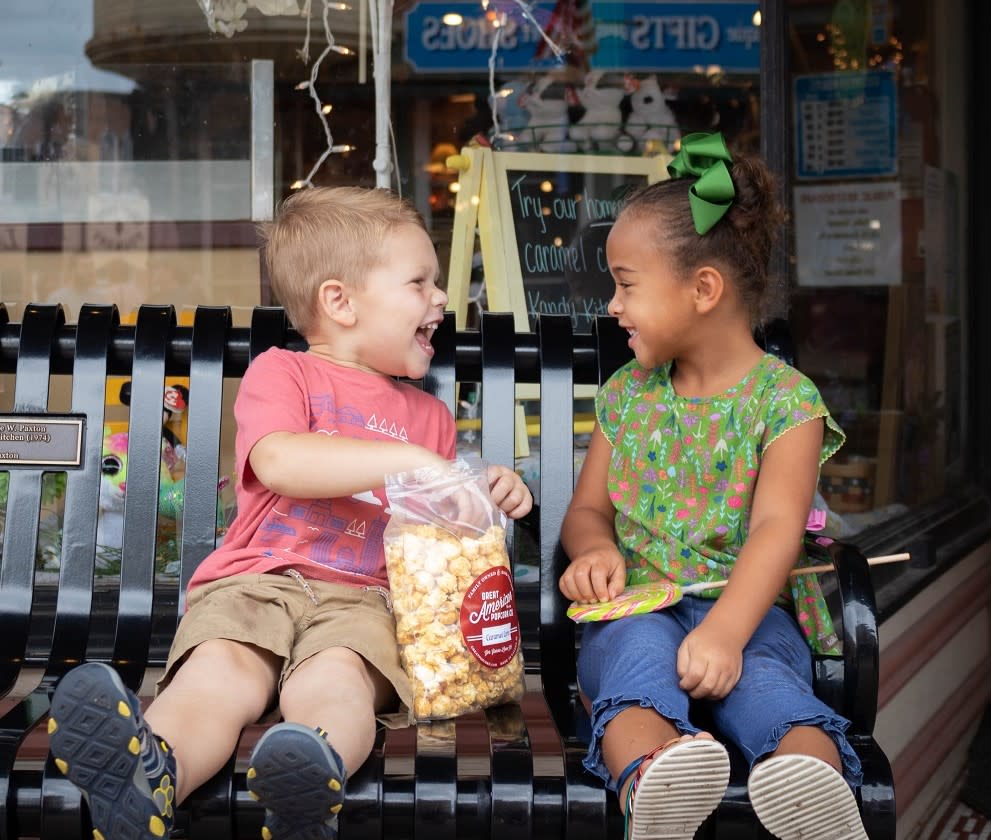 Sweet dreams are made of these! Whether you count chocolate, candy, ice cream or milkshakes as your guilty vice, embark on a taste adventure at these 12 sweet spots in Galena Country.
Galena's ice cream parlor since 1970, serving homemade waffle cones, floats, shakes & malts, and banana splits. This 1846 shop features original cabinets & old-fashioned fountain and is the perfect spot to dig into a piece of homemade pie with ice cream.
This charming candy store features an exceptional collection of European chocolates imported from Belgium, France, Germany and Switzerland. Find the ideal gift or to treat yourself to a sweet indulgence.
Oh my... sugar high! Choose from a selection of nostalgic candy, taffy, jelly belly's and more! Take home one of their famous fair food snacks from lemonade shake-ups to delicious cinnamon sugar mini donuts!
Tempt your tastebuds with fresh-baked confections such as cookies, brownies, orange & cinnamon rolls and bars at this sweet spot! Try a bite of one of the 15 varieties of cookies!
Grab a scoop of refreshing gelato from this adorable bar tucked inside Elle & Becks home and fashion boutique! Browse the latest in fashion and accessories while savoring your delicious scoop!
Fresh homemade candy for 45 years. Fill a bag with candy treats from barrels and glass candy jars, like saltwater taffy and Jelly Bellys. Their signature item is the "Georgie", a turtle candy made-from-scratch. Fans also swoon for the chocolate-covered strawberries, dipped in quality chocolate!
For a crunchy munch, pick from more than 60 gourmet popcorn flavors, popped and seasoned in small fresh batches. Try the cookies & cream or cherry cheesecake for some sugary goodness! That's not all... check out their wide selection of ice cream, chocolates and candies!  
The smell of fresh cinnamon rolls, loaves of poppy seed or lemon bread and homemade pies with lure you into this family-owned bakery. The inventory goes quickly, so don't wait too late into the afternoon to visit.
This store permeates odors of sweet caramel and chocolate, naturally tempting one to stop in and sample the numerous varieties of fudge and chocolate made on-site. Watch delicious treats being crafted on the spot including caramel apples dipped in a traditional copper kettle. Try their giant chocolate chip cookies dipped in chocolate!
Hard-to-find root beers and craft sodas from around the country fill shelf after shelf at this old-fashioned root beer shop, serving varieties of the delicious, historic beverage in bottles and on tap. Their selection of root beer can also be enjoyed over ice cream. Change up your float with a gourmet flavor of your choice, like orange cream, key lime or black cherry.
Sporting a unique Alice in Wonderland theme, this charming store offers professionally made and designed chocolates and other treats such as The Berkeleys, Traighton's Truffles, and Kylie's Caramels. If you are more of a "candy person", you can bag your own gummy candies, licorice, wax bottles, etc., too! It's a trip down memory lane for some who remember the old candy stores.
For the perfect indulgence on a hot summer's day, enjoy a hand-dipped ice cream from this delightful store! Grab a freshly baked cupcake and some candies for the road while you wait to be served. Don't forget to take a selfie in the giant pink chair! There are a lot of places out there, but there's nowhere like us! Book your accommodation and plan your escape to Galena Country where you will make sweet memories!