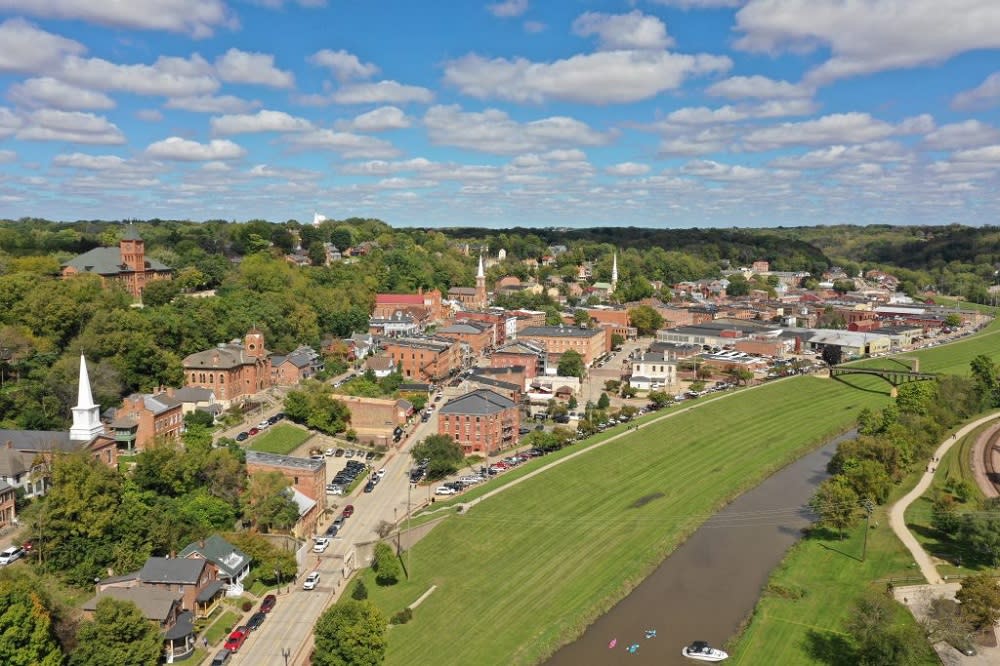 Take a break from the daily stress of balancing work life, home life, and personal "you time" to regain sanity. It's a no-brainer, trade that morning alarm clock for a midweek refresher to Galena Country! Book the perfect getaway with this three-day itinerary. 
Day 1
Make a pit-stop in Stockton for an early lunch at Stella's Cafe' & Catering. Take time to strike a pose in front of the murals; a stop into Sweet Alice's is the perfect cure for a sweet tooth! Make your way to Elizabeth for some retail therapy at Elizabeth's Grand Antique Co., Village Treasures, and Common Cents Resale. Arrive in Galena just in time to check into accommodations, followed up with a savory dinner at the General's Restaurant.  Discover a different side of Galena's history on a tour with the Haunted Galena Tour Company, or quench your thirst on Matthew's Haunted Pub Crawl. Pollish off the night with drinks and live music at Miss Kitty's Grape Escape.
Day 2
Begin with a hearty breakfast at Otto's Place - be sure to ask about the quiche of the day and try a piece of warm, homemade coffee cake. Stroll across the Galena River for a fresh cup of locally-roasted brew from Galena Roasters, Trolley Depot Coffee & Tea Co., The Mean Bean, Kaladi's Coffee Bar or Big Bill's Sandwich and Coffee Bar. Discover more than of 125 independently owned boutique shops, galleries, attractions and eateries nestled into Galena's Historic Main Street. Whether you fancy yourself a foodie, fashionista, or history buff - Main Street is a treasure-hunting paradise! Next up, lunch at The Market House Restaurant, followed up with wine tasting at the Massbach Ridge Tasting Room. Learn about gourmet wine pairings made from locally-grown grapes, then stop over to the Dowling House for a little history before dinner. Enjoy a scenic drive along historic HWY 20 to East Dubuque for a delicious meal at Timmerman's Supper Club, perched along the bluffs of the Mighty Mississippi River. Be sure to finish off dinner with a hand-blended grasshopper! If it's a Thursday, take advantage of Thursday Night Live, or if it's the end of the month, Live at the Plaza! Feast your eyes and ears every Thursday night from 5-7 p.m. on historic Main Street, with live music and art from incredible local and regional performers.
Day 3
After hitting the snooze-button, fuel up with breakfast at Victory Cafe in Galena, a leisurely morning walk along the levee and up to the Ulysses S. Grant Home for a tour. Take the scenic route home, this time via Stagecoach Trail, grab a delicious smoothie at Thriving Thistle in Apple River and a bite to eat at Chubz Pub & Grub or Wally's Pizzeria in Warren.
With Galena Country only being a few hours' drive for many - it's the perfect getaway at any time! There's a lot of places out there, but there's nowhere like us! Book your stay and let the planning begin with a browse through the digital visitors guide.