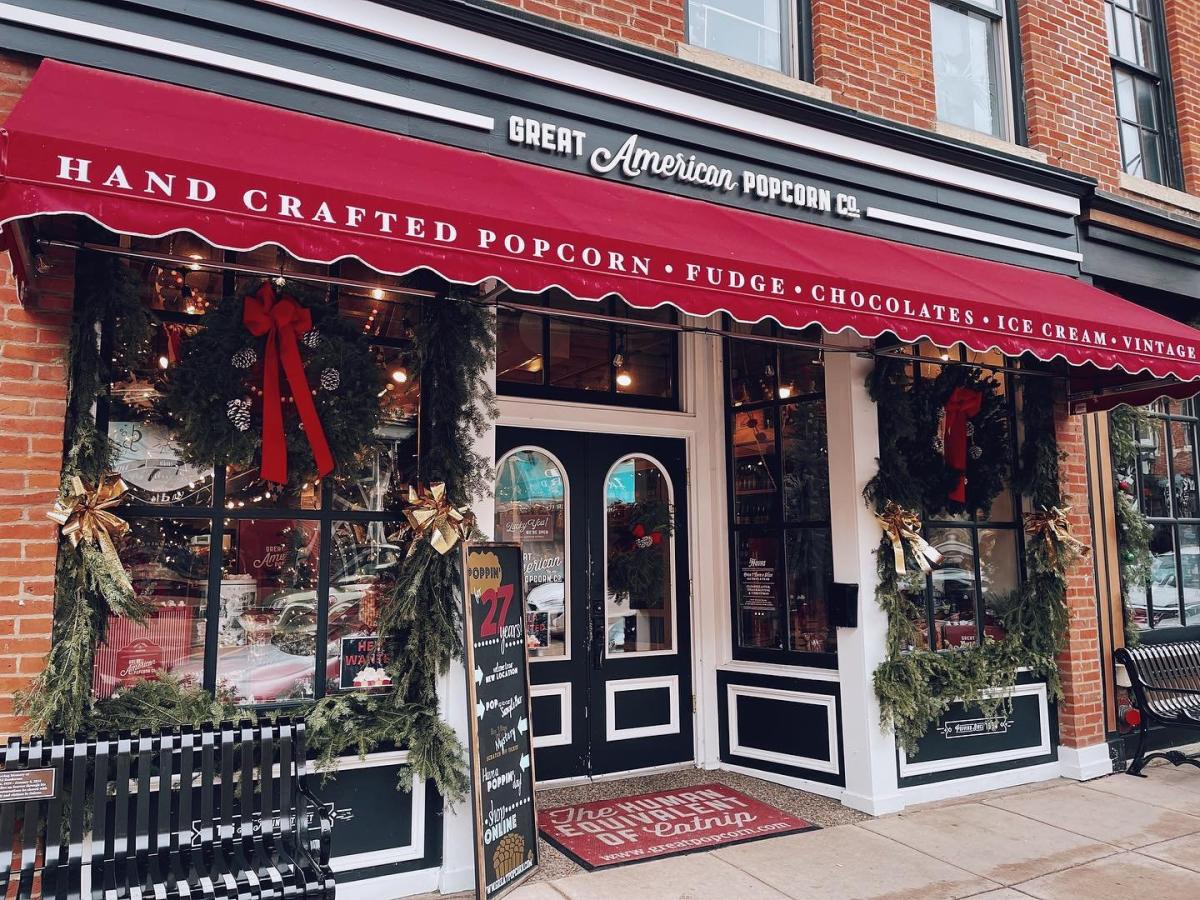 Credit: Great American Popcorn Company
Everyone has a few foodies in their lives and Galena Country is just the place to find them that perfect Christmas gift… from treats and gourmet foods to the best kitchen accessories and gadgets, guaranteed to inspire anyone to get into the kitchen.
Here's a guide on where to find your foodie gifts:
Chocolat' 229 Find the ideal gift of sweet indulgence right here. Featuring an exceptional collection of European chocolates imported from Belgium, France, Germany, and Switzerland.
Galena Canning Co. Choose from award-winning Chef Ivo's locally made old-fashioned jams, jellies, salsa, BBQ sauces, Hot Sauce Emporium and more! There are samples galore for you to test, gift baskets to choose from and custom gift crates.
Galena Garlic What foodie doesn't love garlic! Naturally grown gourmet garlic, gourmet chef blends, rubs, aged balsamic, and the world's freshest olive oil. Create your own gift basket to suit any need or taste.
Galena's Kandy Kitchen Here you'll find a wide variety of homemade confections made the old-fashioned way on site. You'll find every kind of candy you can think of.
Galena River Wine & Cheese Give the gift of gourmet foods from this extensive selection of wines, beers, cheeses, sausages, pates, coffees, specialty foods. Free olive oil/balsamic vinegar tasting.
Galena Roasters Offering signature blend, limited release, and single-origin coffee beans. Available to purchase at The Grateful Gourmet or online.
Grateful Gourmet A cook's paradise! This specialty food & kitchenware store features bakeware, cookware, specialty foods, and locally roasted coffee. All kinds of kitchen gadgets, some necessary, some just fun!
Great American Popcorn Co. Your foodie will love you for this! More than 50 gourmet popcorn flavors made on premises. You will also find a variety of homemade gourmet popcorn flavors, fudge, ice cream, chocolates & candies!
Mean Bean Coffee Roasters Get them a caffeine fix and customize it too! This in-house coffee roaster creates custom blends and allows you to name it. How cool! Pasta Perfetta Oodles of noodles! Find loads of different flavors and shapes of pasta from around the world in this store. A wide variety of shapes and many specialty noodles. Several gluten-free and vegan options too.
Rocky Mountain Chocolate Factory Sweeten your foodie up with a wide variety of fudge and chocolate made on site! Watch delicious treats being made on the spot. Famous for giant chocolate chip cookies dipped in chocolate. Yum!
Root Beer Revelry Grab a selection of imported root beer from all over the nation. This old-fashioned root beer shop serves this historic beverage in bottles and on tap, so treat yourself at the same time!
Spice & Tea Merchants Spice up their lives with this great variety of quality herbs and spices! Spice merchants comb the world for the freshest and highest quality spices available. A bonus is a large selection of delicious teas.
Sweet Alice's Grab a bag of gummy candies, licorice, wax bottles and more at this delightful candy store with an Alice in Wonderland theme to it. The professionally made and designed chocolates from their kitchen is sure to be a hit!
For the ultimate foodie experience, give the gift of a delicious meal with a gift certificate from one of Galena Country's dining establishments. From cozy bistros to fine dining restaurants, you are sure to find just the right fit.
Find some great ideas on places to see and things to do in Galena County by browsing the official travel guide. To book your accommodation, choose from a wide variety here.