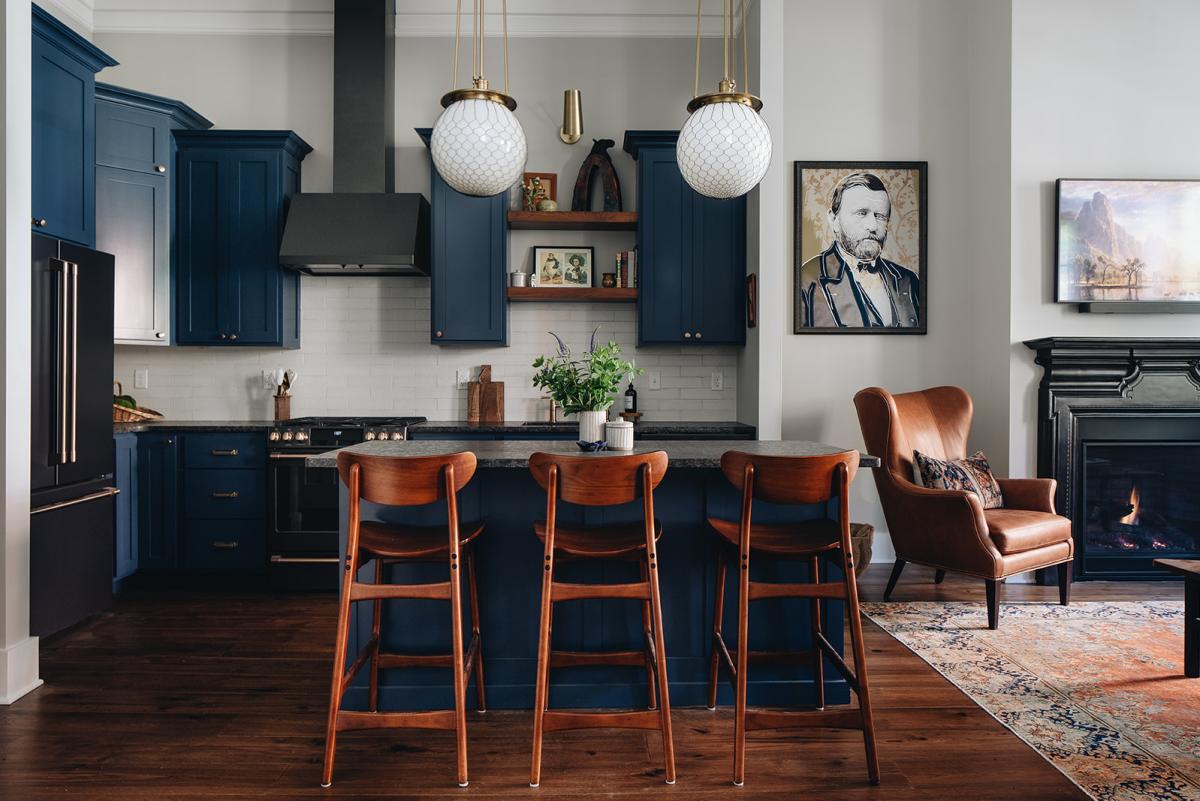 Image Credit: Ulysses Suites
Whether it's a luxurious spa, high-end furniture, or a private campfire… we all love a little opulence every now and then. We have compiled a list of 11 accommodation properties in Galena Country that offer luxury in their own unique ways.
Eagle Ridge is set on 6,800 acres of pristine woodlands and open countryside in The Galena Territory. It boasts 4 award-winning championship golf courses, a luxurious spa and a state-of-the-art fitness center with pool, sauna and steam room. That's not all, you will find miles of biking, hiking and horseback trails as well as tennis, hot air balloon rides, boating and fishing on the picturesque 225-acre Lake Galena and four distinctive restaurants to choose from.
This enormous 2,500+ sq. ft, four-bedroom loft suite overlooks downtown Galena just steps away from main street shopping and dining. The living room, featuring a wet bar, is ideal for hosting party events. An on-site massage therapist is available by appointment and Elle & Becks Lifestyle Boutique is right downstairs for the latest in fashion, homeware, gelato, and coffee!
Designed with European influence of the charming Chalets of the Swiss Alps and wall to wall elegance, this five-bedroom chalet offers 360 degrees breathtaking views of nature and wildlife. Enjoy the 2000 sq. ft wrap-around deck that overlooks Lake Galena or cozy up on the couch beside the stone wood-burning fireplace.
High above the banks of the Mississippi River, Goldmoor Inn boasts stunning views of the Mississippi. Whirlpool suites, spa treatments, private fireplaces, and private in-room gourmet dining experiences make this the perfect romantic getaway. To top it off, it features a fine dining restaurant offering warm and attentive service.
Nestled in the countryside surrounded by nature, this Inn offers luxury cottages, elegant amenities and spectacular meals on a 500-acre working farm. Organic beds, massage therapy treatments, and four-course picnics are just some of the delights on offer. Enjoy Wine & Cheese in your suite, a private campfire or table for two.
Voted #1 B&B/Inn in the USA and #2 in the World by TripAdvisor in 2019, this 135-year-old, 4-story brick building served as the county jail for nearly 100 years and has been lovingly transformed into a premier inn. The unique luxurious three-room suites offer the finest of amenities and guests can enjoy an in-room massage on request. Arrive to chilled champagne, a nightly wine and cheese reception, and a daily three-course gourmet breakfast.
This well-deserved building, once ran as the Grant Hotel from 1895 to 1932. It has been lovingly renovated with a nod to the hotel from the turn of the century. Enjoy luxury and modern comforts in these tastefully decorated suites, conveniently situated on Main Street in downtown Galena! Choose from 3 or 2 bedrooms suites, studios, or bring the whole family - there's enough space for everyone.  
Professionally decorated by Vignettes of Galena, this two-bedroom vacation rental overlooks Galena's  Main Street. Each well-appointed, superbly decorated bedroom has a flat-screen tv, plush mattress, high-quality sheets, and private access bathrooms. The apartment features a large living area, beautiful kitchen with granite countertops and all new appliances. Conveniently situated just steps from shops, restaurants, and nightlife on Main Street.
This circa 1880 house has been renovated with a meticulous approach to every detail of the home and has been furnished with luxury high-end furniture. It features a fully equipped kitchen and the house is wired for Sonos so guests can enjoy music through the audio system or listen to the nostalgic vinyl collection on the record player.
The pre-civil war home of Ulysses S. Grant has undergone an extensive restoration and renovation and is currently operating as a high-end vacation rental. The home has been fully restored to it's original 1860s time period. The house has been furnished with a convincing blend of period furniture, discreetly disguised with modern conveniences. It is a short two block walk to the beautiful historic downtown.
Located on Historic Main Street above the Victory Café, Suite Victory is the perfect location for shopping, dining and evening entertainment. This lovely vacation rental is spacious and newly renovated with beautiful views of downtown Main Street and the old cobbled Perry Street. Enjoy parades and fireworks from the comfort of your own suite!
This 1894 chapel is what we call a labor of love. Situated on a ridge overlooking the Galena River Valley, this 18th-century landmark (complete with steeple and bell), awaits with the unmistakable charm of Galena Country. The church features an upper deck connecting to the primary suite, an expansive deck below, a secret garden, a fire pit, and nighttime constellations from the highest point in Illinois. Whether you want to lay low and recharge, or partake in all of the activities in and around Galena, this is the place for you. A home away from home in a country setting that is big, bold, and beautiful.
For more accommodation options and for ideas on things to do and see during your stay, browse the Galena Country Visitors Guide.