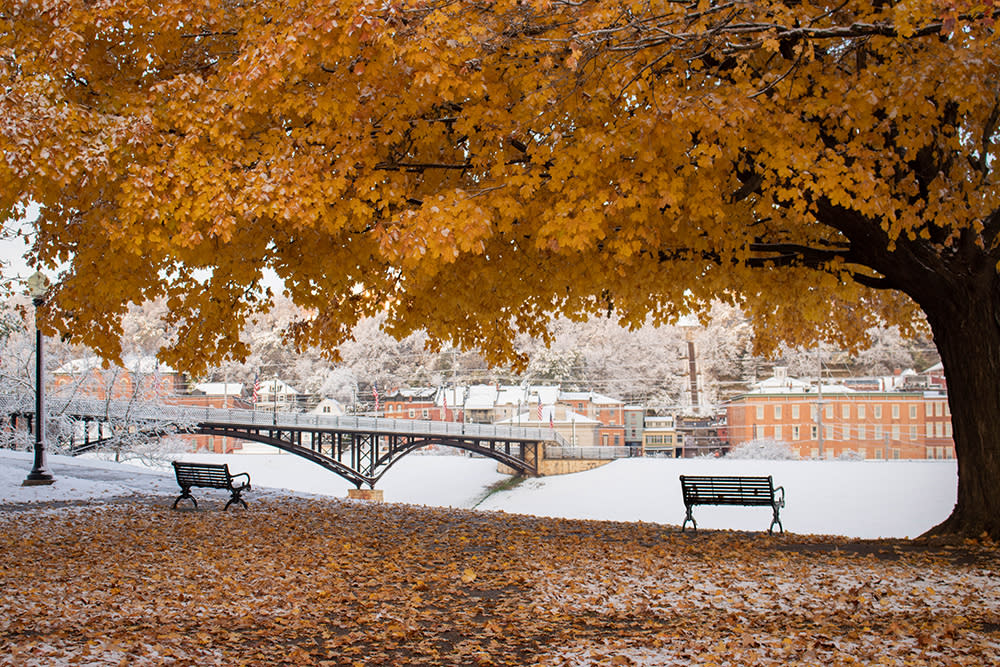 Once-a-year trips to historic Galena Country are wonderful, but experienced visitors know the fun goes on all year 'round. From snowshoeing at Casper Bluff Land & Water Reserve in the glistening white winter to watching - or even catching a ride during - the Great Galena Balloon Race at the peak of high summer, the northwest Illinois playground offers a full year's worth of adventure and enjoyment.
Spring
A great place to start would be Rutherford Refuge at Twin Bridges, a 24-acre slice of natural heaven in the form of native prairie, meadow and oak woodland along the aptly named Clear Creek near Warren. Spring is the perfect time to visit, as burgeoning life stirs, stretches and suddenly fills every sense with a lush explosion of growth.
Just outside Galena along U.S. Highway 20, Gateway Park welcomes visitors to community with a hilltop view of the spires and rooftops of Galena in the river valley below.
In fact, the Ulysses S. Grant Home State Historic Site is one of the sights one might glimpse from the Gateway Park hilltops. The citizens of Galena presented the stately, two-story Italianate brick home to Grant upon his triumphant return to the city in 1865. Modern visitors can tour the home, maintained with original furniture just as Grant knew it, thus joining a tradition in place even in his lifetime, as the curious were admitted to tours during the president's frequent absences. Plunge even deeper into the era with the annual Grant's Home Front Reenactment. Historical reenactors stage battles along the Galena riverfront as well as ladies' "Sanitary Fair" selling homemade goods to support Union troops.
No visit would be complete without a leisurely walk along the lush Galena River Trail and a guided tour of historical highlights on board the Galena Trolley Tours.
Summer
Not far from the Galena riverfront, visitors stroll the many preserved buildings of Galena's Historic Main Street, with frequent stops at the intriguing shops and appetite-answering restaurants. Close by, they marvel at the strength and skill on exhibit at The Old Blacksmith Shop. Smithy historians demonstrate the use of iron-working tools exactly as they were used when the shop opened in 1897.
Cooling down in summer while still heating up the fun is easy at downtown Galena's Miss Kitty's Grape Escape, an eatery offering much more than the wine hinted at in the name. Also tantalizing tastebuds are a variety of beers, spirits and specialty martinis, as well as a menu of charcuterie, bruschetta, wrap and sandwich offerings.
Great eats are also plentiful outside Galena proper. The East Dubuque Wing Fest is always a summer highlight. Musical acts and delicious barbecue headline the event, especially the popular wing-tasting competition where, when you get down to it, everybody wins.
For more food fun, there's the happy-go-lucky Midwest Garlic Festival. The work of the Galena Garlic Company, the festival celebrates the savory morsel "from clove to bulb" in the south-central Jo Daviess County village of Elizabeth.
Don't let a visit to Elizabeth end without a stop at the pet-friendly Highway 20 Brewing Company, in an old, repurposed church and offering a rotating selection of brews with the taste diversity that small-batch breweries achieve by way of personal attention to the brewing process. Music and delicious food round out the picture and fit in nicely in the summer with the rollicking Elizabeth Freedom Fest.
And no summer is complete without kayaking, which the diverse waterways of Galena Country make a widely varying pleasure. From the sometimes placid, sometimes more spirited current of the Galena River to the wildlife and aquatic denizens of the myriad interconnected streams along the Mississippi River.
Fall
Galena Country's attractions ripen to blissful maturity come September. Scenic drives along U.S. Highway 20 spread a smorgasbord of vistas across fields ready for harvest, with fruit-laden trees and hardwood hillsides bursting with brilliant hues.
This is the first time for visits to Galena Country's many agricultural gems. Dittmar Farms' sought-after sweet corn may be gone by fall, but there are still apples and pumpkins aplenty, along with family-pleasing hayrides, games, a corn-maze and more to enjoy on a sunwashed afternoon.
At Orchard Landing Apple Farm, the name captures only a portion of the good things on offer: the honeys, maple syrup, jellies of every shade and flavor, the farm's beloved apple cider donuts, and, yes, a landing strip for small planes. And that's not to mention the 12 varieties of apples weighing down the trees. Select your favorite type, or take home a mix.
There's no chance visitors will forget a day spent at Fergedaboudit Vineyard & Winery, in Hanover. As you gradually drain crystal clear wine glasses, they capture and reflect views across the winery's broad valley, at least until you refill them with the award-winning dry red wines that are a house specialty. Live music and great food add to the vineyard's appeal, as does the rolling Galena Country landscape in the background.
As the fall chill begins to arrive, Galena Oktoberfest offers the warmth of brews and good fellowship. Polka dancing, wiener-dog racing, a rolling bar and authentic German cuisine flavor the air as Galena celebrates a part of tis honored heritage, complete with the mournful tones of alpenhorn music like that still heard echoing down European mountainsides. 
Late autumn is a time of gathering-in, and in these parts that means the annual Galena Country Fair. Enjoy the last of the fair weather strolling through the craft booths and sampling the region's most savory treats: pork chops, local craft beer and artisanal wines, brats and of course, traditional fair sweets like fudge, elephant ears, funnel cakes and more.
Winter
Don't be fooled into thinking that the snowy season in Galena allows time for hibernation. The Eagle Ridge Nordic Center warms things up all season. With cold weather, the resort's golf course's Hole 10 goes from birdies and bogeys to slipping and sliding as it does duty as a thrilling sledding venue. For quieter outings, enjoy the hush of winter woodlands as you trek the center's miles of snowshoeing trails. Ice skating is another family-friendly option. Afterwards, warm up at Highlands Restaurant.
Skiing and snowboarding highlight winters at Chestnut Mountain Resort, with 475-foot vertical slop on its 19 runs suitable for all skill levels. Boarders show off their skills on the terrain park, The Farside, with its 25 rails and plentiful challenging features.
There are plenty of other warm-up options in Galena Country, including the astonishing abracadabra antics at the P.T. Murphy Magic Theatre, artisanal coffees at Galena Roasters, and the sensory treat of creating custom fragrances at the Scent Workshop on Galena's Historic Main Street.
Nowhere packs as much fun and adventure into the year as Galena Country, where memories are waiting to be made! Find some great ideas on places to see and things to do in Galena County by browsing the official travel guide. To book your accommodation, choose from a wide variety here.