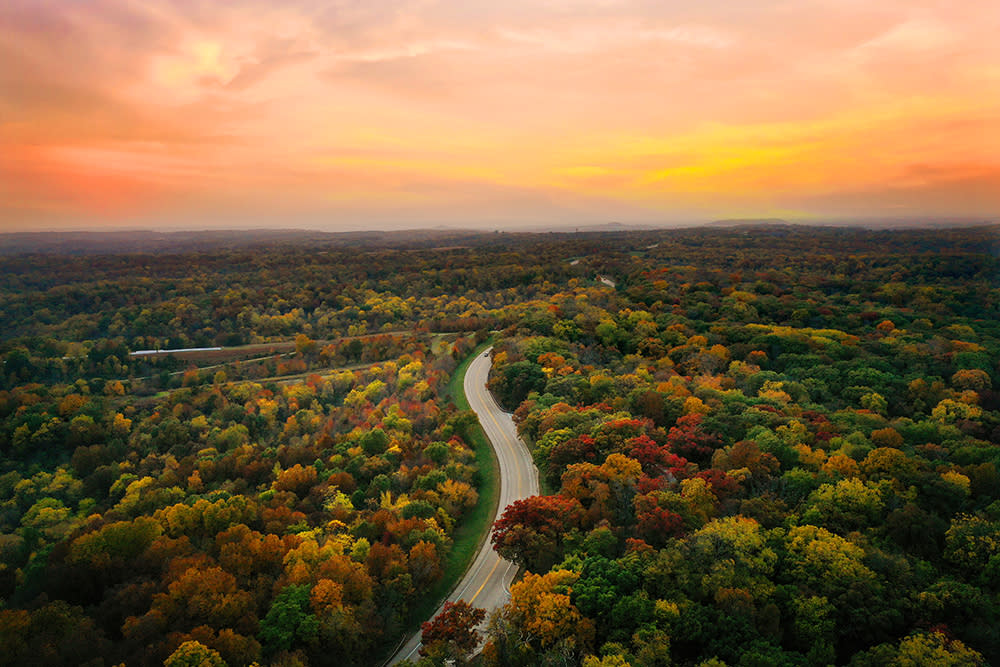 Follow roads less traveled through the captivating Driftless Area
Enjoy the nuances and showstoppers during a leisurely drive where natural and man-made worlds meet. What you'll encounter - mile after mile - is geologically and aesthetically spectacular.
Welcome to the Driftless Region - 20,000 square miles in four Midwestern states that Ice Age glaciers bypassed many thousands of years ago. The slow slithering of ice (at least one mile thick) bulldozed much of the Upper Midwest, changing the landscape forever. But not here. See the unspoiled beauty by cruising for the joy of it or with a specific destination in mind. Consider the following trio of options:
U.S. Highway 20
Highway 20, a 3,365-mile east-west thoroughfare, links Boston, Massachusetts, with Newport, Oregon. The small but lovely stretch northwest of Galena is a mix of woodsy thickets, gently rolling hills and farmland.
Let's start with East Dubuque. Hungry? Broasted chicken, burgers, pizza and a Friday fish fry reel 'em in at Frentress Lake Bar & Grill. Their plentiful outdoor seating, next to a marina, is the perfect spot to watch the sun set. Or climb a bluff top for Sunday brunch, a steak dinner or cocktails at Timmerman's Supper Club, known for expansive Mississippi River views.
Walk the trails at 10-acre Gramercy Park, open dawn to dusk on a riverfront bluff. At this Illinois Natural Heritage Landmark you'll find a couple dozen Native American burial and ceremonial mounds.
Thumser's 19th Hole, a short jog up Highway 35, both entertains the family (with a mini-golf course) and fills them up (with kid-friendly fare).
Take a 90-minute tour of Berning Acres, a large dairy farm with 400 cows near Menominee; the visit ends with ice cream! Seasonal, two-day camps teach kids to make dairy products from scratch; they play games and tackle simple farm chores, too.
Settle in for the night at the warm and welcoming Farmer's Guest House, conveniently located right on Highway 20 in Galena.
Blackjack Road
Look for an entrance sign to Horseshoe Mound Preserve and follow a long gravel road uphill. Mowed paths lead hikers through the 150-acre property, and on a clear day you'll enjoy views reaching to three states. The panoramic vistas alone are worth the visit, but then there are interpretive displays, a butterfly habitat, a fairy door at the base of a tree to entice the kids and a "council ring," where chunky slabs align with solstice sunsets.
A little farther south, the eight-mile, crushed-rock Galena River Trail connects to a hiking-biking trail for overnight guests at LeFevre Inn & Resort, full of countryside charm. Find Goldmoor Inn for a gourmet dinner for two or blufftop overnight.
Enjoy a stroll along the trackbed of a retired railroad route at Winston Tunnel State Natural Area. Although the 1888 Winston Tunnel closed long ago, it is still a fascinating site in breathtaking surrounds. Nearby, Chestnut Mountain Resort offers adventurous outdoor activities - zip lines, skiing, and more - to engage all ages.
Venture from Blackjack Road for a few quick side trips. That includes Blanding Landing (for fishing, birding, picnics, camping and silent sports - canoeing to hiking), the apple trees of Orchard Landing (which has a grass runway for planes) and Fergedaboudit Vineyard & Winery (pair sips by the flight of full glass with assorted chocolates or cheeses). A couple more turns of the wheel deliver you to Hanover, where Sulcana sells CBD and THC wellness products made with crops from licensed Midwest farms.
Stagecoach Trail
Turn the clock back to the mid-1800s and imagine what it was like to see this part of Illinois from a horse-drawn carriage en route to Chicago. Cross the Galena River and notice the cattail marshes, hilltops, ravines and farmland. Sprinkled throughout the drive are colorful quilt squares painted on the sides of barns.
Stop for a wine tasting and patio view at Galena Cellars Vineyard & Winery. Find laid-back Council Hill Station - the only business that remains from an 1854 European community - for acoustic music, a large beer selection, historic buildings and ruins frozen in time.
Get acquainted with Scales Mound: The entire village - a historic district on the National Register of Historic Places - sits at the highest point in the state at 1,235 feet and is said to be "At the Top of Illinois." Jalapeño peppers earn a starring role in buns, cornbread and a specialty burger at Southside Hornet Pub & Grille, a Scales Mound eatery. Cool it down with a deep-fried Oreo sundae or boozy grasshopper ice-cream cocktail for dessert.
The river might appear peaceful, but a bigger story is told at Apple River Canyon State Park, site of the frontier town of Millville until flooding destroyed it in 1892. Today the area is known for trout fishing, nature trails and dozens of campsites.
2 More to Explore...
There's no end to the beauty of Galena Country. If you have more time to explore, consider these additional scenic drives:
Elizabeth Scales Mound Road
You may find yourself wishing this lovely drive, winding through the hilly countryside, was longer, but the stops are also worthwhile. Shop two floors of antiques and local goods at A Bushel & A Peck. Book a guided trail ride at Shenandoah Riding Center, a short drive from the main road. Tour a reconstructed fort at Apple River Fort State Historic Site. Time your visit for one of the fort's special events to experience living-history demonstrations.
Highway 20
Love the links? Check out a fine, affordable option for all skill levels at Woodbine Bend Golf Course, surrounded by farmland, and then dine on specialties like Cannery Row Stew (a saucy combo of shrimp, clams, scallops and lobster, over pasta).
Indulge in other ways too. Merchandise at Nature's Treasures, Woodbine, is a rich tribute to art and gemstones. Expect eclectic, fun women's clothing and accessories - made in the USA - at Savvy Scavengers, Stockton. Don't miss the chance to stroll Stockton's historic downtown to marvel at the town's colorful collection of murals.
Galena Country transports people to another time and place to enjoy one-of-a-kind experiences and adventures. Some historic, some timeless, and some brand-new, but always original! Browse the latest Visitors Guide for more ideas on how to enjoy good times and find your comfy lodging here!