Galena Country is known for its scenic locations that are the perfect backdrop for capturing memories of adventure, laughter, and romance. What most people don't know, is that it's a sustainability leader in its region and in Illinois.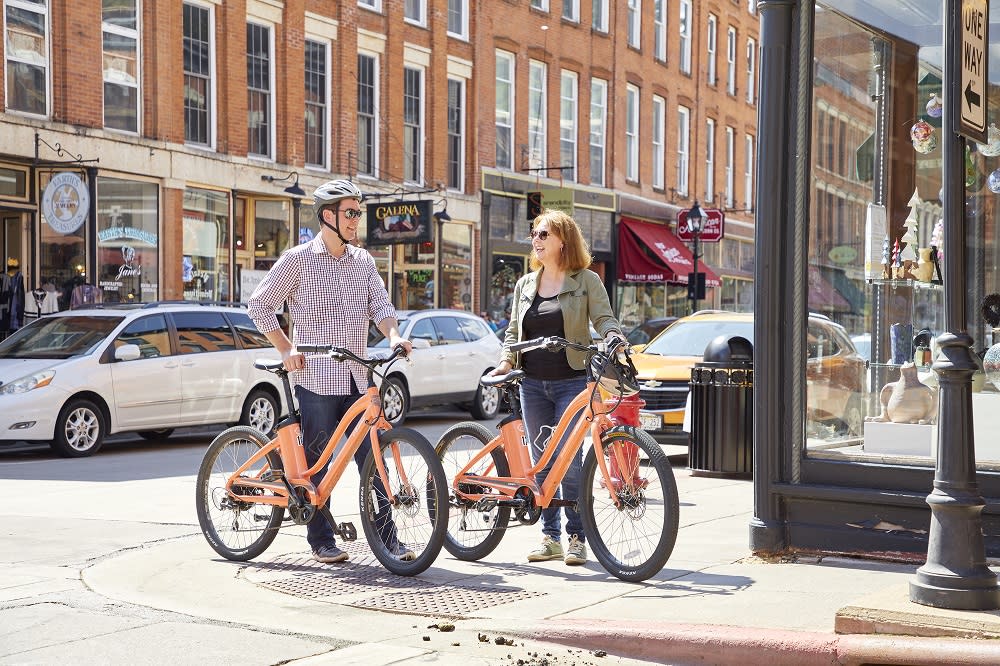 The City of Galena has implemented and is continuing to develop, a variety of sustainability initiatives for this quaint, Midwest city. These activities earned Galena a Governor's Sustainability Award in 2014. The award recognized the city for its demonstrated commitment to the economy, society, and environment through outstanding and innovative sustainability practices. In other words, it's "greena" in Galena! Find out more here.
Do you 'want in' on all of this sustainability?
Reduce your carbon footprint by parking your car and pedaling instead. Galena River Outfitters and Nuts Outdoors make it easy to explore by bicycle with regular and electric bike rentals, perfect for conquering hills and long distances. Bike from shop-to-shop on Galena's Historic Main Street, pedal across the pedestrian bridge to Ulysses S. Grant's Home, reconnect with nature on a ride along the Galena River Trail, or journey to an award-winning vineyard or cruise through a historic cemetery. Enjoy beverages made from locally sourced ingredients. Get to Blaum Bros. Distilling Co. and Galena Brewing Co. for some tasty craft spirits and beer. Both companies brew and distill their product on-site. Nearly all of the grain used comes from Illinois and the spent grain is enjoyed as a treat by cows and sheep at local farms. Many Galena Country businesses are part of a new Green Designation certification program whereby owners have taken measures to ensure that they are operating in the green and must fulfill the required criteria, as determined by the committee. Here is a list of these businesses:
Designated Green Lodging:
Designated Green Restaurants:
Designated Green Retail Stores:
Shop till you drop but don't leave a trail. Bag up your retail finds in an eco-friendly bag. Ditch the plastic shopping bags and purchase a My Green Galena reusable bag at the Galena Library or City Hall. These bad boys are quite large and are perfect for carrying all those gifts and goodies. Plastic bag pollution is environmentally damaging and completely avoidable. Shopping with a reusable bag is the way to go. The best part? My Green Galena bags are recyclable!
Need a charge?
There's no shortage of EV chargers in Galena Country, choose from:
Relax, knowing that you have reduced your carbon footprint!
For more information on what to do and see during your "Green Vacation", browse the latest Galena Country Visitors Guide.