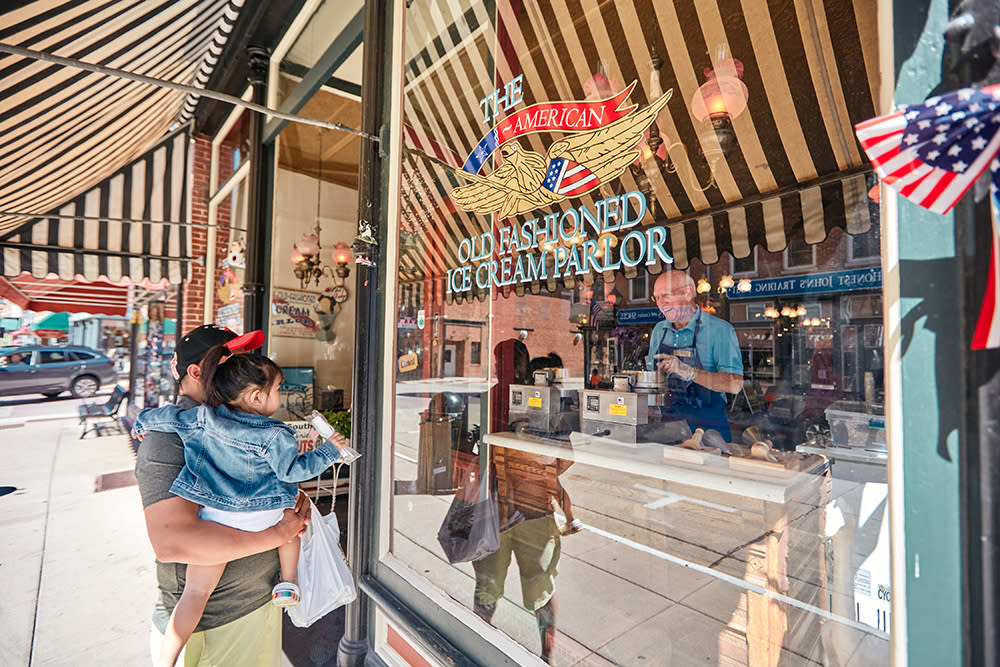 Fun for the whole family!
While there is much to do in Galena Country, you may plan your family adventures a little differently than your besties getaway. Check out these fun things to do on your family vacation in Galena Country.
Explore the great outdoors
Boasting incredible terrain for outdoor adventure, Galena Country offers many options for a variety of skill-level and ages. Children, toddler age and up, may enjoy speeding down the Alpine Slide at Chestnut Mountain Resort and finishing off with a game of mini-golf on site or at the Lil' General. For those more 'serious' golfers, make plans to hit a round on one of ten gorgeous golf courses.
Taking a canoe or kayak down the Galena River is a wonderful way to explore Galena. Kayaks, canoes, and other outdoor equipment are available for rent at Nuts Outdoors. Galena Country is home to gorgeous parks and trails. A fun option for smaller children is Horseshoe Mound, featuring hidden treasures along the trails.
Pack a picnic with a gourmet grilled cheese from Galena River Wine & Cheese, treats from Galena Bakehouse, and chips and salsa from Galena Canning Company. Outdoor adventure in Galena Country is year-round. With Chestnut Mountain Ski Resort and the Nordic Center at Eagle Ridge Resort and Spa, there's enough to keep everyone occupied for hours!
Historically Amazing
To say that Galena Country is 'rich in history' is an understatement. In fact, even the scenic routes to Galena Country are historical. Make an educational pit-stop on the way through Stockton and stop at the Heritage Museum, the original home of Kraft Cheese! Just a few doors down is Sweet Alice's, where you're sure to find something delicious for the family. Take some time to snap a few pictures in front of the murals around town! Train lovers are going to delight in the Chicago Great Western Railway Depot Museum.
Across the street is another important piece of history, the Apple River Fort State Historic Site. This is the location where Black Hawk and his 200 warriors attacked the hastily erected fort on June 24, 1832. His story and that of the early settlers are told. Heading to Galena, a visit to the Ulysses S. Grant Home State Historic Site is a 'must-do', along with an up-close-and-personal experience at the Old Blacksmith Shop. A trolley tour is an excellent way to 'see the town' and learn more about the historic homes and architecture that is adored by the community and visitors alike.
Exciting Events
The events calendar is loaded with incredible happenings! From hot air balloon races to civil war reenactments to magical holiday festivities, there's always something to discover in Galena Country! Let the planning begin with this year's latest digital visitor guide.
Lodging with flare
There are many great options for family-friendly lodging, but if you're up for something more to keep the kids occupied, you may want to consider these properties. In addition to Chestnut Mountain Resort, Eagle Ridge Resort & Spa offers lake views and activities, golf, a swimming pool and more! Country Inn and Suites, Stoney Creek Inn, and Best Western are home to some excellent swimming options, while The Ramada and Irish Cottage Boutique Hotel features swimming and a spa! We're thinking of you, mom and dad!
Farm-Fun!
Agritourism offers children a chance for hands-on experiences and fun for all ages. Seasonal favorites are Dittmar Farms and Terrapin Orchards - take advantage of free passes to the Dittmar Farms pumpkin patch and apple orchard when you stay at Hell's Branch Cabin! We haven't forgotten about the older kids, you know... the ones that you can enjoy a glass of wine with? Galena Country is home to four vineyards, all offering incredible views and delicious wine. Parents, we've got you covered.
Galena Country transports people to another time and place to enjoy one-of-a-kind experiences and adventures. Some historical, some timeless, and some brand-new, but always original! Browse the latest Visitors Guide for more ideas on how to enjoy good times and find your comfy lodging here!