Corn, crops, and countryside, oh my! Have you ever toured a farm? Petted a cow? Enjoyed a hayride? Stomped grapes? Or watched a tractor harvest its crops? Well, get to Galena Country and experience all that and more.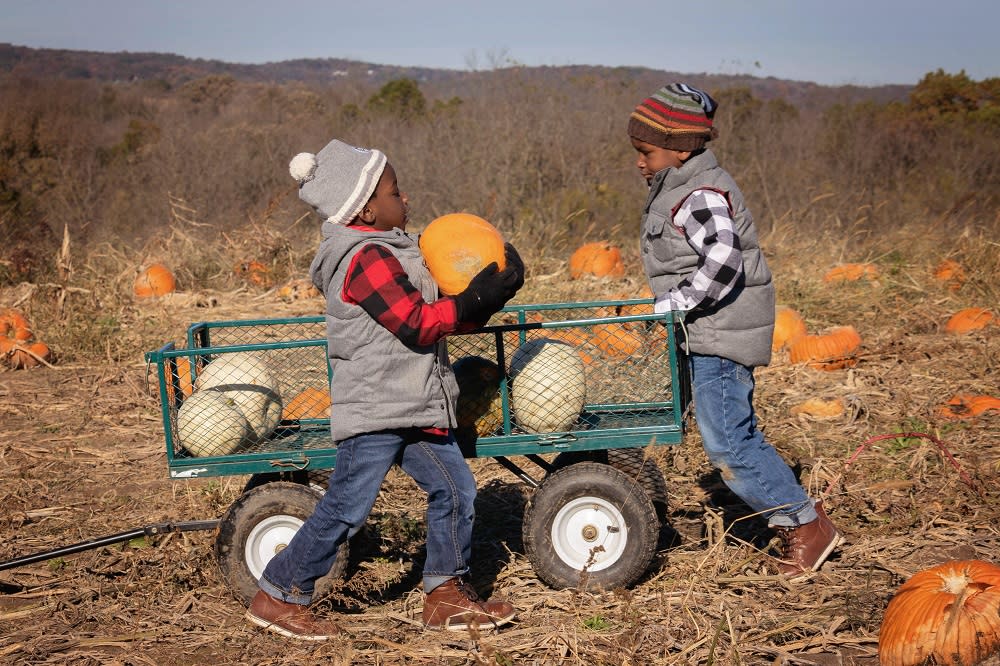 You know you're in the Midwest when the cornfields are endless and the pastures are sprinkled with classic red barns and bellowing cattle. To deepen your understanding and strengthen your appreciation of the land, Galena Country has the perfect spots to explore.
Terrapin Orchards Terrapin Orchards believes that if you've never had a farm fresh strawberry, you've never really had a strawberry! Pick your own delicious bursts of goodness or grab a bag of pre-picked berries. The strawberries have a red juice filled center, instead of the unripe white pith that we have come to view as normal. Be warned… children who wear a white colored shirt to pick strawberries typically leave with a red colored shirt and a huge smile! Strawberry season starts in early June and runs through to mid-June. Apples are king at Terrapin! Anticipated to be ready to munch on by September, the variety of apples and pears available are picked at the peak of perfection. One of the favorites is the first apple to ripen... the Zestar! Offering the perfect blend of sweet and tart in a beautiful crisp, red and green striped fruit, the Zestar doesn't disappoint!
Orchard Landing Where can you find apple trees, airplanes and mini donuts? At Orchard Landing in Hanover. Yummy doesn't begin to describe this extraordinary farm stand experience. It's not only a visual treat with a large orchard, a grass runway for planes and a cute airplane hangar that doubles as the shop, it's loaded with goodies from doughnuts, apples and dried cherries to syrup, jellies and honey mustard. The drive out (or fly in?) is lovely and it's just minutes from the Helluva Half Mile in downtown Galena. Open August to mid-November, grab some pumpkins and enjoy any of nine varieties of apples as they come into season. Plan on flying in? The elevation is 970 feet.  
Erhler Ranch Get the best look at the countryside while learning about local growers and what it takes to supply and maintain successful crops. Along with a tour, there are plenty of activities and opportunities for kids with bean bags, picnics and pony rides, as well as the chance to splash their feet in Rock Bottom Creek. Spark your kids' love of equestrian activities with a pony ride. Led by staff, not only can you ride a pony but also learn safety basics and the fundamentals of riding. Finish the day with a hayride for an up-close look into a real-life farm. Don't be surprised if you see a tractor in the cornfield or a rancher wrangling cattle. These are just the normal day-to-day operations at Ehrler Ranch.
Dittmar Farms Although summer has just arrived, fall and Halloween will be here before you know it. With this in mind, experience your new favorite fall season getaway with the best place for corn, pumpkins and the ever-frustrating but hysterical corn maze! Just a few minutes from Galena, this farm is in Elizabeth, the heart of Galena Country! The most popular activity, besides navigating the giant u-pick pumpkin patch, is a hayride. The 20-minute excursion gives riders an opportunity to see the entire scenic span of the farm. Dittmar Farms are extremely kid- and family-friendly. Want to keep the kiddos busy for a while? They offer a 2-acre corn maze to burn off some energy with some innocent fun. End your trip at Dittmar munching on their homemade pumpkin bread and, yes, even pumpkin donuts. This farm is a must-visit.
Grapes are a crop, too Witness the wine-making process from the field to bottle and enjoy a tasting at one of Galena Country's four vineyards. These wineries are set among the beautiful countryside in charming historic towns. Enjoy award-winning Illinois wines and during the fall season, you can even stomp grapes at one of the harvest celebrations.