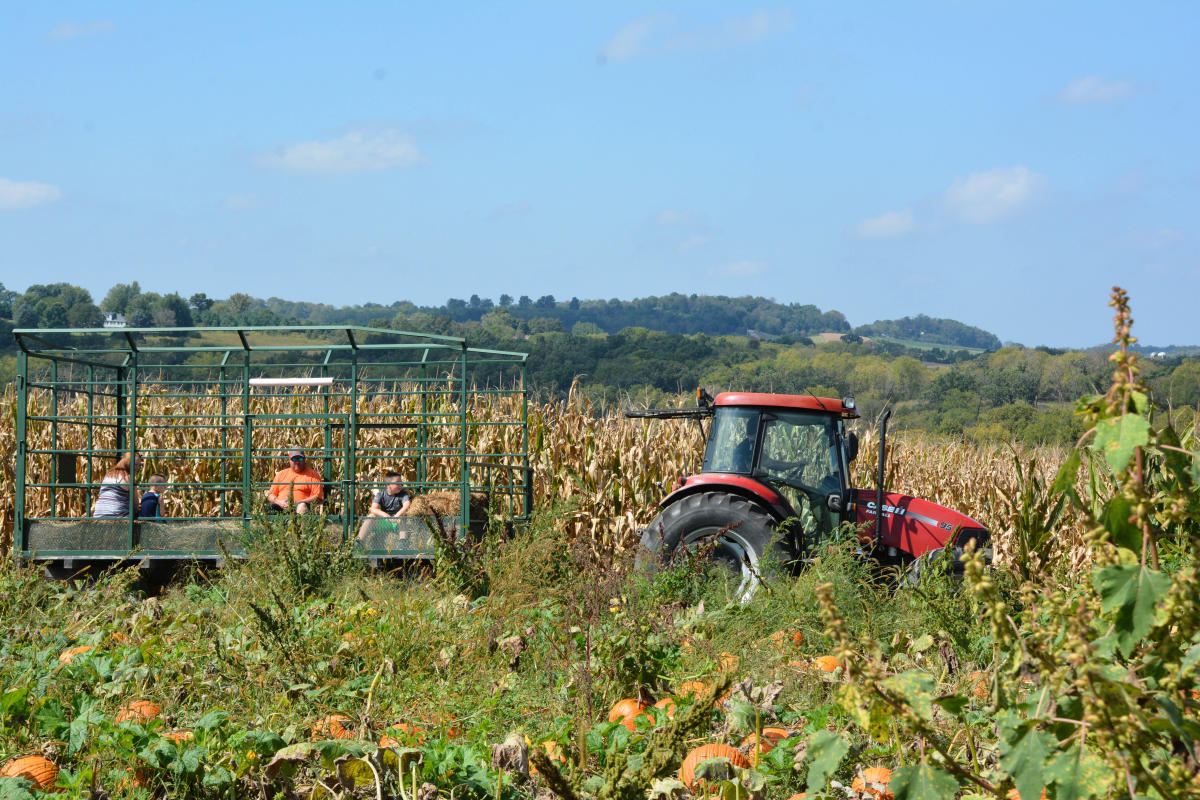 Corn, crops, and countryside, oh my! Have you ever toured a farm? Petted a cow? Enjoyed a hayride? Stomped grapes? Or watched a tractor harvest its crops? Well, get to Galena Country and experience all that and more.
You know you're in the Midwest when the cornfields are endless and the pastures are sprinkled with classic red barns and bellowing cattle. To deepen your understanding and strengthen your appreciation of the land, Galena Country has the perfect spots to explore.
Wineries: Our region is known for its flourishing wineries, which have earned accolades for producing exceptional wines from locally grown grapes. These wineries offer visitors an opportunity to taste and experience the fruits of our region's vineyards, surrounded by picturesque landscapes. Wine enthusiasts can embark on wine tastings, vineyard tours, and even participate in grape harvesting during the harvest season. Some of the notable wineries in Jo Daviess County include Massbach Ridge Winery, Galena Cellars Vineyard & Winery, Fergedaboudit Vineyard and Winery, and Rocky Waters Vineyard & Winery.
Orchards: Galena Country boasts an abundance of natural orchards, creating a haven for fruit lovers and offering visitors the opportunity to indulge in pick-your-own experiences. From apples and pears to cherries and berries, these orchards allow visitors to harvest their own fresh fruits and savor the flavors of the season. Some, including Orchard Landing, have even created their own farm-to-bottle hard cider! The experience of picking sun-ripened fruits directly from the tree creates a strong connection to the land and highlights the importance of sustainable agriculture. Some popular natural orchards in the area include Terrapin Orchards, Dittmar Farms & Orchard, and Orchard Landing & Galena Cider Co.
Craft Breweries and Distilleries: In addition to its wineries, Galena Country also boasts a vibrant craft brewery and distillery scene. These establishments focus on using locally sourced ingredients to produce unique and flavorful brews and spirits, creating a distinct identity for our region. Visitors can embark on brewery and distillery tours, engage in tastings, and even participate in brewing workshops. Some notable craft breweries and distilleries in our region include Galena Brewing Company, Pecatonica Beer Company, Highway 20 Brewing Co., Mud Run Beer Co., and Blaum Bros. Distilling Co.
Farm-Stays & Farm Experiences: For those seeking a truly immersive agritourism experience, the Galena Country area offers a variety of farm-stay accommodations. These farm stays allow guests to embrace the charm of rural life, connect with nature, and gain a deeper understanding of agricultural practices. Visitors can participate in farm activities, interact with farm animals, and savor farm-fresh meals made from locally sourced ingredients. Some of the farm-stays include Hawk Valley Retreat & Cottages,Heritage Hollow Farm, Hells Branch Cabin, and Arrowhead Treehouse.
Farm experiences include Ehrler Ranch, Berning Acres Farm, and Hoof it Goat Treks,
Farm-to-Table Restaurants: Galena Country offers a thriving farm-to-table culinary scene, where local restaurants embrace the philosophy of using fresh, seasonal ingredients sourced directly from nearby farms. These establishments showcase the region's agricultural bounty and provide visitors with an authentic taste of Galena Country. The farm-totable movement not only enhances the dining experience but also supports local farmers and promotes sustainable practices. Some notable farm-to-table restaurants in our region include Fried Green Tomatoes, Otto's Place, Goldmoor Inn & Dining, Savory Kitchen, and one extra special farm-to-table event: Outstanding in the Field's Galena Community Table.
Galena Country transports people to another time and place to enjoy one-of-a-kind experiences and adventures! For more outdoor activities, popular shopping, and lodging options, browse the official Galena Country visitors guide.