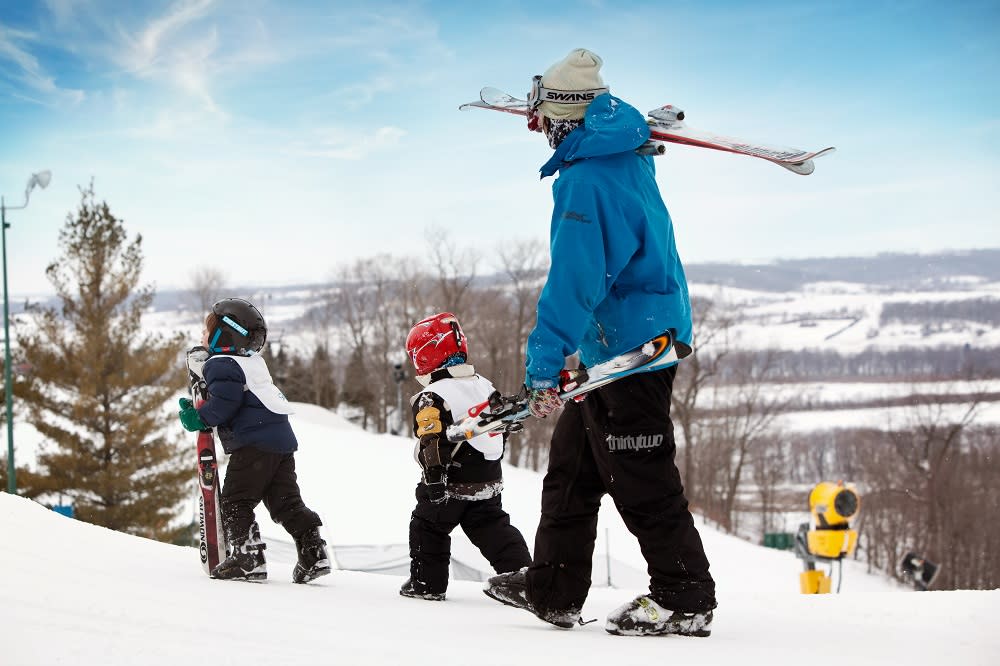 Whether you look at winter as a time for an outdoor adventure to embrace the elements or a call to head indoors for cozy relaxation and family downtime, Galena Country offers the perfect winter escape. From a couple's retreat to a family vacation, from skiing to a Winter Carnival, here are some great reasons to visit Galena Country in the winter:
Skiing & Snowboarding at Chestnut Mountain Resort
It doesn't matter if you're an avid skier or a novice, you should hit the slopes during the winter at Chestnut Mountain Resort. Chestnut's over 220 rolling acres and 475-foot vertical drop are home to 19 ski trails and a 7-acre terrain park, The Farside, featuring over 25 rails and structures. With two quad lifts, four triple chair lifts, two conveyor lifts, and one surface lift, you won't be waiting in line to get back to the peak.
Hoof'n & Snowshoe'n at Hoof It Goat Treks
Strap on some snowshoes and hike with goats at Hoof It Goat Treks! While snowshoeing through native prairie and forest, baby goats (kids) and adult goats will keep you company as you navigate the trail. Feed them carrots and leaves as you enjoy their antics. 
The Nordic Center at Eagle Ridge Resort & Spa
For other winter activities, Nordic Center, located at the Highlands Complex at Eagle Ridge Resort & Spa, features exciting winter activities to keep you entertained! Skate like no one's watching on the ice-skating rink which is open daily until 9 p.m. and warm up at the fire pit to keep you going! Grab a sled and race down the hill or try your hand at snowshoeing! All equipment is available to rent from the Nordic Shop. Missing the golf course? Never fear, enjoy a round on the TrackMan Golf Simulator and feel like the seasons never changed! 
Winter Carnival Weekend at Eagle Ridge Resort & Spa
Take advantage of the long Presidents Day Weekend and head for the Winter Carnival Weekend at Eagle Ridge. The Nordic Center activities will be available plus an assortment of carnival fun, including balloon glows, pony rides, wine tasting, ice-turkey bowling, snow painting, live music and more.
Nature Preserves
The Jo Daviess Conservation Foundation works to protect the land near Galena. Casper Bluff is one of the areas under their protection and worth a visit if just for the scenic views of the Mississippi. The real star here is not the view but, rather, the archaeological finds found on this 85-acre site. Fifty-one burial mounds from the Aiken Mount group, a culture that lived nearly 3,000 years ago, rest on these grounds. For other parks and trails, check out this link. For a peaceful trek through the countryside, visit the Galena River Trail. The trail is perfect for families going cross-country skiing or a snowshoe hike with views of the Galena River and bluffs. Please take note of closures due to hunting season before heading out. 
Shopping
Shop Galena's Historic Main Street! With more than 125 independently-owned businesses, offering everything from crafts to vintage clothing to fine chocolates, this shopping excursion is sure to keep you warm. The purchase you make for yourself or a loved one at one of these specialty shops will be something you'll find nowhere else. The towns of Elizabeth and Stockton offer even more boutique stores to pique your interest. Visit Sweet Alice's for some sweet treats, Nature's Treasures for new home or garden decor, or how about Elizabeth's Grand Antique Mall for that unique treasure! Fuel up on some cozy drinks between stores.
Wine, Beer, and Spirits
Experience the different flavors of Galena Country! Pick up award-winning wines from Galena Cellars Winery or Massbach Ridge Winery tasting rooms on Galena's Main Street. For beer lovers, smile from beer to beer with Galena Brewing Co. and Pecatonica Beer Tap House local brews to-go. But if a martini or shot of whiskey is more to your liking, visit Blaum Bros. Distilling Co. for the premium spirit of your choice – whiskey, vodka, gin and more – produced right in downtown Galena.
Cozy B&B's
Named the B&B Capital of the Midwest, Galena Country is proud to offer a variety of warm and intimate places to stay. Check into a historic 1800s bed & breakfast right in town, such as Abe's Spring Street Guesthouse, and you'll be just steps away from Main Street. Here you'll get all the conveniences of home, complete with breakfast in the morning, dessert and coffee at night and your own key to the house. Other B&Bs, such as Inn at Felt Manor, is situated in the hills, offering a beautiful view of Galena from above. All of these private residences and inns offer their own style of historic charm, breakfast and personalized service, along with great suggestions of where to go and what to do in the area.
Winter Events
Annual events to look forward to this winter include: Holiday Fire in the Sky, were the sky comes alive with a spectacular show of fireworks to kick off the holiday season in downtown Galena. The magical Night of the Luminaria & Living Windows where you can enjoy the beautiful sight of more than 5,000 candlelit luminaries lining the streets, steps and sidewalks of Galena, slay your sweet tooth on the Snowflakes and Sweets Stroll and take part in fun-filled winter activities at the Winter Carnival at Eagle Ridge Resort & Spa. See the events calendar for more details on each event!
Bonus tip: For the history buffs out there... keep warm in the Ulysses S. Grant Home where you will learn all about Grant's life and how he lived while in Galena! 
There are a lot of places out there, but there's nowhere like us! Book your accommodation and plan your escape to Galena Country where our story only gets better with time!