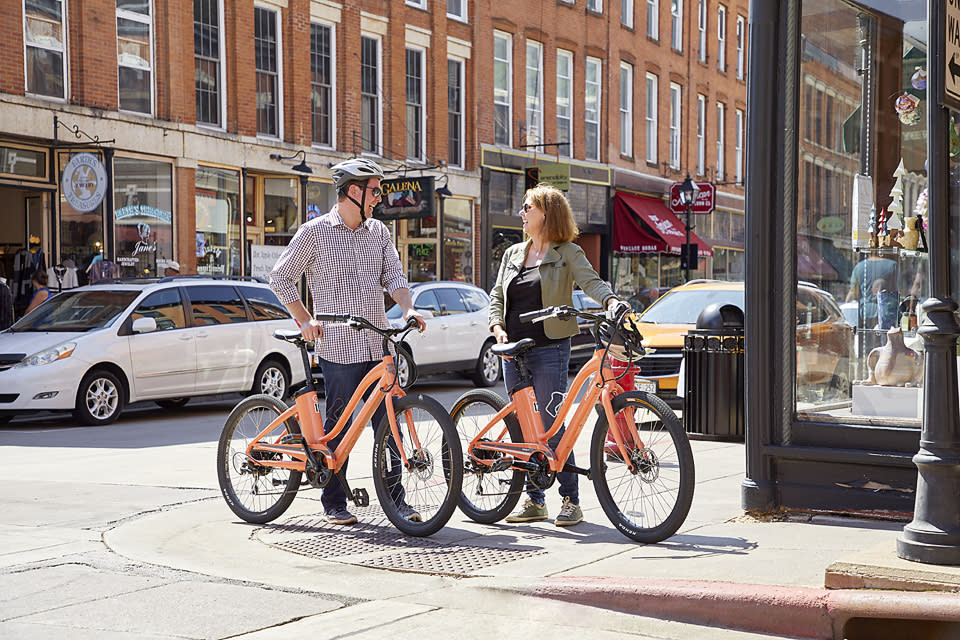 You've experienced the shopping, wine-tasting, delicious dining, and historic trolley tours but have you ventured outdoors for a different perspective of Galena Country? You'll find us running, hiking or biking up hills, or paddling on the water, and we've got the equipment to do it! The following outfitters make it easy to reconnect, reenergize and explore nature in Galena Country.
Make some waves: Hire a canoe, kayak or a stand-up paddleboard and glide down the historic Galena River. This river, once crowded with barges full of lead ore and steamboats is now a serene setting offering beautiful views of the charming city of Galena. The river meanders through lush vegetation on wooded hills, around attractive bluffs, and you'll be met by a wide variety of wildlife including Bald Eagles and Great Blue Herons. Test the waters on your own, rent an 18-inch long party board for 10 friends (Nuts Outdoors) or take a guided tour.
Reel in memories: Let one of the local guides from Nuts Outdoors take you to some of their favorite fishing holes to hook some big Catfish, pull some smallmouth bass out of local streams or help you get some trophy-sized Tiger Muskie.
Pedal it out: Whatever your bike preference… electric, road, fat tire or tandem, you're set for an awesome bike ride! Ask for a kid's tow-behind trailer for a family ride! Cruise the streets of historic downtown Galena  or through Galena Country's rolling hills in the countryside to the Galena Cellars Vineyard. Upon your arrival, the prize is a vineyard tour and tasting of their award-winning wines. No need to worry about a wobbly ride back since a shuttle will get you home safely. 
If you're looking for more of a work-out, immerse yourself in nature as you explore the wooded Galena River Trail. The 8.8 mile crushed-limestone trail runs parallel to the Galena River as the name suggests. Cyclists pass through tunnels, a wetland, patches of wildflowers along limestone cliffs and bridges over streams. If you complete the stretch, you will ride alongside the Mississippi River and reach the foot of Chestnut Mountain Resort. Take the chair lift to the summit for a refreshing drink while overlooking magnificent views of the Mississippi and be returned by shuttle. 
Check out the array of outdoor activities offered at Chestnut while you're there including the Alpine Slide, Soaring Eagle Zipline, Mississippi Cruise, Segway Tours and more! 
Tucked away in a Mississippi Slough in East Dubuque, Millennium Marina offers 3 types of kayaks. Hire a sit-in, sit-on-top or tandem kayak or try a paddle board. Take in the gorgeous surroundings as you glide along the Mississippi River backwaters, or head out into the channel. Unleash your curiosity and float wherever you choose, they will also take care of the loading and unloading for you. End off your adventure off with tasty home cooking and specialty drinks while you sit back and enjoy live entertainment!
Don't forget to bring your four-legged sidekicks with you to Pet Friendly Galena Country for this fresh air fun! Explore even more things to do and see in Galena Country while browsing the latest Visitors Guide and choose from the great lodging options!