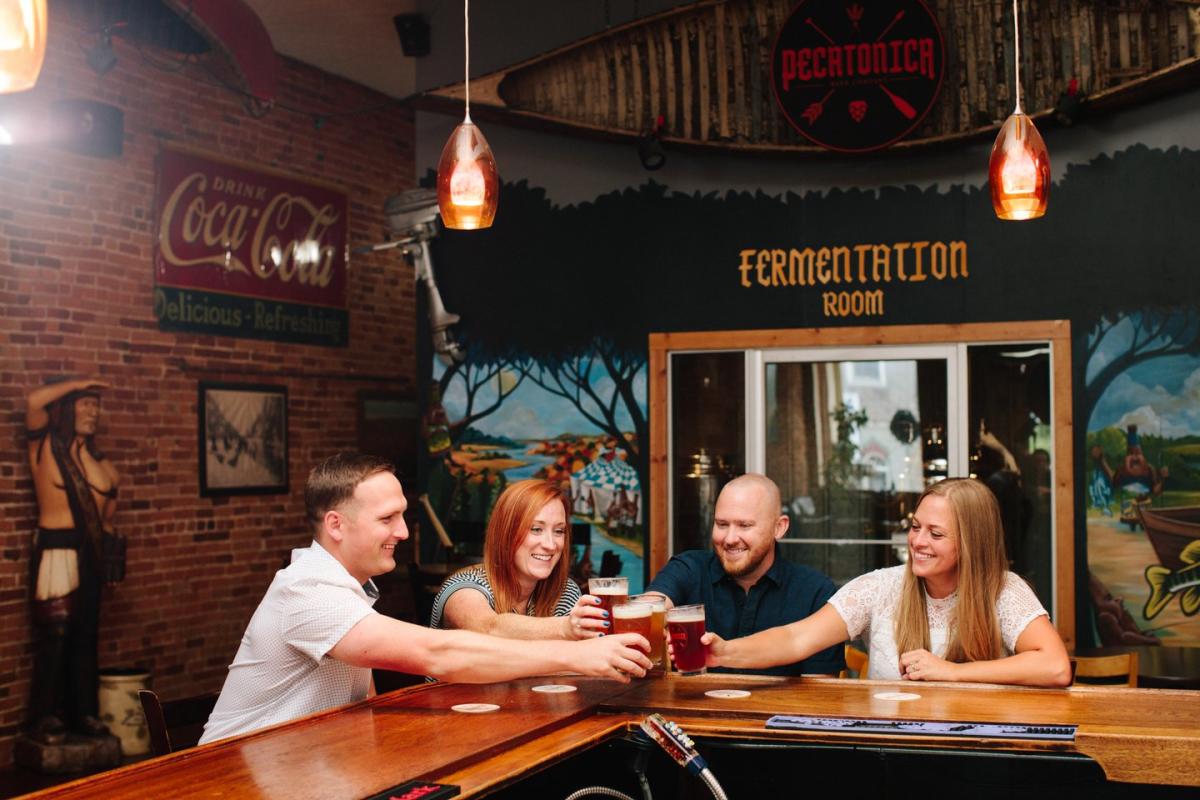 No snow? No problem! Snow can be so much fun, but Mother Nature doesn't always cooperate! No worries, here are a few snow-free activities for you to enjoy in Galena Country. 
Winter Hiking
Well we don't, but Chestnut Mountain Resort does! Even if there isn't a snowflake in sight, if it's cold out, chances are Chestnut Moutain Resort is covered in snow. As an active skiing resort, Chestnut begins making their own snow to accomodate visitors and local skiers very early in the winter season. Check out their slope report often as they also livestream the snowmaking process. Fun fact: water from the Mississippi River is used to make snow!
Winter Hiking
Bundle up and take a hike! The driftless area offers unique hiking opportunities on nature preserves, providing picture-perfect views and Native American burial grounds to explore. Barren trees give a clear view to all that nature has to offer and the deep silence warms your soul. If you're an animal lover, hike with some entertaining four-legged companions at Hoof It Goat Treks. Gear up with boots, binoculars and your camera. It's time to reconnect with nature!
A touch of Magic
Book a magic show with Galena's Master Magician, P.T. Murphy. With his sleight-of-hand and mischievous sense of humor, P.T. will mystify you with a jaw-dropping experience! Located in the heart of downtown Galena, this intimate magic show is a precursor to a delicious meal at one of Galena's superb restaurants.
Tastings and Toastings
Warm-up with a locally made and award-winning beverage! Massbach Ridge Winery and Galena Cellars both have tasting rooms located on Galena's Main Street, open year-round. Take in the beautiful winter scenery and drive out to Rocky Waters Vineyard or Fergedaboudit Vineyard and Winery, where you can appreciate both amazing views and great wine!
How about taking a comprehensive tour of Blaum Bros. Distilling Co., located minutes from downtown Galena. Enjoy a cocktail and re-stock your liquor cabinet, all in one location! Craft beer lovers, you'll be happy to know that Galena Country is home to three craft breweries, Galena Brewing Co., Pecatonica Beer Co. Tap House, Highway 20 Brewing Company, and Mud Run Beer Co. Tour the Galena Brewing Co. to learn about the beer-making process from start to finish.
Dinner and a Show
Experience fine dining and exceptional entertainment in a unique Supper Club atmosphere at Amelia's Under the Lamplight Dinner Theater.  New performances and a seasonal menu offer something new for each visit!
Learn and Create
Let the beauty of Galena Country inspire you! Cozy up indoors and create your own signature fragrance at Scent Workshop. Learn French Perfuming techniques to create custom perfumes, candles and more in a fun and relaxing setting. Explore more about one-of-a-kind experiences you'll be sure to share here!
Snow or no snow...Galena Country offers plenty to see and do and memories are waiting to be made! Check out the visitors guide for more ideas and find awesome events on the calendar.