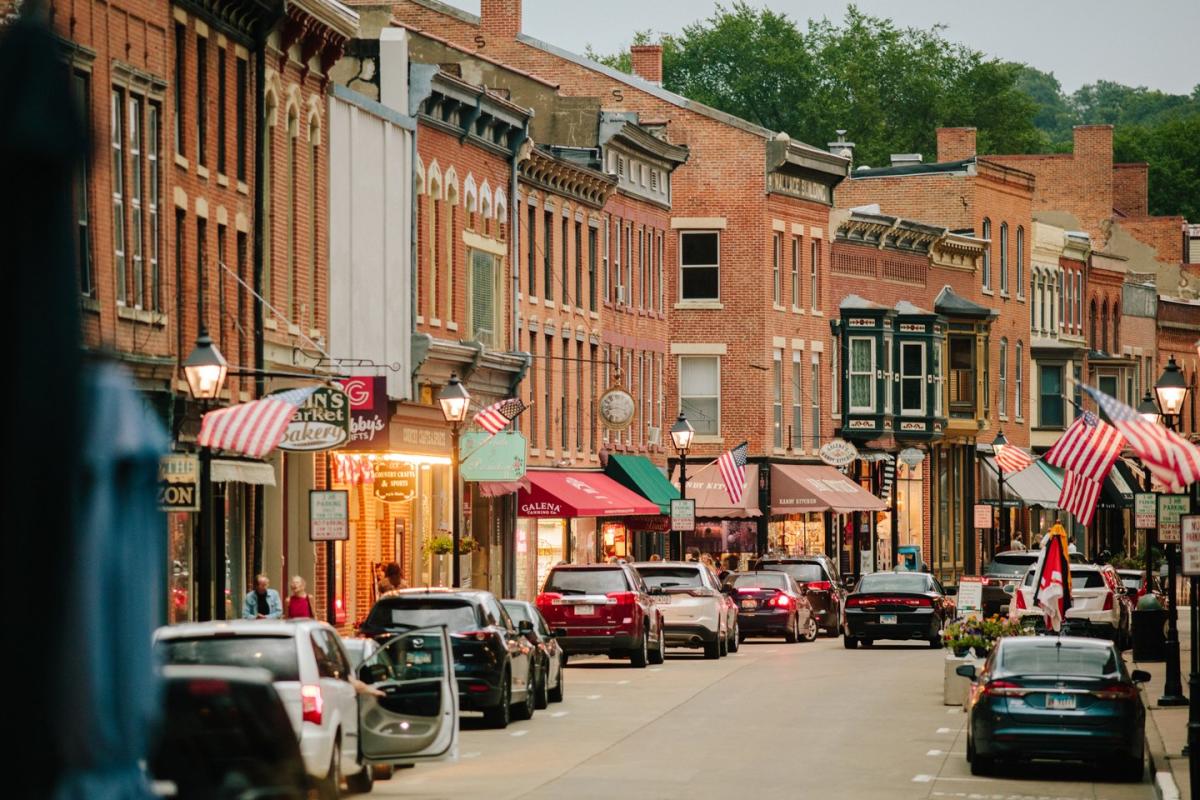 With over 87% of its buildings listed in the National Register of Historic Places, Galena's prominent past remains a permanent fixture. The architectural achievements of the men who discovered wealth in the region's rich lead deposits and profitable river commerce are best viewed while walking on foot.
This self-guided walking tour of downtown Galena identifies the community's diverse 19th century architectural styles and recounts the lives of the captivating individuals who first settled the steeply elevated terrain. The tour length is one hour. For your enjoyment, we recommend a comfortable pair of walking shoes and bottled water.
Bring a camera or a pair of binoculars to capture the tour's breathtaking views. Please note that most of the locations on the tour are private and we ask that you remain respectful while enjoying the tour. Finally, walk at your own pace and have fun exploring Galena's magnificent architectural treasures!
1. Galena River Levee & Floodgates
Built by the Army Corps of Engineers 1948-51, this large earthen levee with flood gates protects the downtown business district from periodic flooding, the worst of which was in 1937. This flood left up to five feet of water along Main Street. Visitors often ask how often the floodgates are used. Normally they might be closed only once every few years, usually when the ice leaves the river in the spring.
2. Corwith Building - 319 S. Main St.
Constructed in 1853 with a major facelift in 1873 and home of Nathan Corwith's Bank of Galena. The Corwiths were prominent businessmen from New York. Nathan Corwith left Galena in 1874 and moved to Chicago. He died in 1888, worth over $6 million.
3. Davis Block – 304-310 S. Main St.
These were the first, all brick blocks in Galena, consisting of five stores, constructed in 1846. Locally produced Galena brick is noted for its orange color and inner softness. For this reason, city ordinance requires they be cleaned chemically to prevent damage to the hard outer surface. Within this block, one of Galena's nine Civil War Generals, John C. Smith, had his jewelry store at 306 S. Main, and the town's most infamous lawyer, M.Y. Johnson had his law office on the second floor of 304 S. Main. He was arrested in 1862 for southern sympathies but later released for lack of evidence.
Galena fires: Every early city suffered from a devastating fire. Galena was no exception. Major fires in the 1840s led to ordinances which encouraged downtown commercial structures to be built of brick or stone. Still, the worst fire of all occurred in 1856, taking out several critical blocks. A building boom ensued, all in brick.
4. Old High School Steps
Located across from the DeSoto House Hotel, the stairway has been there since the 1850s. Wooden steps were replaced by concrete in 1919 and again in 1996. In addition to hilltop residents, the steps served hundreds of school children who used them morning, noon, and afternoon. They were walking to the large building on the hill with a square clock tower. This is the Old High School which was built in 1905 and converted in the 1980s to condominiums.
5. Desoto House Hotel – 230 S. Main St.
It opened in 1855. DeSoto is the oldest operating hotel in Illinois. It was named for the discoverer of the Mississippi - Hernando DeSoto. Investors included Jesse Grant, father of Ulysses. Both Lincoln and Douglas spoke from the balcony, although on separate occasions. Grant's presidential campaign headquarters were here in 1868. The original structure had five floors and 225 rooms, but lack of business, foundation settling, and fire insurance problems led to the top two floors being removed in 1880. Completely renovated in 1985-86.
6. DeSoto House Hotel Parking Garage
The original facades of Main Street buildings were kept for historic appearance. The hotel project could not have proceeded without this solution to off-street parking. The garage site was originally a livery stable for the famous Frink and Walker Stage Line out of Chicago during the 1840s and early 1850s.
Side Trip: U.S. Post Office (Green & Commerce Streets)
This is the second oldest continuously owned and operated Post Office in America. The second floor served as the Customhouse, and the first floor served as Post Office. The Renaissance Revival style utilized by architect Ammi B. Young was the first standardized style to be used by the government throughout the nation. Superintendent of Construction was engineer Ely Parker; a Seneca Indian raised on a reservation in New York. When the foundation was laid, he had it stacked with bars (pigs) of lead equal to the weight of the completed structure to settle the foundation. Later the lead was sold and shipped downriver. The structure was then completed with Nauvoo limestone from the same quarries that supplied stone for the Mormon Temple. Today the building is as solid as when it was built. Note: Ely S. Parker was one of the most famous Native Americans in U.S. history. He studied to become a lawyer only to be told by New York State that Indians could not become lawyers. He then became an engineer, was hired by the federal government and sent to Galena to build the customhouse/post office. While here, he met Grant. Volunteering for the Union with the outbreak of the Civil War, he was turned down because of his race, only to be accepted a year later. Grant made him his personal military secretary; he was breveted a brigadier general at the end of the war and later became President Grant's Commissioner of Indian Affairs, only to resign when he created a storm of controversy by sending emergency food rations to starving Plains Indians prior to congressional authorization.
7. Schmohl Building (St. Louis Building) - 201 S. Main St.
John and Lena Schmohl emigrated from Germany in the 1850s and opened a millinery store at this site. In 1886, Lena, having lost her husband, built this building and installed Galena's first hydraulic elevator. Her apartment was in back along Bench Street. She was a respected business leader long before most women had the opportunity.
The second Schmohl Building 213-217 (the white building) was built in 1884. This well-deserved buiding has been lovingly renovated with a nod to the Grant Hotel, now known as Ulysses Suites.
8. Coatsworth Building - 126 S. Main St.
Built by Joseph Coatsworth and Daniel Barrows in 1856-57. Utilized premium Milwaukee Cream City bricks, cast iron pillars, lintels, and sills. J.R. Grant promptly leased the 120 S. Main section for his leather goods store. It was here that Ulysses came to work in 1860. Major restoration occurred in the late 1970s - the building now houses apartments for seniors.
9. Newhall Drug Store - 101-103 S. Main St.
Built-in 1843 by Galena's foremost physician/pharmacist Horatio Newhall, a Yale graduate, who also published the "Miners Journal," Galena's first newspaper in 1828. But his most notable work was in treating Cholera victims during the dreaded 1832 and 1848 outbreaks. His observations on the disease and its spread are considered some of the best of the period. Note the small attic windows in the frieze, typical of the 1840s Greek Revival structures.
10. Hempstead Store - 100 N. Main St.
Built-in the Greek Revival style in 1846. Charles Hempstead was the first mayor of Galena, elected in 1841. Prior to this, the town was governed by a board of trustees and president. "City" status was given by the act of the legislature; Jo Daviess County's other "city" is East Dubuque; all other towns in the county are villages. The second floor also housed the law office of John A. Rawlins, another of Galena's nine Civil War generals who became Grant's Chief of Staff.
11. Brush Building - 120 N. Main St.
Circa 1837, this was the first large store to be constructed in the downtown of brick. Note federal style stepped gables (double-chimney) and prominent roof dormers.
12. Perry Street
Also known as the "cobblestone" street, although the stone was laid down as a deterrent to erosion, not as a paving stone. Maintaining control of horses and wagons on steep hills was a constant danger in early Galena (some say it still is...)
13. The Old Stockade - 208 Perry St.
Trader Amos Farrar's house became part of Galena's stockade during the 1832 Black Hawk War. A refuge for women and children, the upright timbers placed along the sill shows French "post and sill" influence. Restored to the 1890s appearance. Note: To locate the Old Stockade, take the first staircase at the corner of Perry and Main Streets. Proceed up the stairs halfway to the Old Stockade's entrance, a limestone walkway on the left.
Side Trip: Old Market House - 123 N. Commerce St.
This State Historic Site, built in the Greek Revival style in 1845, once sheltered both vendors and shoppers. 
14. Meusel Cigar Factory - 208-210 N. Main St.
This 1888 Italianate commercial building housed one of Galena's many 19th-century cigar manufactories. It was home to the Standard Cigar Factory. Tobacco was also a cash crop for some county farmers, particularly in the Stockton area, up until the 1890s.
15. John Dowling Building - 213 N. Main St.
Constructed in 1837 of native limestone. The southern half was purchased by the County and used as the courthouse from 1838 until the present courthouse was completed in 1844. The original building had a gable roof. Interestingly, the street level here was originally much lower; the main entrance in 1838 entered what is now the basement!
16. Flat Iron or Diagonal Building - 222 N. Main St.
The original building housed Bradley/Taylor House hotels and was three stories. Destroyed by fire in 1876. New Italianate structure was only two floors and has housed everything from the People's Bank (original safe still there) to a Justice of the Peace.
17. John Dowling House - 216 Diagonal St.
The Dowling House is located just left of Main Street on Diagonal Street. This vernacular structure is one of Galena's oldest, constructed circa 1826-27. Dowling was a trader who quickly became the largest iron dealer on the Upper Mississippi. Here you could buy stoves, hinges, nails, picks, and shovels. Note: Turn right on Franklin Street and proceed one block to Commerce Street to view the Old Blacksmith Shop.
18. Old Blacksmith Shop - (Corner of Commerce and Franklin St.)
At one time, Galena had more than two dozen operating blacksmith shops. Today the little red wood-frame structure is the only one that remains. Built-in 1897, most of the original tools including two forges and equipment are on display.
Throughout our history, Galena Country has proudly never been like anywhere else. We may be old but we're never the same old thing! Check out the visitors guide for more ideas and find awesome events on the calendar.