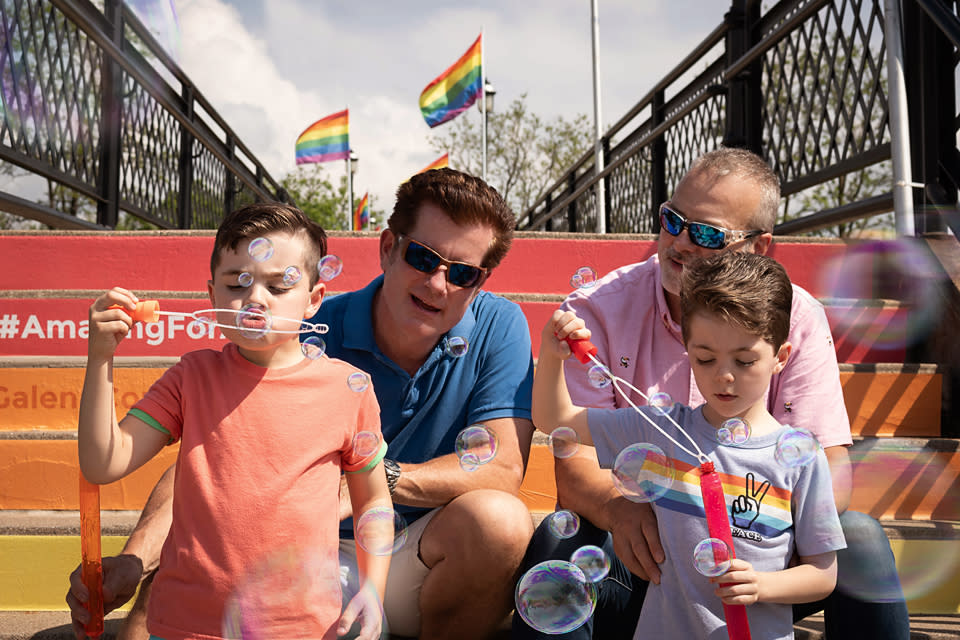 Galena Country has a strong history of inclusivity with many residents and businesses championing equality and diversity. To celebrate Pride Month in June, rainbow flags and rainbow stairs will once again take over the Galena Pedestrian Bridge linking downtown Galena to Grant Park.
This warm-hearted community welcomes everyone to visit with Pride and to experience the places and people that make it Amazing for All! Here are some of the ways to celebrate Pride Month this year: 
When searching for accommodation, consider Aldrich Guest House, owned by husbands Robert and Douglas Mahan. Guests can enjoy complimentary, color-changing pride cocktails each night of their stay during the month of June. Aldrich also happens to be the first and only cannabis-friendly lodging property in the area, featuring a separate 'Potting Shed', complete with snacks!
Galena is kicking off Pride Month with its second annual Pride Picnic! On Sat. June 11, pack a picnic basket filled with yummy Galena Country eats, gather your family and friends, including your fur babies, and head down to historic Grant Park. Enjoy listening to live music while taking in breathtaking views of the city of Galena. Check out the Ulysses. S Grant Statue and the historic cannons, all while relaxing to the soothing sounds of the bubbling fountain. 
Don't forget to take a selfie on the Pride Bridge and tag it with #AmazingForAll! Tip: Bread & Vine Bakery and Galena Bakehouse will be offering exclusive bakery items during the month of June - perfect packable snacks for the picnic!
While exploring more than 125 independently owned boutiques and restaurants on Galena's Historic Main Street. Visit Galena Apothecary where you'll find limited-edition Erin Keeffer Co. designed merchandise. The Neighborhood Trading Co., known for its vintage clothing, home decor and trendy gifts, will also offer exclusive merchandise celebrating PRIDE.
No living room is complete without the gorgeous aroma of the custom-made Amazing For All candles from The Scent Workshop and for the kitchen, take home a specially designed handcrafted cheese and charcueterie board from The Galena Spoon Co. Top off your newly purchased charcueterie board with special offerings from Galena River Wine & Cheese! Your kids and pups will love the exclusive products available at New Earth Animals and Galena Kids Store & Learning Center, available thru June. At the end of an eventful day, sip on a refreshing Pride Month drinks special at Galena Cellars Wine Tasting Room or stop by Embe for a delicious food special!
In Galena Country, we encourage people to follow their passions. To take a deep breath, relax and be themselves. Whether exploring the rolling hills of the driftless region, treasure-hunting along Galena's historic Main Street, or indulging in a savory farm-to-table meal, it's a great time to make your way to Galena Country!
Everyone loves a good story. And here, one story always leads to another. Make memories, celebrate each other, and tag your snaps with #AmazingForAll and #GalenaCountry when sharing your story.
Plan a one-of-a-kind getaway today by booking your stay and browsing the latest digital visitors guide. Be sure to stop at the Visitors Center for a free mini pride flag and sticker!