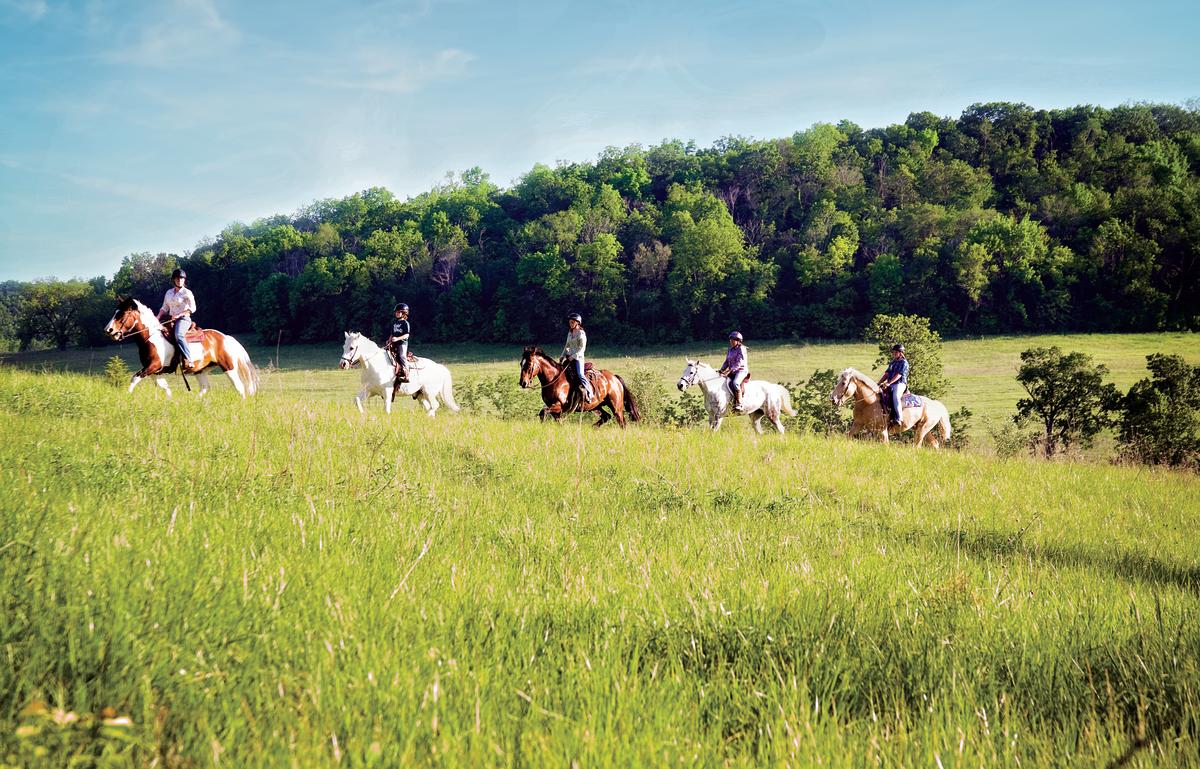 Galena's quaint and timeless downtown beckons travelers to escape the hustle and bustle of everyday life. Beyond Galena's beloved Main Street lies a world of outdoor adventure. Thanks to the extraordinary dedication of local conservationists, Galena now feels like a small town within a national park. With so much to see, plan on returning each season for countless new experiences. Add some more chapters to your Galena Country story with these iconic trips.
Start your exploration into Galena's great outdoors with a hike at Horseshoe Mound. At the summit, have a picnic and enjoy the tri-state and Mississippi River views. From there, stroll along the one-mile loop weaving through stately oak savannah and offering countless vistas. Horseshoe Mound looks entirely different depending on the time of year. Wildflowers explode across the slopes in the spring and early summer. Return for peak fall colors reminiscent of New England around September and October.
Deep, narrow and lush, Apple River Canyon challenges anyone's perceptions that the Midwest is strictly prairie land. Just 30 minutes from downtown Galena, this is the place for solitude. Meander along the Tower Rock Trail with marvelous cliffside views. Combine this with the shorter, gentler River Route Nature Trail for a more intimate experience of the environment. Though shade and wilderness draw summer travelers, the canyon holds much grander views in the winter once the trees lose their foliage. While traveling the scenic byways to Apple River, rest and recharge at Highway 20 Brewing Company in Elizabeth. Grab a flight and bask in the friendly local atmosphere punctuated by live music.
The Winston Tunnel Trail is not your regular rail-to-trail experience. Railroaders, tired of maintaining the track and tunnel through such remote country, left the line to the elements in the 1970s. But what was the railroader's folly became the hikers' delight. This 2-mile trail dives deep into the forest and hilly territory of northwestern Illinois. Marvel at how quickly nature reclaims the land when left undisturbed. Open year-round, the Winston Tunnel Trail is also an exquisite backcountry snowshoe route.
Galena Country's Rivers
For an effortless introduction to Galena's waterways, rent a kayak or paddle board from Nuts Outdoors. Linger along the calm waters with bucolic views of the town. Further up the river, nature encircles the paddler, creating a more secluded experience.
With your appetite whetted on the local waterway, broaden your travels to the backwaters of the Mississippi River. East Dubuque's Millennium Bar and Marina is the place for paddle boarding and kayak rentals. From there, drift along placid sloughs, islands and oxbows of the Mississippi. Come harvest season, paddle beneath towering bluffs effused with fall color for unforgettable leaf-peeping. Cap off your river day with pub favorites and pours at Millennium Bar.
Extending 8 miles (one-way) from Buehler Preserve to Chestnut Mountain, the Galena River Trail is an ideal family ride. Gentle grades and a packed surface invite a leisurely pace with plenty of scenic breaks. Be enveloped by the river and forest along the first miles of trail between Galena's downtown and the Mississippi River. Continue your sojourn along the Mississippi River for another few miles as it reaches Casper Bluff Land and Water Preserve. Here, acquaint yourself with the region's native history as you amble through an extraordinary collection of ancient ceremonial mounds. Though the bike path ends near Casper Bluff, the route flows another 2.6 miles to Chestnut Mountain Ski Resort. Break up the ride with a chairlift to the resort's summit.
Chestnut Mountain Resort is a place of superlatives and worth a day visit any time of year. Of course, you should come for the best snowboarding and skiing near Chicago. First-timers and experts find their perfect runs, all bathed in glorious views of the Mississippi. But Galena insiders know the snowy slopes are just the tip of the iceberg.
In the summer, families can make a day out of the resort's Mississippi River cruise. On this 1.5-hour tour, be enchanted by the views, the wildlife and the lore of this cherished river. Don't forget your binoculars—this section is well-known for bald eagle sightings. Chestnut Mountain's new Farside Bike Park is Illinois' only lift-accessible mountain biking park for endless downhill runs.
Cultivate a more intrepid spirit with Long Hollow Canopy Tours. UTV rides, rappels and 40-mile-per-hour zip lines make this course as invigorating as it is memorable. Or, you can choose your own adventure on their new challenge course. Both the cautious and fearless discover aerial elements.
Sheltered from the highways with a focus on elevated active living, The Galena Territory caters to couples needing a little more elbow room in their holiday. With or without the kids, add these nearby adventures to your itinerary. Wander over Galena's hill country in the most ancient of ways on a guided horseback ride. Shenandoah Riding Center leads trips all year but advises winter as the most serene time for riding. Horseback riding has a magical way of calming even the most anxious of minds.
An extraordinary trip to Galena Country needs a grand finale. On your last day, surprise your partner with a romantic sunrise or sunset hot air balloon ride with Galena on the Fly. Savor time with your loved one with a dreamy flight to 3,000 feet over some of the most dramatic territory in the Midwest. After coming down, pilots celebrate your first ride with a Champagne toast.
Galena Country transports people to another time and place to enjoy one-of-a-kind experiences and adventures! For more outdoor activities, popular shopping, and lodging options, browse the official Galena Country visitors guide.