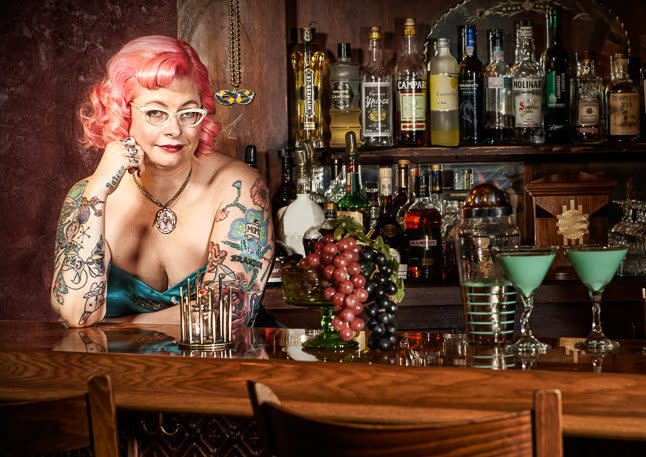 Image: Miss Kitty's Grape Escape taken by EnjoyIllinois.com  
Are you shopping for someone who made the naughty list this year? Unlike Santa, we won't be suggesting coal... instead, we have some fitting Galena Country favorites for the 'badly behaved'! 
It's beginning to look a lot like cocktails! Pick up a few gift certificates from Galena's hip and happening cocktail lounge featuring signature martinis and a bloody mary buffet. Throw in a cocktail kit or party pack as a delicious bonus!  
Expect the unexpected at this fun store! It's unique for all the things you didn't realize you need 'till you walk through the door! Find everything from puzzles, lazy onesie pajama sets, funny games, quirky, rare, and playful gifts.
Does the naughty list qualifier have a potty mouth? Chef Ivo's locally made and award-winning hot sauces will take care of that! Pick up a few old-fashioned jams, jellies, salsa, BBQ sauces, and more while you're there.
Blaum Bros. Distilling Co. 
Nothing says festive like a bottle of liquor from a local distillery. From the milling of the raw grains to the mashing, fermentation, and distillation... it's all produced right here in Galena! Pick up a comfy tee and some tasty spirits for that special scoundrel in your life. 
Curating the best selection of cigars for every palate, this store specializes in handpicking unusual selections to tease the taste buds of new as well as seasoned cigar smokers! They carry a variety of men's shaving & grooming items for the bearded fella, as well as fun barware items.
Shop sexy lip balms, body lotions, lingerie, massage oils, accessories and, more at this boutique! Whatever your desires.... Noty Kity can get it! They are focused on providing the largest variety of products and the highest level of customer service and satisfaction.
Create it, name it, and label it! Choose any combination from up to 60 unique flavors and make a unique blend for your mischievous gift recipient! Be adventurous, make something wild from flavors such as Blackberry Brandy and Chocolate Seduction! Think of a fitting name for your blend and then design your very own label. You can really have fun with this one! 
For the cannabis lovers on your list, you may consider a gift certificate to the Aldrich Guest House, Galena's first and only cannabis-friendly lodging. In addition to impeccable service and accommodations, the property offers a separate 'Potting Shed,' complete with snacks! 
Naughty list complete! Let's hope that next year, 'they'll be good... for goodness sake!' For more shopping ideas, check out the digital visitor's guide.