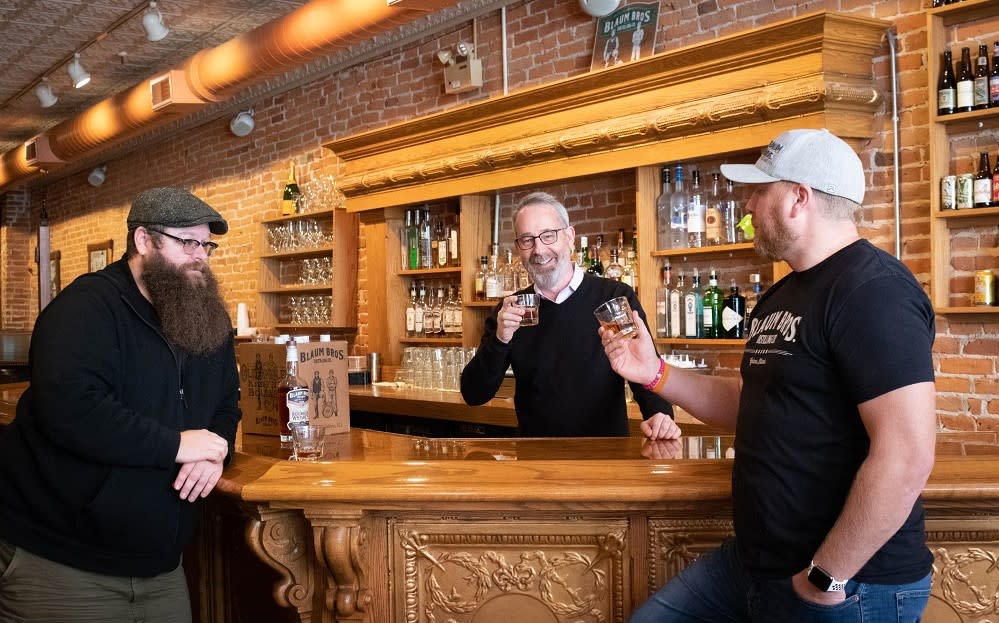 When it comes to meaningful male bonding, after-work drinks just don't cut it! To truly connect with your best buds, you need a 'bro-cation' in Galena Country for everything from thrilling outdoor activities to rocking live entertainment. Don't know where to start? We've gathered a list of great ideas for your man-cation.
Lodging
Before the shenanigans begin, make sure that you have a place to rest your weary head after an action-packed day! Galena Country has a wide variety of lodging options to choose from but here are some fun stays for your guy's getaway:
Arrowhead Tree House, Elizabeth
Brixen Ivy Ranch, Elizabeth
Eagle Ridge Resort & Spa, Galena
Irish Cottage Inn & Suites, Galena
LeFevre Inn & Resort, Galena
Palace Campground, Galena 
Get Outdoors 
Galena Country's rolling terrain creates a natural playground for unique outdoor activities! Feed your hunger for adventure with these experiences: 
Casper Bluff Land & Water Reserve, Galena
Drive 20 Golf Trail, Galena Country
Galena Fly Fishing Outfitters, Galena 
Galena On the Fly Hot Air Balloons, Galena
Hoof It Goat Treks, Galena
Nuts Outdoors, Galena
River Valley Hunting, Scales Mound
Shenandoah Riding Center, Galena
Woodbine Bend Golf Course, Woodbine
Raise your glass
Taste local in Galena Country by savoring handcrafted and award-winning beer, wine, and spirits, or hang out with the locals in hidden small-town bars and pubs. 
Blaum Bros. Distilling Co., Galena 
Frank O'Dowd's Irish Pub & Grill, Galena
Highway 20 Brewing Co., Elizabeth
Incognito Bar, East Dubuque
The Otherside, East Dubuque 
Shop Galena's Main Street
From leather apparel, cigars, locally roasted coffee, and sportswear to delicious food items, everyone in your group will find something on Galena's Historic Main Street. More than 125 shops and restaurants line this charming half mile.

Galena Canning Co., Galena  
Galena's Kandy Kitchen, Galena 
Galena Roasters, Galena
Nine Generals Cigar Co., Galena
Union Leathers, Galena
Verilife Cannabis Dispensery, Galena   
Fuel your hunger  
Follow your appetite to home-inspired comfort food or trendy eateries and brewpubs; there's no way you'll go hungry in Galena Country! Check out these tasty spots:
Cajun Jack's Bar & Grill, Elizabeth 
Frentress Lake Marina, East Dubuque  
Log Cabin Steakhouse, Galena 
Wally's Pizzeria & Pecatonica Beer Co. Tap House, Warren
Be entertained 
Dare your pals to go on a haunted pub crawl where you'll hear spine-tingling stories of hauntings in Galena! Be mystified by sophisticated sleight of hand at a magic show or enjoy live music played by local talent at a historic 1850s general store and railway station, now a watering hole and live music venue.
Council Hill Station, Scales Mound
Matthew's Haunted Pub Crawl, Galena
PT Murphy Magic Theatre, Galena
Frank O'Dowd's Irish Pub & Grill, Galena
Immerse yourself in history 
Follow in Ulysses S. Grant's footsteps with a visit to his home, frozen in time! Learn all about the 1832 Black Hawk War with a visit to the Apple River Fort or watch a demo, using original tools and forges in an authentic 1897 Old Blacksmith Shop!   
Apple River Fort State Historic Site, Elizabeth
Grant Home State Historic Site, Galena
Old Blackmith Shop, Galena
Events fit for a man-cation
Galena Country offers one-of-a-kind events year through; however, some stand out as the perfect male-bonding events that are sure to build on those memories for a lifetime.

Galena Brew Fest
Grant's Homefront Reenactment and Encampment 
Galena Whiskey Weekend 
Heroes For History Stair Challenge
Shenandoah Pro Rodeo 
In Galena Country, we've always been known to have a good time... times may change, but that never will. For more fun ideas on ways to enjoy Galena Country, check out the lastest visitors guide!