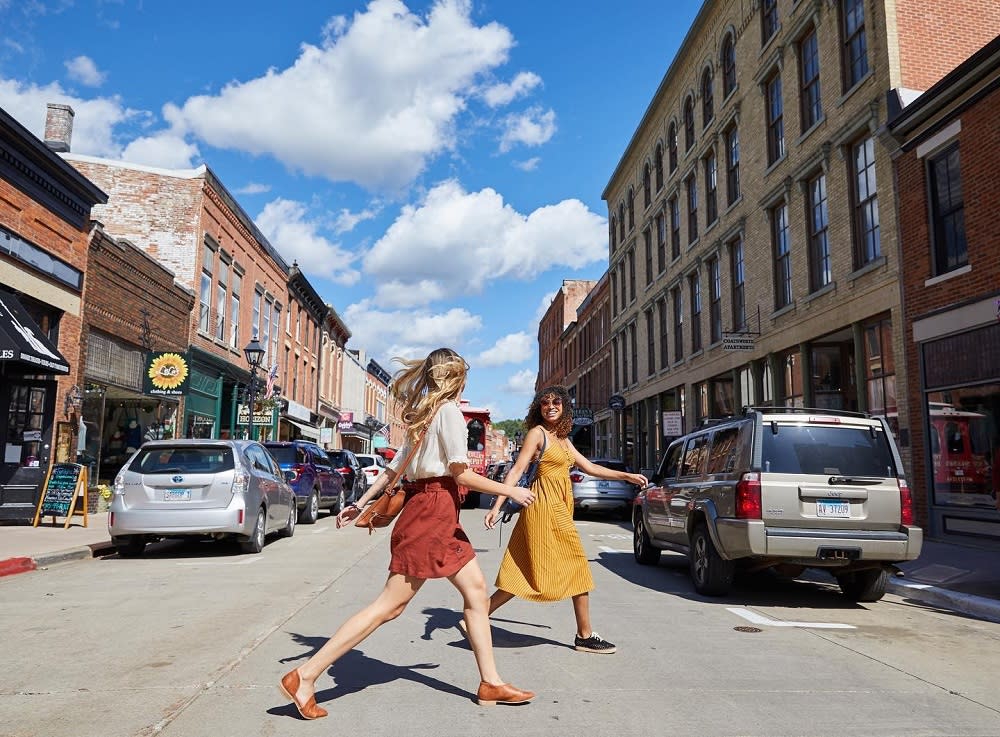 Image Credit: EnjoyIllinois.com
Friends are the greatest escape! You don't need to wait for that special occasion to celebrate the magic of friendship - two words: Girl's Trip! Gather your besties, and hit the road to Galena Country, where you'll create a lifetime of memories! 
A fun and beautifully scenic alternative to the highway is the Historic Stagecoach Trail, established in the 1830s! As you near Galena Country, hop off Highway 20, take the W. Galena Road/Stagecoach Rd. exit, through Lena, Waddams Grove, and continue to Nora, where gorgeous Galena Country begins.
In the town of Warren, pop into Dusty's Closet Antiques to find unique treasures! This small-town store features antique furniture, vintage collectibles, and a small gift selection. Thirsty? Stop for a refreshing pint at Pecatonica Beer Company and a slice of Wally's pizza.
As you head towards the town of Apple River, there is a 6.5-mile detour that's worth it! Turn left onto N.Canyon Park Rd., which will lead you to the Apple River Canyon State Park. Discover incredible limestone bluffs carved by the Apple River, deep ravines, springs, streams, and plenty of wildlife. This park is ideal for outdoor activities and camping in the summer. In the fall, this park puts on an impressive show of color bursts.
Back on Stagecoach, driving through the town of Apple River, a must-stop is the Thriving Thistle Market & Bistro. This is a gourmet gas station! It supplies zero-ethanol fuel for your vehicle, and the bistro offers delicious fuel for your belly! Treat yourselves to freshly baked bread, pizza, burgers, delicious smoothies, and more! 
After exploring this little gem, keep jamming to that playlist as you cruise towards Scales Mound. Stop at Pat's Country House Grocery for last-minute essentials, snacks, and yummy treats! How about celebrating your girl's trip at a unique and historic 1850's general store/railway station that has been transformed into a watering hole and music venue? This awesome find is called Council Hill Station in Scales Mound. Ruins of a woolen mill, barn, and silo can also be found on the property.
Otherwise, continue a little further to Galena Cellars Winery, where you can relax on the comfortable wrap-around deck of the charming farmhouse or on the manicured lawn, and soak in the gorgeous views of the vineyards. If you don't have enough time on your hands, you could wait until you reach Galena, where they have a tasting room downtown. How convenient!
Arrive in Galena and check into Ulysses Suites, a fun vacation rental situated right in the heart of downtown Galena - a girls shopping paradise! Explore more than 125 independently owned boutiques, galleries, and eateries on Galena's historic Main Street. Make your own perfume or scented candles at the Scent Workshop, and stop in at Noty Kity to shop lip balms, body lotions, lingerie, massage oils, and more!
Part of the fun of shopping in Galena is taste-testing the unique foods while you shop. Taste your way down Main Street, testing anything from a delicious slice of artisan cheese to homemade candy and freshly popped popcorn. Sip on fresh brews at the Galena Brewing Company, sparkling bubbles at Champagne on Main, or specialty cocktails at Miss Kitty's Grape Escape while singing along to live music played by local artists! If you dare, try a Haunted pub crawl or ghost tour before you turn in for the night! What about a magic show? Visit the P.T Murphy Magic Theatre to witness P.T.'s personable style, mischievous sense of humor, and sophisticated sleight of hand.
A great way to end a fun weekend with the girls before heading back home is to enjoy the relaxed vibe at Millennium Bar & Marina, tucked away on the backwaters of the Mississippi River in East Dubuque. Here you can enjoy some home cooking and specialty drinks at the water's edge while you share your favorite memories of your road trip.
TIP: To add to your already exciting girlfriend getaway, there is a collection of brand new experiences happening only in Galena Country, featuring unique educational workshops, delicious tastings, and outdoor adventures, such a goat trekking - yes, we said goat trekking with adorbale goats! Don't just visit; make the most of your time with these hands-on, behind-the-scenes fun activities that only happen here.
Galena Country transports people to another time and place to enjoy one-of-a-kind experiences and adventures. Some historic, some timeless, and some brand-new, but always original. Start planning your trip today by browsing the latest Galena Country Visitors Guide, and be sure to book your accommodation early!