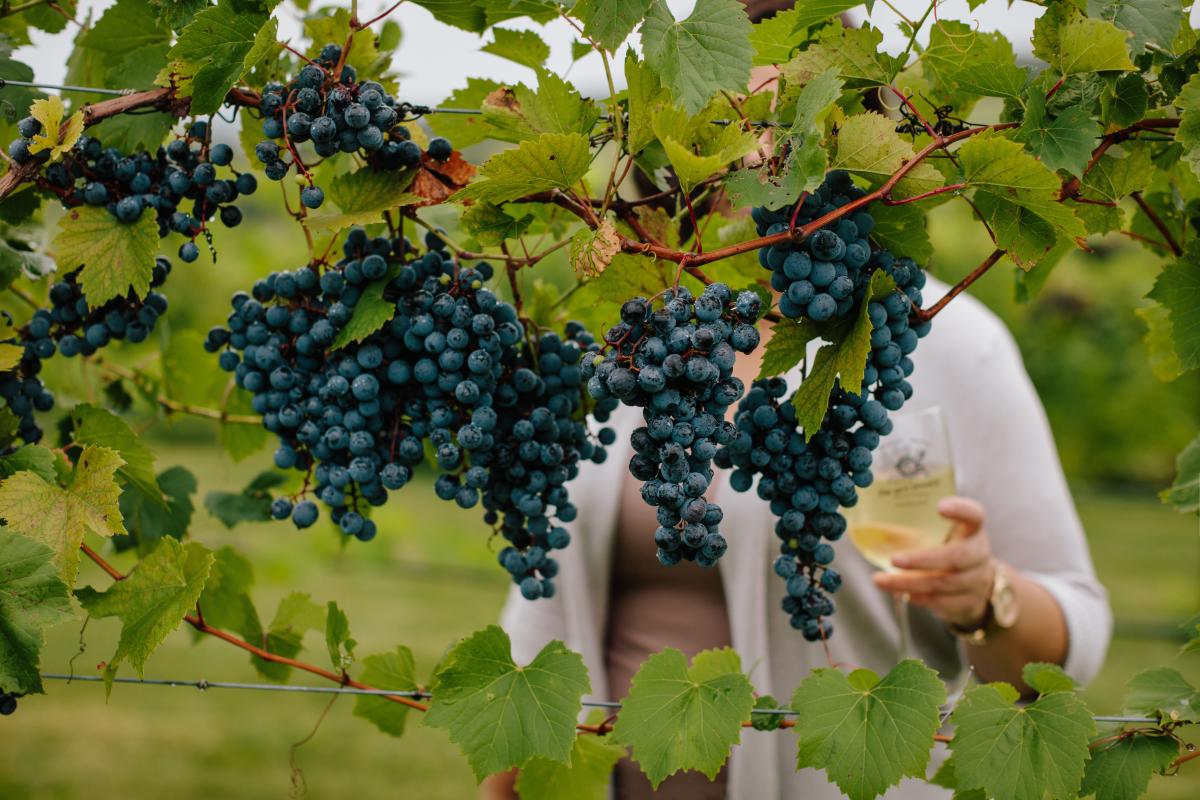 Growing perfect grapes in northwest Illinois takes years of practice. The Galena-area families who do it have spent generations experimenting and fine-tuning their crops and winemaking processes—and wine-loving visitors profit from the results.
Depending on the vibe you're after, you can uncork these lovingly produced wines in tasting rooms along Galena's bustling Main Street, or enjoy a scenic drive out of town to the vineyards where the grapes are grown and the wines are perfected.
One of Galena Country's loveliest vineyard views is from the wraparound porch at Galena Cellars Vineyard & Winery. The winery and its landmark Red Barn have been owned by the Lawlor family for three generations.
Tours are available, but people mostly come to relax in the countryside and sample the 40 wine varieties. Favorites include the Sparkling Frontenac Gris, a semi-dry sparkling rosé that won Best Wine in Illinois at the 2019 Illinois State Fair. Their popular flagship wine, Eric the Red, is a dry red infused with American Oak, with notes of spearmint, tart raspberry and cherry. On a hot day, visitors might opt for wine slushies or the popular Señor and Señorita Sangrias.
Galena Cellars' Wine Tasting Room & Gift Shop, located on Galena's Historic Main Street, is set in a 3-story Italianate style building, originally built in the 1860s. Enjoy a tasting while listening to live music on the weekends. *
At the Main Street location of Massbach Ridge Winery, guests are welcome to bring in popcorn, chocolates and other foods they purchase in town to pair with the wines. Year after year, people return for a bottle of their sweet red Träumen wine. The Daffodil white is another crowd pleaser.
Located on an 18-acre farm, 10 miles off Highway 20 in Elizabeth, Massbach Ridge offers informal tours, tastings and shopping. The annual pre harvest festival promises hayrides through the vineyard—laden with clusters of plump grapes— and live music performances.
The style is more Italian than Illinoisan at Rosario Bruno's Fergedaboudit Vineyard & Winery in Hanover. Bruno, who is of Sicilian heritage, learned winemaking techniques from his Italian friends. They would purchase California grapes right off the trains near Chicago's famous Taylor Street, having sampled different grapes and haggled for the best prices.
Part of the charm at this winery is that it produces great wine, but the owners don't take themselves too seriously, as their lighthearted name suggests. In a tasting room designed to look like a Tuscan village, fans uncork popular wines, like Cabernet Franc, Syrah or Moscato. The wine can be served with an Italian antipasto or cheese plate.
Also in Hanover, located on a bluff overlooking a 25-acre vineyard, is Rocky Waters Vineyard & Winery. The tranquil, boutique winery, run by the Spahn family, produces 14 wines, including the Marechal Foch Tower Red, the sweet Leon Millot Meadow Blush and the Prairie Gold Dry Riesling.
For ideas on what else you can do and see in Galena Country, browse the latest Visitors Guide. 
*Edited by Galena Country Tourism to reflect updated location.