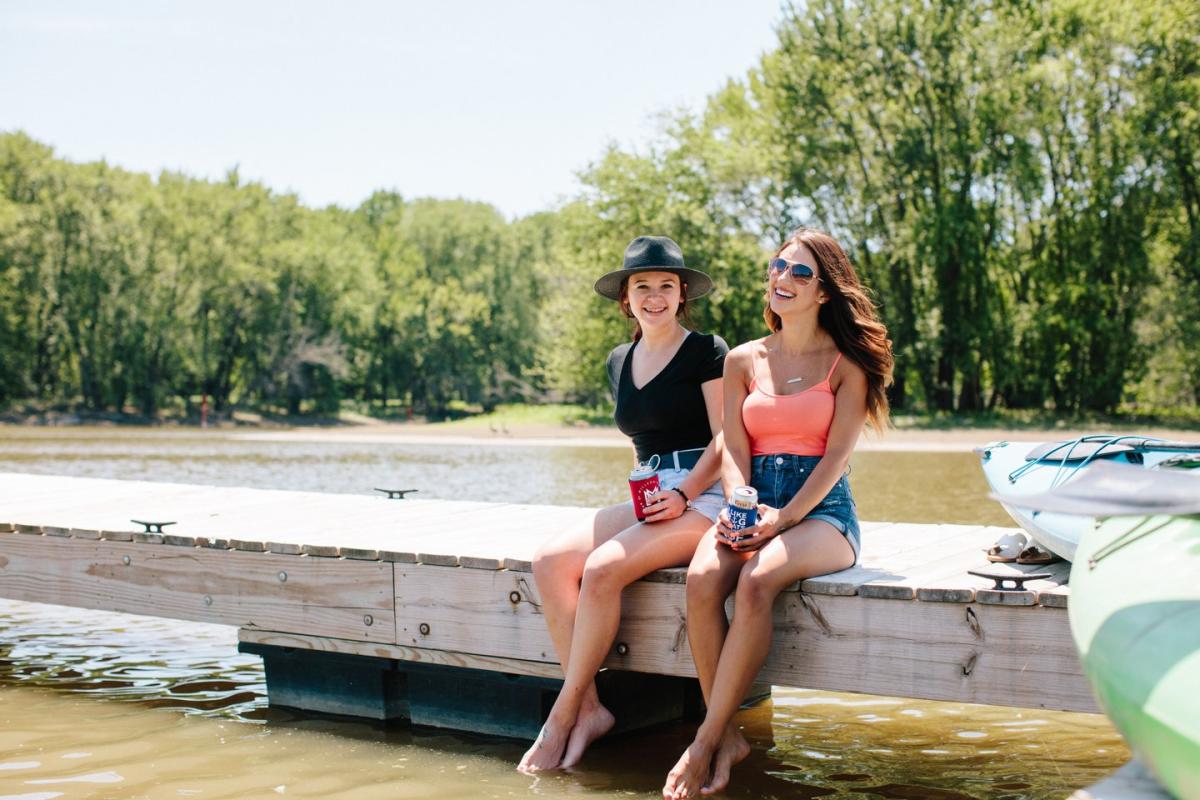 Listen to the locals if you're looking for great ways to spend time in Galena Country.
Galena Country has captured the hearts of many over the years, and some have started businesses to let visitors experience the best the area has to offer. These owners invite you to learn what many other locals have known for years: there is no place like Galena Country.
Twenty years ago, Sam Stoddard's father brought his passion for golf to a stunning landscape in Woodbine. As the area's newest and only links-style golf course, Woodbine Bend Golf Course encompasses 18 holes of awe-inspiring views across rolling green hills. Stoddard is honored to provide this unique golf experience to visitors.
"The game of golf has played a great role in my life," he said. "It gives me great pride to see other families coming out and creating those same memories."
Woodbine Bend was founded on a dedication to excellence. Stoddard credits golf with its ability to teach its players integrity, honor, etiquette, and personal responsibility. You can also find these attributes within the staff here, from keeping the course in impeccable condition to prioritizing the customer experience. And don't forget the gourmet menu, which features hand-cut rib-eye, walleye fillet, and barbecue ribs.
As an all-encompassing attraction, Woodbine Bend has some of the best sights in Galena Country while giving visitors an experience to match.
"What I love most about Galena Country is that it's got more golf courses than stoplights," Stoddard said. "Where else can you find that?"
The McGoverns know how to take care of business. Their family built four successful businesses, each with its unique charm.
Beautifully Berkeley: A floral and home decor shop in downtown Stockton.
Sweet Alice's: A bakery specializing in homemade cakes, caramels, turtle-shaped "Berkeleys" and blooming teas.
Stella's Cafe and Catering: A cozy diner in an unmistakable historic building in Stockton.
Savvy Scavengers: A boutique clothing store for women with an eclectic style.
Terry McGovern and her daughter, Molly McGovern-Mensendike, own Beautifully Berkeley, Sweet Alice's, and Savvy Scavengers. Andy McGovern, Terry's son, is the owner and chef at Stella's Cafe and Catering. Most McGovern businesses have a name in the title, emphasizing the importance of family.
Sweet Alice's is named after Terry's granddaughter, while Beautifully Berkeley is named after Molly's daughter.
Stella's Cafe and Catering is named after Andy's youngest daughter. As a father of five, he enjoys having his family's businesses in Galena Country because of the strong sense of community.
"We've invested in the community, and the community has invested in us," he said. "And I feel like it's just one big family in general."
Samantha Trentz and her husband Ryan wanted to create a place where people could have a good time. Whether that means exceptional food and drink, live music, or access to the backwaters of the Mississippi River, Millennium Bar & Marina is a good-vibe paradise.
"We absolutely love the small-community vibes," Trentz said. "We love how everyone's here to help each other out."
Millennium Bar prides itself on bringing people together with its scratch-made food and signature cocktails. The seafood boil bag—a fan favorite—lets you choose from mussels, scallops, shrimp, snow crab legs, and andouille sausage. Enjoy with melted butter and your choice of seasoning. Trentz calls the Buoy Bucket a summer staple, plus "32 ounces of rum and bad decisions."
The marina next to the bar also rents kayaks, adding to the already-inviting atmosphere.
"The most satisfying moment is seeing everyone have a good time enjoying the property, their food, and their drinks," Trentz said. "But the best part is the relationships we've built with our customers and the regulars. All of that is absolutely priceless."
Jack Coulter first visited Galena in 1985 to meet a girl. Not long after his initial visit to the community, Coulter fell in love, married his wife, Deb, and opened a business together.
Jack and Deb started Vinny Vanucchi's, a family-style Italian restaurant that uses recipes handed down through generations from Deb's ancestors. Her grandmother came to the United States from Sicily in the early 1900s and made home-cooked meals for their whole family. Deb wants to follow in her grandmother's footsteps and provide the people of Galena with a similar experience. At Vinny Vanucchi's, this little slice of Italy in Galena wants to give diners a "taste of the old neighborhood."
From Nana Lu's meat lasagna to Auntie Nancy's manicotti and Dee Dee's tortellini carbonara, each dish has a history. Now Jack and Deb strive to create their own history in Galena. Coulter has come to adore the area, as it reminds him of the small country towns from his home in Ireland.
"My favorite part of the day is to take an evening stroll over to the footbridge of Grant Park," Jack said. "You've got the warm glow of the lights, the peace, the tranquility, the quietness. It's a perfect way to end a day."
There's so much more to explore in Galena Country; browse the latest visitors guide and book your unique stay today!