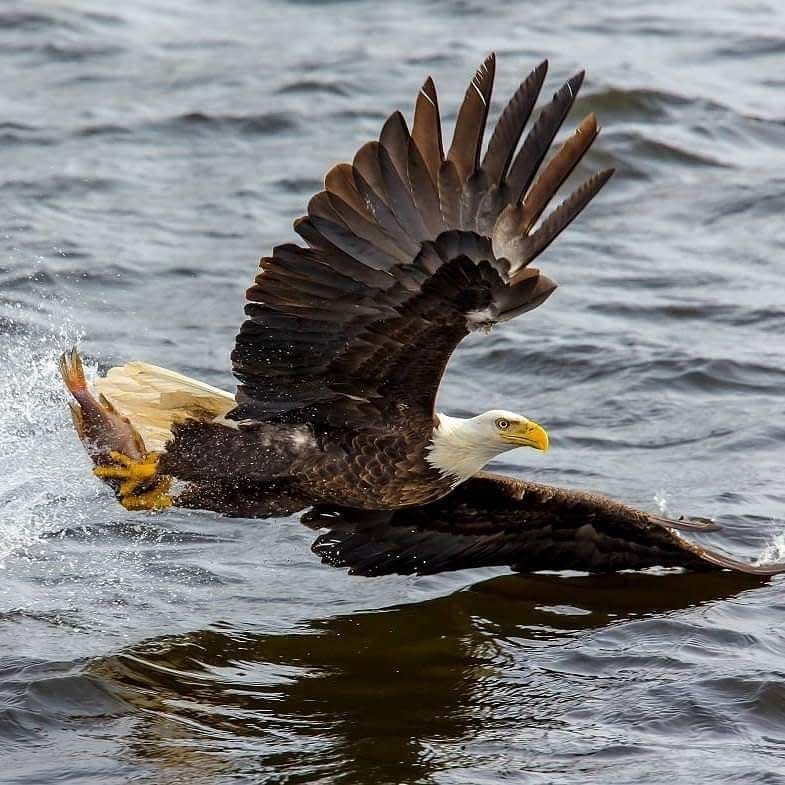 Everything about the American Bald Eagle is larger than life, right down to its nest! It's no wonder it is are our national symbol! The fierce beauty and proud independence of this great bird aptly symbolize the strength and freedom of America.
Illinois is home to the second largest population of wintering Bald Eagles, behind Alaska. Galena Country offers the rare opportunity to witness these majestic creatures in their natural habitat along the mighty Mississippi River and lakes! The open waters draw them in as they escape the ice in the north. 
Look for eagles gathering by the hundreds, soaring in solitude, or chasing other birds for their food. The optimal time to view them would be in January and February. Visiting the following six locations will increase your chances of spotting this regal bird! 
This slope-side resort is located on a wooded palisade overlooking the Mississippi River, the perfect vantage point for eagle watching! Rated by Ski Magazine as one of the top ski resorts in the Midwest, Chestnut Mountain goes all out with 19 runs ranging from novice to black diamond, and a snowboarding park containing more than 25 rails and an array of features. 
Located just next door to Chestnut is the only Galena bed and breakfast located high above the banks of the Mississippi River. Featuring whirlpool suites, private fireplaces, a private in-room gourmet breakfast, and a romantic dining experience, this is the perfect couple winter escape! The bare trees frame exquisite river views where you can spot bald eagles soaring down to fish the river. Binoculars are conveniently available at the front desk for a closer look! 

Did You Know: Up to 2,500 bald eagles winter along the Mississippi near the lock and dams. The turbulence created below the dams provide open water and a smorgasbord of stunned fish for eagles to feast upon. In addition, the wooded bluffs that overlook the Mississippi are excellent habitat for roosting and an increasing number of cases nesting.
Set in one of Northern Illinois' most beautiful and secluded locales, the 6,800-acre Galena Territory, Eagle Ridge Resort & Spa is a truly one-of-a-kind getaway from hotel accommodation to vacation rentals. One of The Galena Territory's most cherished amenities is Lake Galena, boasting some of the best fishing in the area and Bald Eagles know it! Enjoy exciting winter activities at the Nordic Center, including ice-skating, sledding, and snowshoeing while keeping an eye on the sky, 
Experience a commanding view of the Mississippi River and the only known intact thunderbird effigy mound in Illinois. Enjoy 85 acres of scenic Mississippi River bluffs where you are sure to find Bald Eagles soaring in their natural habitat! Don't forget a pair of binoculars and your camera!
This scenic canyon was formed by the action of the winding waters of the Apple River. Limestone bluffs, deep ravines, springs, streams, and wildlife characterize this area which was once a part of a vast sea bottom that stretched from the Alleghenies to the Rockies. To watch soaring Eagles in this setting is a special treat! 
This 10-acre park housing Native American archaeological & historical trails overlooks the Mississippi River which offers many opportunities for eagle watching! Bald Eagles generally choose to roost in large trees in protected places within eight miles of their feeding grounds. Be sure to check the surrounding trees! The bridge that you will see crossing the Mississippi River is called the Julien Dubuque Bridge, connecting the state of Iowa to the state of Illinois. 
This foundation conducts a variety of exciting programs to save our national symbol and other endangered species from extinction, and to increase public awareness of unique, endangered plants and animals. Every year, the foundation offers bus tours where participants have the opportunity to observe wintering bald eagles along the Upper Mississippi River. The tour provides enjoyable education about the eagle: its past, present, and future. Due to COVID restrictions, tours are not currently running but this is a tour to add to your list for future visits! 
Bonus Tip: Dawn and dusk prove to be the best times to photograph eagles, especially a little before sunrise as they begin to get active! 
As warm weather arrives, most eagles will begin their journey back north to northern Minnesota, Wisconsin, and Canada to prepare for the nesting season while we patiently wait for their return visit!  For more ideas on things to do and see, browse the latest visitors guide. Don't forget to book your cozy lodging spot! We've always been known to have a good time... times may change, but that never will.  
Please be prepared to enjoy Galena Country responsibly by wearing a mask and keeping your distance. For further information on COVID-19 guidelines in our area, please click here.