A vacation really feels like a vacation when you can sit outside and relax with a cocktail, ice-cream or enjoy a full meal in the shade while you take in beautiful scenery. From secret backyard gardens, to sunny sidewalk-seating, to large covered patios, we have created a list of great outdoor spots in Galena Country: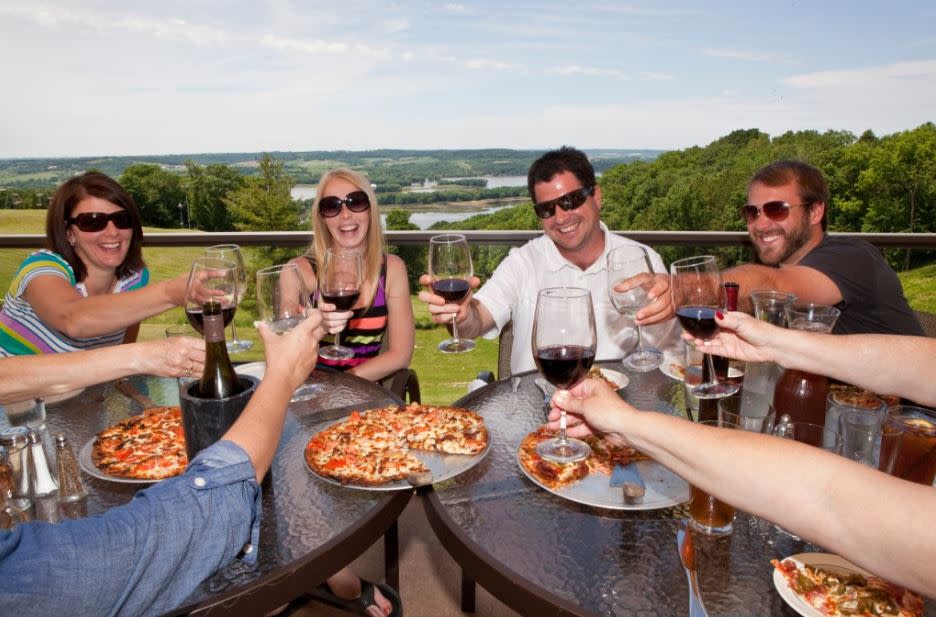 Sunset Grille - Chestnut Mountain Resort
Cajun Jack's Bar & Grill, Elizabeth Talented musicians will entertainment you while you enjoy your favorite Southern dish on the covered patio.
Campeche Restaurant, Galena Listen to live music and the bubbling fountain on the outdoor patio, as you sip your margarita at this authentic Mexican restaurant.
Fergedaboudit Vineyard and Winery, Hanover Sit on the covered deck, offering breathtaking views over the vineyards while you sip on your favorite wine and nibble from a cheese platter.
Galena Cellars Wine Tasting Room, Galena Enjoy a wine tasting, peruse the gift shop and then make your way to the hidden courtyard at the back of the gift shop to enjoy a glass or wine or a Bloody Mary in the shade.
Galena Cellars Vineyard & Winery, Galena Relax on the spacious wrap-around deck with a glass of wine and take in the gorgeous view. Furry friends are also welcome to join you.
Galena River Wine & Cheese, Galena Grab a snack from the extensive gourmet cheeses, sausages and specialty foods and enjoy it at the sidewalk table just outside the store.
Gobbies Sports Pub & Eatery, Galena Serving Chicago-style pizza and other pub fare, this restaurant features a spacious and beautifully decorated courtyard on Main Street. Sink into one of their outdoor sofas and enjoy the weather!
Goldmoor Inn, Galena Fine Dining at its best with exquisite views of the Mississippi River and the rolling hills of Galena from the outdoor patio.
Jamie's Wine Studio of Galena Hidden behind this intimate wine and bar martini bar, you'll find a small garden with a seating area... but sshhh, don't tell anyone!
JJ & Freddie's, Stockton Stop at the Gateway of Galena Country on US Hwy 20, and grab a bite to eat outdoors while watching the activity of Stockton pass you by. Enjoy home-cooked food in a fun environment.
Kaladi's Coffee Bar, Galena Take a seat at the sidewalk table outside this European-style coffee bar. Enjoy your coffee, pastry or homemade gelato as you watch the buzz of Galena go by.
Little Tokyo, Galena Sit in the shaded courtyard away from the buzz of the town while you savor the finest Japanese food in the Tri-States area.
Massbach Ridge Winery Relax, unwind and savor your new discovery on the deck or in the garden while you take in the beautiful views of the vineyards.
Rocky Waters Vineyard & Winery After your wine tasting, take a seat on the shaded deck with your favorite wine and take in the spectacular views.
Silver Spoon Restaurant, East Dubuque Watch the sunset from the dining courtyard bordering the peaceful waters of Fentress Lake. Silver spoon offers elevated comfort food in an upscale, yet casual modern atmosphere.
Small Town Saloon, Elizabeth This small-town restaurant offers burgers, a farm-to-table menu, fully-stocked bar and daily specials. Enjoy the good food out on their deck.
Sunset Grille at Chestnut Mountain Resort, Galena Perched high atop a wooded palisade overlooking panoramic views of the Mississippi River, the restaurant features a 4, 400 square-foot outdoor dining deck. Savor the sunset while enjoying great food and drinks!
The Corner Tap, Stockton Every Saturday from April through October, The Corner Tap offers a Steak Fry on the patio area and corn hole games.
Three Sisters Sweet Shoppe, Elizabeth Visit this charming sweet shop just 15 minutes east of Galena. Choose your favorite flavor ice cream, cupcake or pie and enjoy it in the garden seating area.
Thriving Thistle Market, Apple River Not your typical gas station! Stretch your legs and enjoy made-to-order salads, sandwiches, smoothies and more out on the patio.
Vinny Vanucchi's "Little Italy", Galena Enjoy classic Italian dishes on the patio which is nestled in the historic building's courtyard, next to a cobblestone road. Sit under the colorful umbrellas and enjoy the music form street performers nearby!