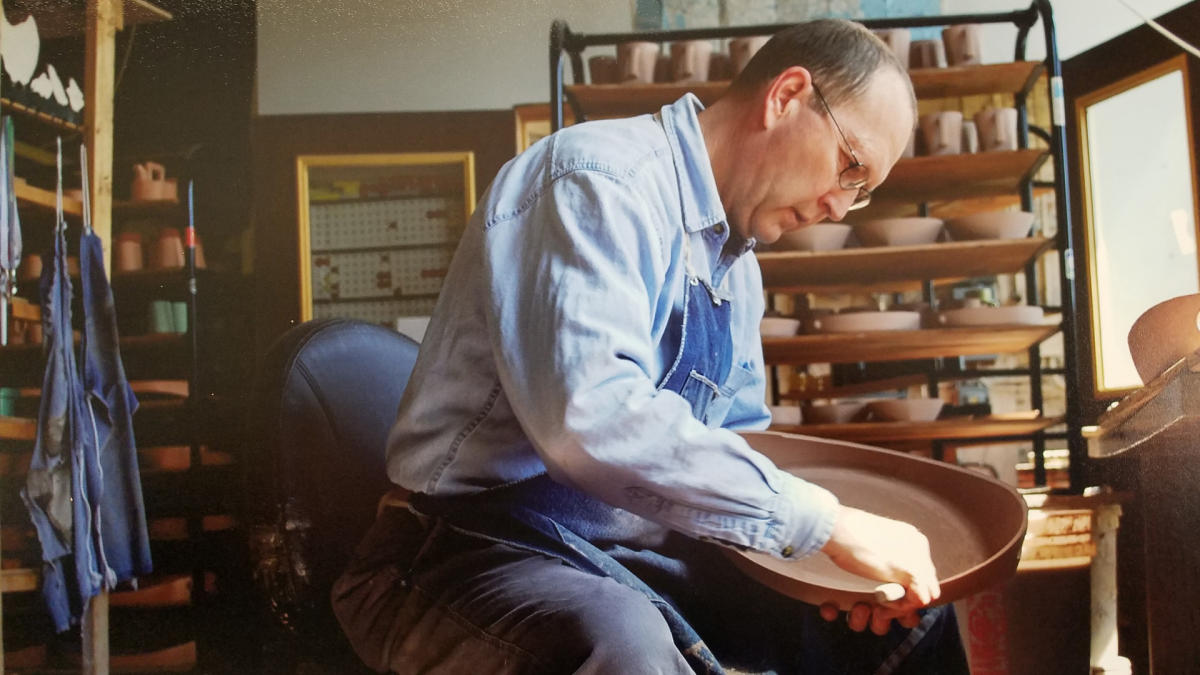 Image: Eshelman Pottery - credit: EnjoyIllinois.com
Are you up for handcrafted? Illinois is a land of pioneers and a fair share of them are found in Galena Country! The Illinois Made program is an Illinois Department of Tourism initiative. It showcases Illinois makers, creators and artisans – the craftspeople, artists, family-owned businesses, small-batch breweries, distilleries, foodies, and farmers that make Illinois thrive.
Each maker has a captivating story to tell, whether it be a rich history, unique origins, or a pioneering spirit. Meet the Galena Country makers and creators who are proud to be recognized as Illinois Makers:
After the brothers quit their day jobs (Mike worked for the Department of Defense; Matt dabbled in nuclear medicine), the Bros. settled in Galena, a town steeped in distilling history, and took their passion for good booze to a higher level. Blaum Bros. has quickly become a popular tourist attraction in Galena. Read more
Owned and operated since 1854 by the Dittmar family, this farm specializes in sweet corn, pumpkins, and apples. The pumpkin patch started when they decided to have an annual pumpkin party, now it is famous for offering U-pick pumpkins for five to six weeks in September and October. They also offer hayrides, handmade donuts, a corn maze, and lots of family fun. Read more
Each piece, from cups to plates to serving dishes, is inspired by Paul Eshelman's vision of bringing everyone together around a dinner table. His works reflect an artful expression of every day, bold, innovative, austere and practical; or as Paul deftly segments on his website masthead - Eat, Drink, Serve, Pour, Arrange. Read more
Husbands, Geoff & Alex Arroyo-Karnish moved to Galena from Manhattan in 2019 to manage the historic Inn at Felt Manor. In returning to their midwestern roots they quickly fell in love with the picturesque charm of Galena's Historic Main Street. Galena Bakehouse was created out of a dream to provide quality homemade food to everyone in Galena in a quick and convenient setting. Read more
With craftsmanship in mind and family at the root of this Galena winery, Galena Cellars has taken home Winemaker of the Year Award by Grape Growers and Vintners Association, along with many other notable mentions. Keeping to the tradition of the tannin, the third generation of Lawlors are currently learning the art of wine as their parents did, making sure the business remains close to home. Read more
After moving to Galena in 1993, Chef Ivo noticed that in this wonderful old town, no one was making Grandma's old-fashioned canned goods and after many people asked him to bottle his sauces, salsas, and jams, he decided to give it a try! After selling his goods at fairs and markets, the demand grew and grew, and now Galena Canning Company is a flourishing business winning many awards! Read more
The Great American Popcorn Company was established in 1994 by Dave and Cathie Lewis. This local pop-shop features an average of 50 different flavors of popcorn on a daily basis. These popcorn flavors range from decadent, old-fashioned caramel to savory, spicy Italian. The Lewis's have created over 350 delicious flavors since opening the store over 20 years ago! Read more
Galena Spoon Co. offers a wide variety of hand-carved wooden spoons, kitchen boards, hand-turned bowls, and other high-quality kitchen accompaniments and home decor. Enjoy in-store spoon carving demonstrations and so much more at this charming shop located at the corner of Hill & Main in the heart of historic downtown Galena, IL. Owner and Artist, Paul Pendola, also offers spoon carving classes at The Spoon Carver Cottage located just a few blocks from the store. Read more
Marie's wood carvings are original designs handcrafted from hardwoods such as walnut and cherry, or exotic woods like purple heart and rosewood. Each artisanal piece has been hand carved, sculpted and finished with intricate detail. Marie McDonough has been carving in her "spare time" for over 20 years. Learn to carve a Comfort Bird in one 4-hour beginner's class! Read more
Joe Pinder says that he did not make a conscious decision in high school to have the dream of making pottery as a profession. On his first day of pottery class in college, he made a life-sized sculpture of one of his gym shoes, while other classmates made pinch pots. He has always enjoyed a challenge and does not want to make the ordinary or simple. Joe never thought he would make functional pottery and believes potters should not make items in the same way as they are made by manufacturing companies. This is the reason for his unique color and texture. Read more
As a person born with Down syndrome, Geoffrey has found a special connection with photography as a means of expressing himself. His artwork, often technically difficult, catches elusive light that the eye sees but that cameras often miss. After graduating from Community College, Geoffrey decided that he wanted a full-time career as an artist. In the spring of 2016, River Bend Gallery was launched on Galena's famous Main Street, housing his entire photography collection. Read more
The Spahn family are proud to have created one of the many wonderful and unique attractions to be found in the Mississippi River bluffs region. Area natives Jared & Phyllis Spahn purchased 112 acres of land just outside Hanover, Illinois in 1994 and planted a vine nursery with 3,600 grape cuttings in 1996. They had visited wineries and vineyards in California and those trips inspired them to create their own in Northwestern Illinois, where the natural beauty rivals and may even exceed that of Napa Valley. Read more
There's so much more to explore in Galena Country, browse the latest visitors guide to learn why this area is Forever Original! 
*A portion of the above text is from the Illinois Office of Tourism website.*