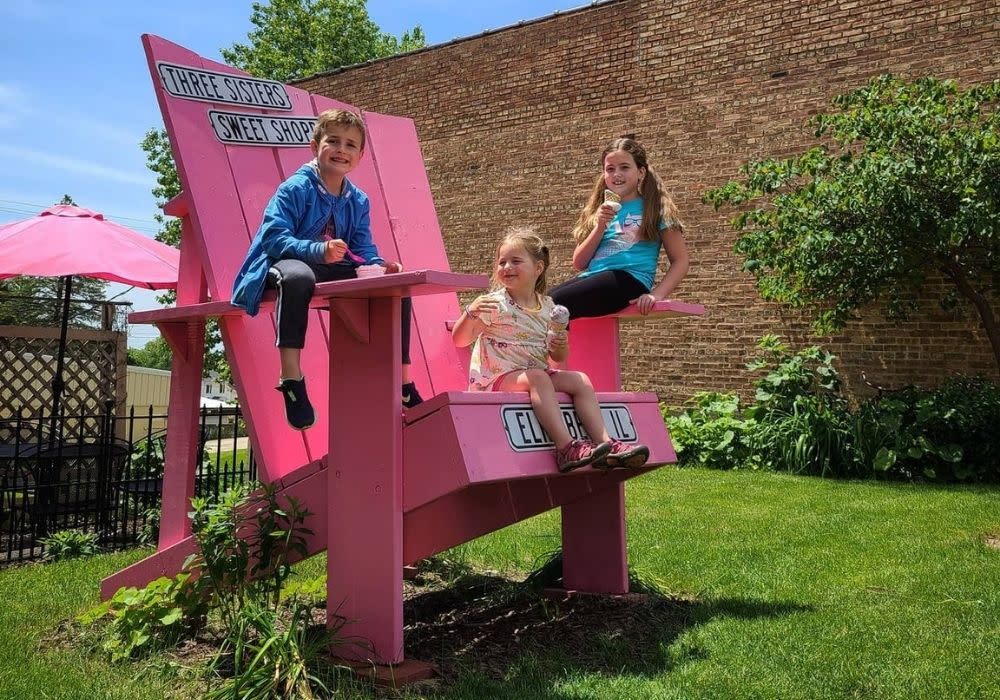 Credit: @nholland_images
"Are we there yet?" The greatest part of a family road trip isn't arriving at your destination, it's the little memories made along the way! Gather the gang, get behind the wheel and get to Galena Country!
U.S. Highway 20 is an east-west highway that stretches from The Pacific Northwest all the way to New England, making it the longest highway in America. It also happens to travel through Galena Country… the best place to enjoy a family road trip.
But first, breakfast
Just off Highway 20, heading west towards Galena, is the charming town of Stockton! Enjoy a delicious homemade breakfast at Stella's Café which is housed in the beautiful W.E. White Building. Listed on the National Historic Registry, the building is known for its beautiful original tin ceiling and artful ambiance, so don't forget to look up!
Strike A Pose!
After breakfast, it's time to strike a pose in front of Stockton's beautiful murals found just steps away from Stella's. These family shots are sure to receive loads of likes on Insta! Grab some homemade candy from Sweet Alice's for the road and take note of the cute Alice in Wonderland themed store.
Take a piece of Galena Country home with you!
Once you're back on Highway 20, heading west towards Galena, look out for Nature's Treasures in Woodbine where you'll find the most gorgeous items to remind you of your trip. Mom, you will love the organic gardening supplies, wind chimes, crystals and so much more!
Take your pick!
The kids are going to love this one! Stop at Terrapin Orchards, a U-pick strawberry and apple orchard offering a couple of hours of fun and loads of juicy and delicious fruit… mmmm!
History Lesson
Highway 20 takes you through the quaint village of Elizabeth. Time for a history lesson at the Chicago Great Western Railway Depot Museum. Watch the numerous model trains and railroads operate around the museum and step inside a full-size Milwaukee Road caboose.
Ice Cream Stop
As you depart the town of Elizabeth, there's an adorable little candy store called the Three Sisters Sweet Shoppe. Stop for some refreshing ice cream and jump onto the giant pink chair for a great photo together… yes, the whole family can fit!
A Welcome Sight
As you continue your road trip on Highway 20, notice the stunning views of wooded countryside interspersed with neat farmsteads and hilly terrain dotted with cows. This would be a good time to play "I spy"! You'll soon reach the Long Hollow Scenic Overlook which offers breathtaking views of Galena Country's rolling countryside… a sight for sore eyes! Don't miss this opportunity for a great family photo!
Time Travel
Enter the town of Galena on highway 20 and take a turn onto the town's Main Street. This street is frozen in time and steeped in history! It's lined with beautifully restored 19th Century buildings which house art galleries, eclectic boutiques, and restaurants.
Wow the kids
Conveniently located at the beginning of Main Street is a kid's happy place called Poopsie's. This store is fun, funky and beyond the ordinary! The children can check out the toys, games, and books on one side of the store, while you explore the one-of-a-kind art, jewelry, home décor and other gifts on the other. Another fun toy store to explore is Galena Kids Store and Learning Center, an educational toy, game and puzzle store for both children and parents!
Watch Sparks Fly
Once you reach the end of Main Street, turn right and you will find the authentic 1897 Old Blacksmith Shop to your left. Treat the family to a live demo of a blacksmith forging metal the way they used to in the 1800s. The shop is also filled with original tools for you to inspect.
Say Cheese!
For rumbling bellies, there's a delicious treat waiting for you at Galena River Wine & Cheese as you head out of Galena! Choose any type of cheese from their wide selection for a mouthwatering grilled cheese sandwich. Mom and Dad… pick out that bottle of wine to savor later on!
Has your family ever seen the Mighty Mississippi River? Hop back onto Highway 20 traveling west and it will lead you straight to it! Stop at Gramercy Park in East Dubuque, a 10-acre city park overlooking the river. It's also a natural heritage landmark, home to 26 ceremonial and burial mounds. Watch the sun go down at this beautiful site.
Dine at the water's edge
A great way to end a fun day of family adventure is to head down to Millennium Bar & Marina, tucked away in a slough in East Dubuque. Here you can enjoy some home cooking at the water's edge while you share your favorite memories of your road trip.
For more fun ideas on ways to entertain the family, check out the Galena Country Visitors Guide. Explore scenic overlooks, picturesque trails and cultural sites… making family memories one road trip at a time.