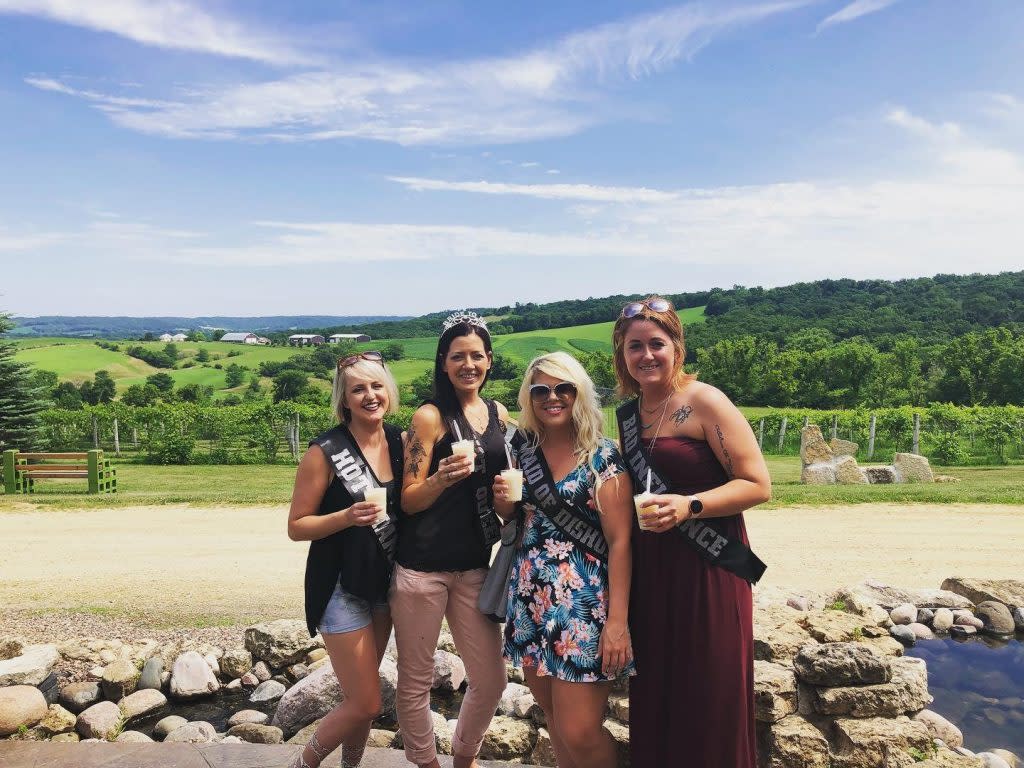 Credit: @emmymeyers1
Galena Country is already recognized as a destination wedding hot-spot, given the beautiful rolling hills, picturesque churches, rich history and Galena's Main Street frozen in the 1800s! Maids of honor are drawn to the area for these reasons and more... reasons that make Galena Country one of the best destinations for bachelorette party adventures.
When I sip, you sip, we sip
With more than 13 pubs and bars on Galena's Main Street alone, there are plenty of places to celebrate the bride-to-be with a toast. Each pub offers a unique atmosphere! From quiz-bowl trivia, martinis and live music at Miss Kitty's Grape Escape, to brewery tours and live music at the Galena Brewing Company and karaoke at Gobbie's Sports Pub & Eatery, the Galena pub scene is one big party. Don't worry about driving. All pubs are located within walking distance to one another and, when the night is over, call one of Galena's cab services to transport the party back to your lodging. 
How about celebrating at a unique and historic 1850's general store/railway station that has been transformed into a watering hole and music venue? This awesome find is called Council Hill Station in Scales Mound. Cajun Jack's Bar & Grill in Elizabeth is another unique venue for live music, outdoor seating and fun themed decor for those selfies!
Let's do brunch
Galena Country's dining scene is superb and bachelorettes looking for the ultimate brunch experience will find it here, mimosas and all. The Courtyard Restaurant, Goldmoor Inn, Fritz and Frites, Victory Cafe, Paradise Bar & Grill, and Otto's Place all offer a delicious brunch menu. Don't forget to order a glass of Rosé and toast the bride-to-be. If the group is coming off a late-night and brunch isn't in the cards, there are plenty of dining options to explore for a late lunch or dinner.
So many shopportunities
Who doesn't love a good boutique? Galena's Main Street houses more than 125 independent businesses, making it a shopper's paradise. Check out the scents and pleasures of Noty Kity. Savor the flavors of Galena with a taste through the Galena Canning Company, The Grateful Gourmet or Galena River Wine & Cheese. Design a custom necklace at Rustic River or create your own personalized wooden sign at Creative Expressions Galena. Take a short drive to Elizabeth's Grand Antique Co. where more than 200 vendors offer antiques, vintage goods, home decor and more. While in Elizabeth, check out Jane Marie Boutique for a cute outfit, or Eshelman Pottery for a one-of-a-kind piece of functional pottery.
Get artsy
Be inspired by the beauty of Galena County and create some artwork of your own! Learn how to spin pottery at Artists' Annex, paint beautiful landscapes with artist Sandra Principe or take a tour of the Pinder Pottery Studio. Follow the happening Galena Country events calendar to join creative workshops taught by talented local artists at Artists and Artisans in Elizabeth. Most art shops, studios, and galleries are open year-round, take a piece of Galena Country home with you!
Unique Galena Country
Explore the city of Galena's rich history with a trolley tour through the historic district. Embrace Mother Nature with the breathtaking views on top of Horseshoe Mound. Walk the same halls that Ulysses S. Grant roamed with a tour through the Grant Home. Be fearless on a zip line journey through the scenic Tapley Woods with Long Hollow Canopy Tours. Take your party to new heights and float above the rolling landscapes of Galena Country in a hot air with Galena on the Fly! What about a magic show? Visit the P.T Murphy Magic Theatre to witness P.T.'s s personable style, mischievous sense of humor, and sophisticated sleight of hand.
Explore Wine, Beer, and Spirits
Fall in love at first sip at one of four wineries, namely Galena Cellars Winery, Massbach Ridge Winery, Fergedaboudit Vineyard & Winery, and Rocky Waters Vineyard. Take a behind-the-scenes tour of the brewing process at the Galena Brewing Co. with a beer in hand or learn all about the distilling process at Blaum Bros. Distilling Co. ending off with a tasting. You could also hop on a Wine Tasting or Hop tour with Countryside Tours let them do the driving for you! The possibilities are endless and with so much to see and do, bachelorette partygoers never run out of options.
This is not goodbye...
Once the party ends, start a new tradition by planning your return girl's trip to Galena Country! Browse the digital travel guide for more ideas on what to see and do and don't forget to book your accommodation early!
Please be prepared to enjoy Galena Country responsibly by wearing a mask and keeping your distance. For further information on COVID-19 guidelines in our area, please click here.