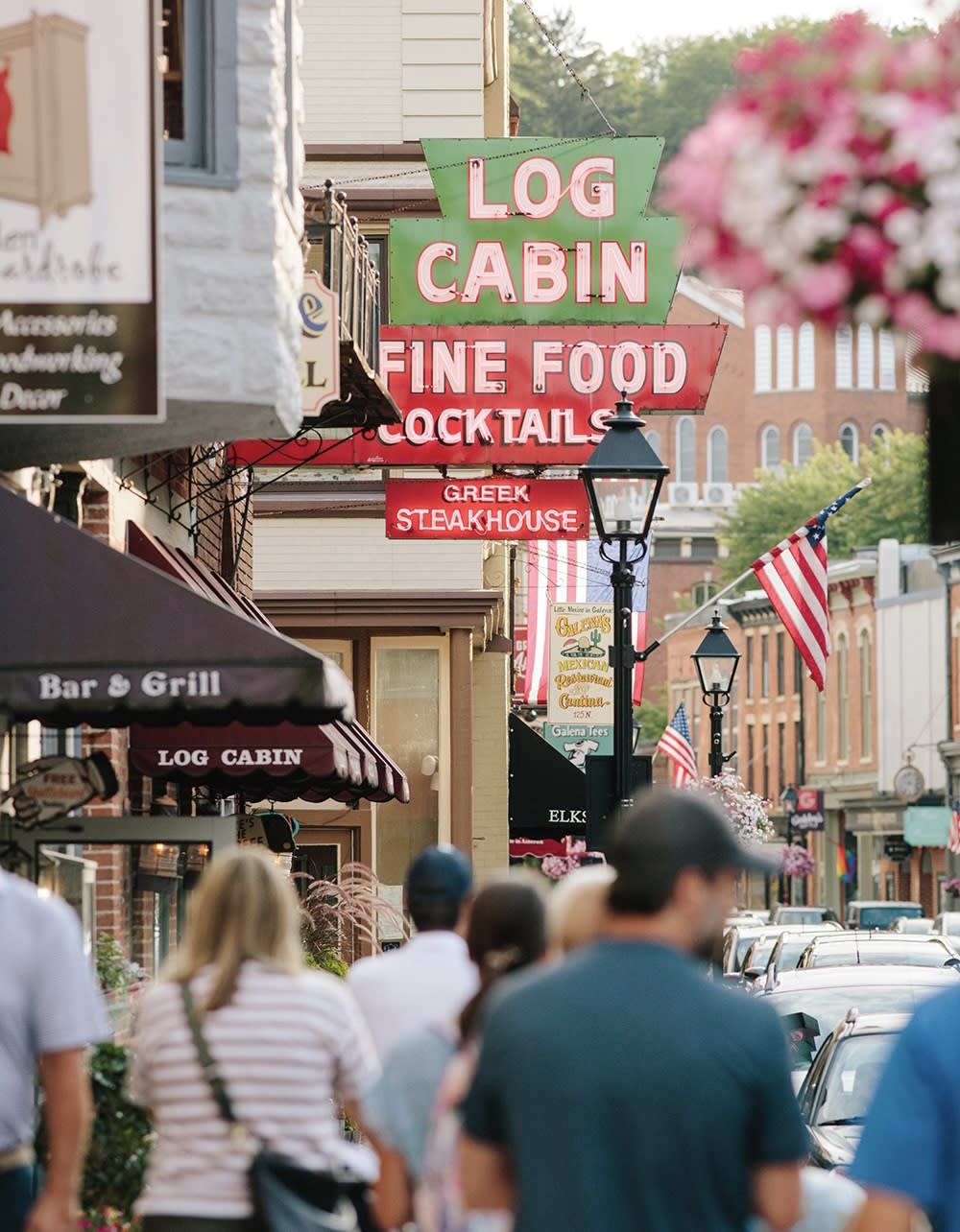 The workcation—a getaway from home that mixes livelihood, rest and fun—is a hot vacation trend with prospects for personal and professional rejuvenation. That's especially true in
Galena Country
, whose beautiful location inspires and invigorates. Myriad diversions nurture the mind, body, soul and appetite. So pack a laptop and leave behind the distractions or rut of wherever you usually labor.
Work away from work—with coworkers for team building, family to mix business with pleasure—or a solo sojourn to simultaneously relax, re-energize and reward yourself. Make basecamp at a spacious villa, a suite at an inn, a homey bed & breakfast or a resort with wide-ranging amenities. Galena Country has a generous spectrum of accommodations, crisply appointed motels and hotels and Airbnb/VRBO listings. From there, the pursuit of happiness is all up to you.
Turn Back Time
History is rich and revered in Galena, where 85% of buildings are in a National Register Historic District. Navigate downtown hills on foot and peruse historical markers, or take a seat on a narrated tour of the past through Galena Trolley Tours.
Among the architectural highlights: the 1865 Ulysses S. Grant Home, a state historic site outfitted with all of its original furnishings; the 1826 Dowling House, the oldest Galena house, which was built with limestone and used by fur traders; the 1897 Old Blacksmith Shop with working forges and a gift shop; and the 1855 DeSoto House, the oldest continuously operating hotel in Illinois, which also includes the Generals' Restaurant.
Maneuver the 37-mile Stagecoach Trail between Galena and Warren, imagining what it was like to travel long ago in a horse drawn carriage en route to Chicago. Picture-perfect hills, ravines and farmland await. Apple River Fort State Historic Site is an interpretive center that recognizes an 1832 Black Hawk War site. Come night time, delve into the area's spine-chilling history through Haunted Galena Ghost Tours or Amelia's Ghost Tours.
Mealtime
Cravings for good food are satisfied easily and in endless ways, regardless of whether you seek something quick/casual or leisurely/gourmet. Hearty Log Cabin Steakhouse, open and sizzling since 1937, is Galena's oldest restaurant. The famous crab Louie salad and slow-roasted Reuben sandwich have stayed on the Market House Restaurant menu since opening in 1982. Visit Stella's Café for breakfast, plus homemade breads and soups.
At Otto's Place, the garnish-laden Bloody Mary is a specialty, as is vegan, vegetarian and gluten-free fare. Mud Run Beer Company in Stockton, serves a saucy menu of barbecue and grinds brisket into burgers. Add a craft brew to your order, like Living the Dreamsicle, a cream ale with an orange sherbet flavor.
Blufftop Timmerman's Supper Club in East Dubuque, serves scrumptious steaks and seafood with expansive, unmatched Mississippi River views. In Warren, Chubz Pub and Grub delivers live music with tasty, casual fare and the occasional frosted cinnamon rolls by the pan. At Wally's Pizzeria, yummy mac salad goes fast when offered by the pound.
Making Time Fly
Explore the parks and conservancies of Jo Daviess County, where trails range from paved and easy to all-out challenging. For the daredevil in you, check out the downhill mountain biking trails and skiing options at Chestnut Mountain Resort. Ziplines are a big deal at Long Hollow Canopy Tours, but so are obstacle courses, rappelling, sky bridges, ladders and treehouses.
You choose the degree of difficulty. Rent kayaks, paddleboards, electric bicycles and fishing guides at Nuts Outdoors. The outfitter can help plot your perfect escapade. For a gentler adventure, Galena Goat Yoga blends play time and exercise.
Or go clubbing on the county's 10 golf courses—all with gorgeous settings. Think that's magical? Add a show at P.T. Murphy Magic Theatre for a different definition of show-stopping fun.
Carve out the Time
In the art studio of Marie's Wood Carving in Stockton are sculptures of wildlife and small household items. Browse, buy or learn the basics of wood carving; three-hour classes are taught to children and adults.
Good things come in small communities elsewhere, too. Consider Elizabeth! Village Treasures sells unique home decor, holiday items and gifts. Enticing at Common Cents Resale are vintage cool furniture, clothing and decor (proceeds support a nonprofit hospice). For the broadest mix of gallery and boutique shopping, head to Galena's Historic Main Street, where more than 125 independent businesses—most within a half mile—stock edible, wearable, artistic and eclectic items.
A keen souvenir is a bottle of something made locally, so bask in the area's abundance of wine tastings. For starters, sip within view of robust vineyards at Massbach Ridge, or simply swing into its downtown Galena tasting room. Galena Cellars Winery is another two-location operation, where you can add a quiet overnight at its rural location.
Break Time
Start the morning with a fresh cup of joe from Trolley Depot Coffee and Tea Company, or take one of their classes in brewing. Choose from over 100 coffee flavors at Mean Bean Coffee Roasters, or sample artisan pastries at Kaladi's Coffee Bar. Prefer a pub stop? Nurse a cocktail at Green Street Tavern at DeSoto House Hotel, where a sleek hardwood bar sets a history rich tone, as do framed photos of long-ago Galena.
For a roadhouse edge, find Cajun Jack's Bar and Grill, where libations wash down traditional Southern dishes—think crawfish boils, biscuits and gravy. For a multi-stop intro to local spirits, take Matthew's Haunted Pub Crawl, a downtown Galena walking tour that mixes local history and paranormal lore. And since cannabis is legal in Illinois, count Verilife Dispensary among the reliable, licensed spots with informed staff to explain products for medical and recreational use.
Time for Fun
When it's quittin' time for work, Galena Country doesn't disappoint, especially on Thursday evenings during warmer weather. Walk Galena's Main Street from 5 to 7 p.m. during Thursday Night Live in Galena, a free-to-see showcase of performing musicians and visual art.
Every last Thursday, enjoy Live at the Plaza, a family friendly, free-to-attend event featuring regional musicians, performers, food and drink. In downtown East Dubuque, Cruisin' Thursdays are 4 to 9:30 p.m. Gearheads should check out the unique and classic muscle cars and vintage vehicles along Sinsinawa Avenue with a backdrop of free music every fall.
There's a lot of places out there, but there's nowhere like us! Book your stay and let the planning begin with a browse through the digital visitors guide.