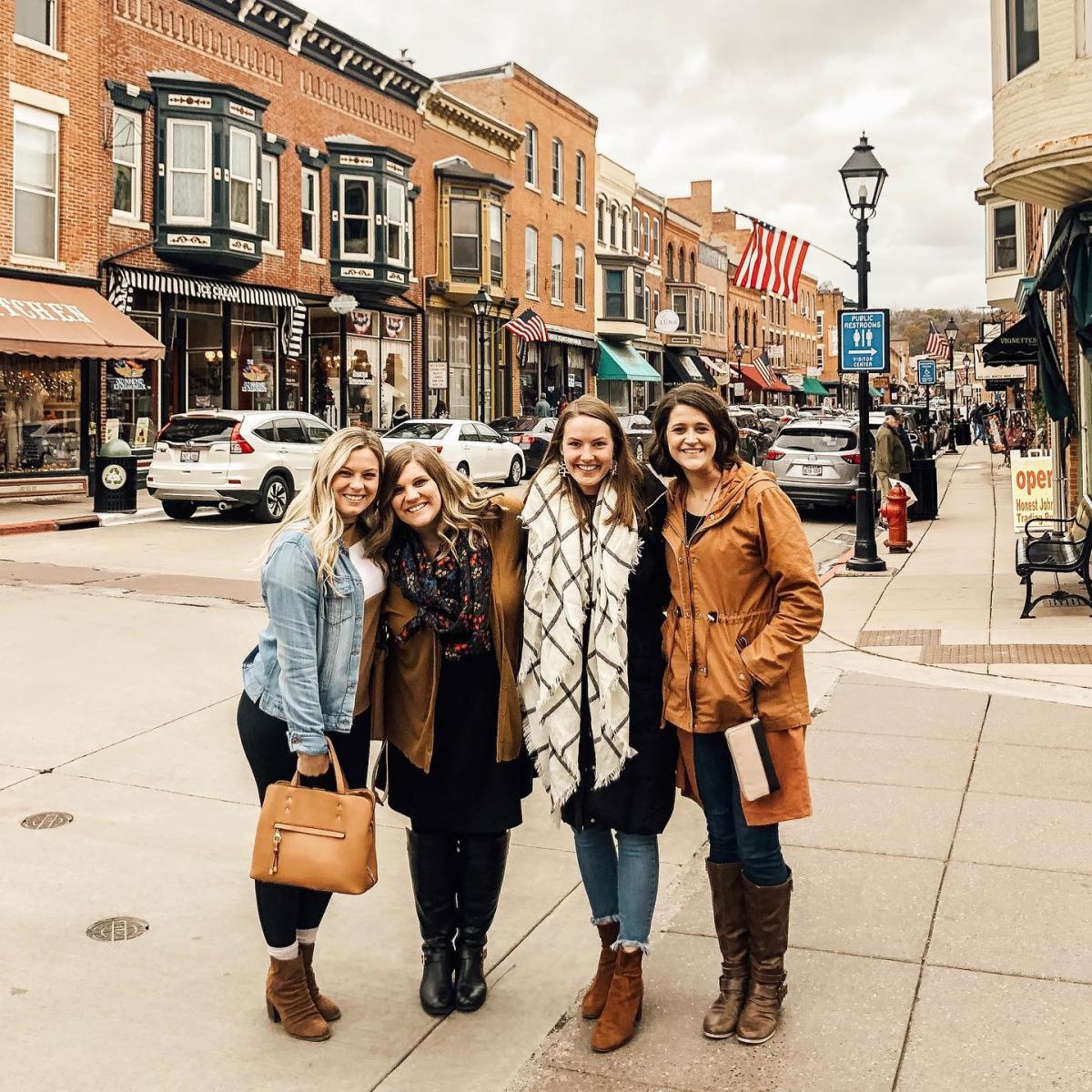 Gather your closest gal pals and plan a getaway loaded with wine, shopping and laughs! Only a few hours' drive from Chicago, Des Moines, Madison and Kansas City, this traveler's favorite is one of Illinois' best kept secrets!
Heading into town on historic Hwy 20, be sure to stop in Elizabeth, IL to check out a not-to-miss stop, Elizabeth's Grand Antique Co., it features more than 200 vendors offering antiques, vintage goods, home décor and hand-crafted items! Before making your way to Galena, grab lunch at Cajun Jacks Bar & Grill to enjoy comfort food with a southern flair.
Arrive in Galena and check into Elle & Becks second floor suite, situated in the heart of downtown Galena. Freshen up before exploring Main Street, home to more than 125 independently owned boutiques, galleries, eateries and attractions. Begin by tasting your way down Main Street with wine from Galena Cellars, followed up with gourmet sauces, jams and salsa from Galena Canning Co., and treats from Chew Chew Cookies. Treasure-hunt down the street and back, discovering a little something for you, and your loved ones!
Head back to the room with treats and treasures in hand, and piping-hot, gourmet pizza on the way from Cannova's Pizzeria! Indulge in a specialty pie, or make your own, beginning with classic, gluten-free or cauliflower crust! Sip on fresh coffee from Trolley Depot Coffee (order online!), while you stroll down to Big Bill's Sandwich and Coffee Bar for breakfast. Fueled up for the day, let the shopping begin! Discover the latest in fashion at Lulu's, Editrix Row, The Cotton Club, and Simply Elegant Boutique. Freshen up your home, with something from Vignette's, At Home in Galena, Isabella's Ltd., and Towne Rebel.
Grab a grilled cheese on-the-go from Galena River Wine and Cheese. Fit for a connoisseur, choose from a variety of decadent cheeses from all over the world. Stock up on award-winning wines while your sandwich is being carefully crafted. Have a seat right outside the doors, or take a short walk to Grant Park for outdoor dining with a view. Head back to your vacation rental for wine and relaxation before picking up Little Tokyo to-go. After dinner, stroll down to Noty Kity to shop lip balms, body lotions, lingerie, massage oils, and more!
Rise and shine with pastries and coffee from Kaladi's .925. Before hitting the road, head to the Scent Workshop to create your own custom perfumes and candles, then discover a new look at Celebrity Hats and Union Leather. Hit-the-road with a photo-op-stop at the Stockton murals and a road-treat from Sweet Alice's.
Everyone loves a good story, and here, one good story leads to another. We've never been like anywhere else, because we may be old, but we're never the same old thing. Mask-up and social distance in Galena Country! For further information on safety guidelines regarding COVID-19 and travel please click here.