Our intern, Ally explored the Galena River Trail and beyond! Here is a recount of her adventure… 
Raise your heart rate, get a good work out and find mental serenity in Mother Nature. What better way to distract yourself from your own heavy breathing and running fatigue than the scenic trails and country roads found in Galena Country? The Galena River Trail is located just steps away from the hustle and bustle of Galena's Helluva Half Mile. Tucked away in the woods lining the Galena River, this serene 8-mile trail is the perfect place to reconnect with nature. It's mostly flat terrain, which makes cycling and running a breeze. In fact, running seems less horrific when you get to experience one of the best views of Galena. As I explored the trail, the diversity of scenery and people with dogs, bikes and grand kids who passed me was fascinating. With two knee surgeries and my personal preference, this trail is especially perfect for me because it is flat. No hills or inclines, just a nice, relaxing path to get those steps in. As I walked, calmness came over me. There are spots on the trail with great views of the river but also with stretches of lush greenery and timber. For runners who might need a quick break or breather, there are benches perfectly located throughout the trail. Each bench is surrounded by a unique collection of colorful plants. I didn't make it to the end of the trail but I plan to ride my bike to the end next time. The trail follows the Galena River all the way to the backwaters of the Mighty Mississippi. Lush marshland plants and river species of all sorts call this beautiful landscape home and the trail continues to the bottom of Chestnut Mountain Resort. From there, I plan on riding the ski lift to the top of the "mountain" to enjoy a light meal and drink at Sunset Grille. From the top, I'll also be able to take in the view of the Mississippi, with sights of Iowa and Wisconsin in the distance. The best part about taking the lift is that I can load my bike and ride up to the top for free. Another unique feature about the Galena River Trail is the landing and boat launch. With picnic tables, it's the perfect spot for a quick lunch with a view of the Galena River and downtown Galena. Not a runner? Anyone can use the landing for kayaks, canoes, paddle boats and as a great fishing adventure launch. Speaking of Chestnut, they've got some great wooded trails worth exploring. With more than 143 acres, their grounds are perfect for family hikes, solo runs or endurance mountain biking and hiking. I decided to check out the trail by foot and stayed close to the main lodge. The front desk was helpful in providing guidance on which trails led where, so I chose the Yellow Trail Loop. It starts in the woods and ends at North Grandview Pointe. More on that in a minute. As I began my hike, I heard what sounded like machines. A few seconds later, a group of Segways zipped by. They all seemed to be having a lot of fun and it was definitely something I wasn't expecting to see. I learned later that Chestnut offers guided Segway tours. How cool! After the group was out of sight, it was just me and my thoughts. I couldn't believe how the trails reminded me of paths I have hiked in upper Michigan and Wisconsin. The thick canopy of trees was just what I needed but the best was yet to come. As I approached the end of my trail, I noticed the beginning of one of the best views I have ever laid my eyes on. I'm talking about the panoramic view of the Mississippi River that was waiting for me. My trail ended in an open, grassy knoll overlooking the river valley. I don't know if it was the sheer surprise or the timing of the sun beginning to set but I suddenly found myself breathless, completely lost in the moment. It was an experience I will never forget and one I hope you can find on your own journey to Chestnut Mountain Resort.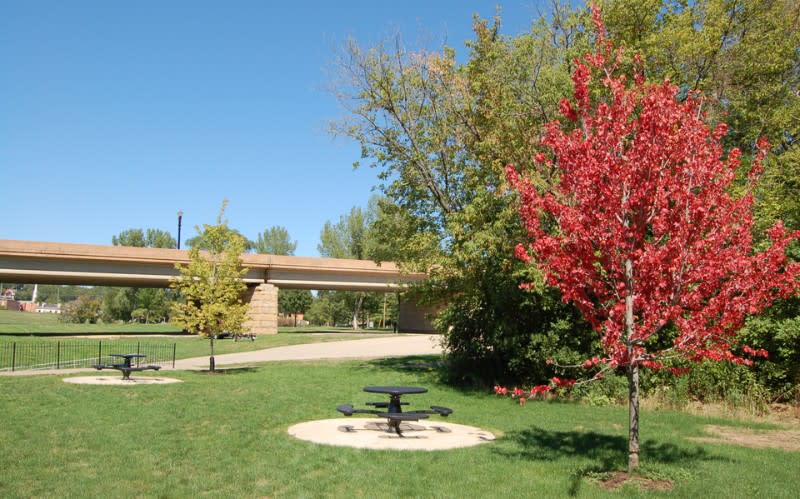 Galena River Trail Picnic Area For those more interested in road running, I have a few suggestions. After my hike at Chestnut, I drove the more scenic route home, exploring the country roads between Galena and Hanover. It was filled with scenes straight out of a movie with everything from immaculate horse ranches to classic red barns and historic cemeteries to old farmhouses. The winding back roads of Galena Country are well worth exploring with a long run or bike ride.
Irish Hollow Road will lead you by babbling brooks, hidden train tunnels and limestone cottages covered in vines. It's a setting pulled straight out of a Thomas Kinkade painting.
Pilot Knob Road winds by endless fields of prairie grass and climbs up and down bluffs on its way to Casper Bluff Land & Water Reserve.
Devil's Ladder Road has a few tight curves with limited vision for vehicles but if you're a runner up for a challenge, it warrants some of the best views of Galena Country farmland you'll ever see.
For even more road running ideas, check out the Galena Geo-tag on Map My Run. Those who have conquered the trail by foot, a post-run recovery and one of the spas in Galena Country is an option. A relaxing massage is a great way to reward oneself for hard work and effectively treat sore muscles to prevent injuries.