Finding Gluten-free (GF) and vegan (V) dining options in Galena Country is easy! Let us prove it to you with this drool-worthy list of establishments that will supply options for your dietary requirements.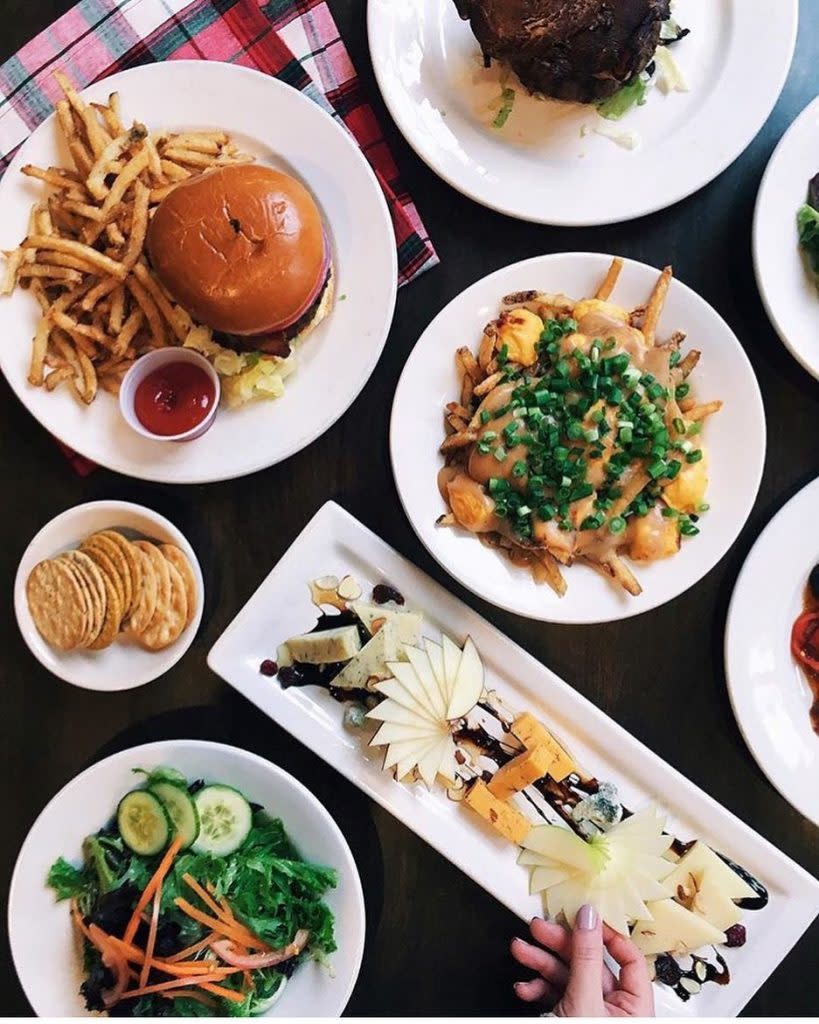 Credit: One Eleven Main
Big Bill's Sandwich and Coffee Shop,Galena GF+V This full-service coffee bar is in the Historic Logan House building and offers gluten-free bread options so that you can enjoy their yummy sandwiches! Try the vegan hummus sandwich and vegan almond milk latte.
Cajun Jack's Bar & Grill, Elizabeth GF Enjoy gluten-free options such as their Rib-Eye Dinner, Tacos or Baked Fish in a unique dining atmosphere. Be sure to snap a selfie with the shark hanging out front!
Cannova's Pizzeria, Galena GF This cozy Italian restaurant serves delicious gluten-free pizza options! Nothing like a great wine to go with your pizza… there is a good selection!
Culvers, Galena GF+V Who doesn't love fast food? Culver's offers gluten-free buns, soup, shakes, and sides! There are also a few vegan sides that can make up a meal.
Durty Gurt's Burger Joynt, Galena GF+V You'll love the décor in this fun restaurant! The burgers are just as exciting! Gluten-free buns are available and vegan veggie burgers (yup, no eggs or dairy) – remember to hold the cheese and mayo!
Elle & Becks, Galena GF+V This is a unique lifestyle boutique where you can shop for the latest in fashion, accessories, and homewares as well as get your gelato and coffee fix! Vegans can enjoy dairy free, dark chocolate gelato and milk alternative lattes!
Embe, Galena GF A cozy spot situated on Main Street! They serve the best gluten-free cream of mushroom soup with artichokes and sun-dried tomatoes!
E-Town Coffee Co., Elizabeth GF Enjoy an assortment of tasty sandwiches for lunch substituting with gluten-free bread. Browse local art on display and buy a bottle of wine while you're there.
Fried Green Tomatoes, Galena GF+V A wide variety of gluten-free and vegan options are listed on the menu at this restaurant, as well as great award-winning wines.
Fritz and Frites, Galena GF European-style bistro serving French and German classics for lunch, dinner and Sunday brunch.
Galena Brewing Company, Galena GF Nothing fried and nothing grilled in this brewpub. They are famous for their baked chicken wings and guess what… they're gluten-free! Wash them down with a New Grist gluten-free beer.
Galena Juicery & Meal Prep, Galena GF+V+DF Looking for Delicious gluten-free or vegan smoothie? This is the place to be! Locally sourced whole fruits and vegetables, as well as super greens that are grown on site,  are the main ingredients!
Generals' Restaurant at the DeSoto House Hotel, Galena GF Dine in the oldest operating hotel in Illinois! Their menu features many house-made specialties as well as hand-cut steaks and seafood with gluten-free options. Try their delicious gluten-free desserts!
Gobbie's Sports Pub & Eatery, Galena GF+V Featuring an outdoor patio, plenty of TVs to catch the game, live entertainment and Karaoke! A favorite for vegans is the Mediterranean wrap with no cheese and Italian dressing!
Goldmoor Inn, Galena GF+Dairy Free Enjoy the elegance and refinement of fine dining overlooking views of the Mississippi River. They offer a dedicated gluten-free and dairy-free menu with outstanding options. Delicious meals such as GF& DF wild caught 1/3lb prawns and cold-water Baby Maine Lobster Tail or GF Cured and grill Pork Belly are available.
Green Street Tavern & Restaurant at DeSoto House Hotel, Galena GF Serving anything from hand-cut steaks to seafood to sandwiches, this restaurant features an outdoor patio and a great dedicated gluten-free menu. All of this, within the oldest operating hotel in Illinois.
Frank O' Dowd's Irish Pub & Grill, Galena V serves Vegan Sheperd's Pie consisting of braised plant based faux beef in mushroom gravy accompanied with onion, carrots and peas topped with vegan mashed potato. Another Vegan dish is far-fresh butternut squash, vegan farro and vegetables, marinated tomato relish and picked red cabbage.
Little Tokyo, Galena V Some great vegan options at this Japanese restaurant include avocado sushi rolls, sweet potato, and veggie rolls, pineapple fried rice sans egg and add tofu, vegetable tempura, and miso soup.
Market House Restaurant, Galena GF+V A family-run restaurant serving homemade food! Enjoy one of their yummy sandwiches on gluten-free bread or indulge in a vegan Portabello sandwich or vegan impossible burger!
Otto's Place, Galena GF+V Situated opposite the Old Train Depot alongside the train tracks, this restaurant boasts beautiful views of downtown Galena. Otto's offers gluten-free bread for any of their sandwiches and for vegans, they have veggie burgers!
Silver Spoon Restaurant, East Dubuque GF Located on the beautiful Mississippi River backwaters, this restaurant serves elevated comfort food and provide gluten-free options.
Small Town Saloon, Elizabeth V Featuring an outdoor deck, this restaurant offers a farm-to-table menu including Impossible Burgers… mmmm… yum!
Subway, Galena GF+V Just want a quick take-out? Subway offers gluten-free buns as well as wraps. They have vegan options too. Quick and tasty!
Thriving Thistle Market, Apple River GF+V This gourmet gas station is located on the historic Stagecoach Trail. Examples of options they have include delicious gluten-free banana pancakes and vegan blended smoothies with almond milk!
Vinny Vannucchi's, Galena GF Serving classic Italian dishes, this family-owned restaurant offers a gluten-free menu full of variety. Being gluten-free doesn't mean that you need to go without pasta when it comes to this restaurant!
Victory Café, Galena GF+V This is a great spot for breakfast and you don't have to go without toast – you can enjoy your egg on delicious gluten-free toast. A vegan option would include good old-fashioned oatmeal with fruit and brown sugar, served with hash browns and coffee.
Woodstone Restaurant at Eagle Ridge Resort, Galena GF Boasting beautiful views of the tri-state region and of the General golf course, here you can enjoy gluten-free, wood-fired pizzas and a variety of gluten-free entrées.
Please Note: If you have celiac disease, or are severely gluten intolerant, we recommend calling ahead to see what practices the restaurants have in place in their kitchens to avoid contamination.
A lot of the accommodation establishments in Galena Country offer gluten-free and vegan options at breakfast time! Stay tuned for an upcoming blog that highlights these options.