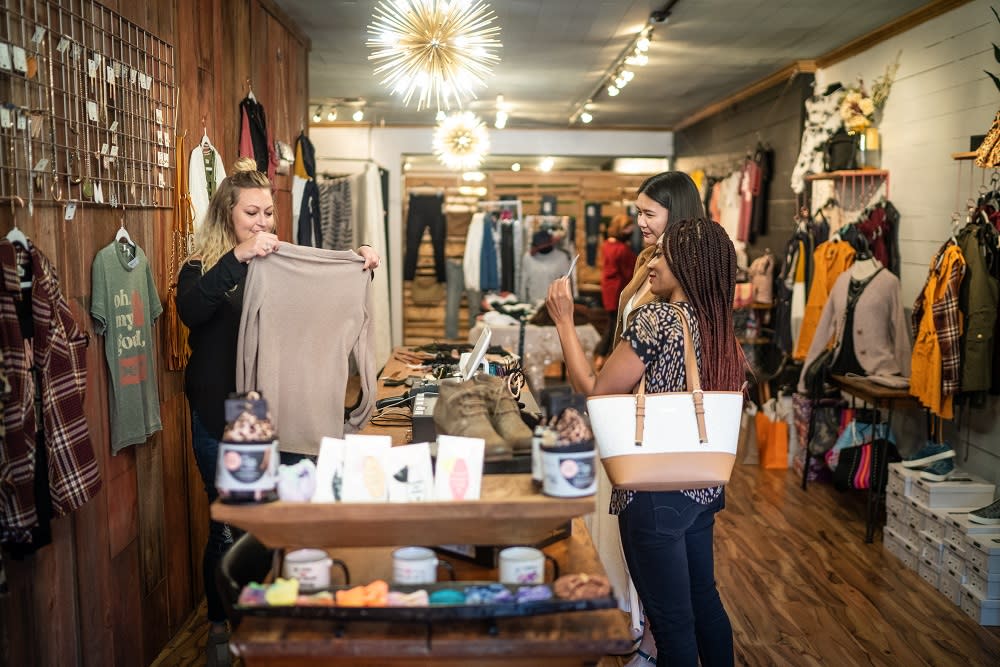 Galena is a small town that packs a big punch. Whether you're a foodie, a couple looking for a romantic escape, an art enthusiast or even a ghost hunter, there's no time like the present to follow your passions in Galena.
Time to Eat
Come hungry (and thirsty!) because you'll be spoiled for choice thanks to all the restaurants in Galena. Its proximity to local Midwest farms and its downhome yet cosmopolitan vibe make it the perfect place for foodies.For that small-town welcome, stop into Small Towne Saloon in Elizabeth. The cozy, wood-paneled restaurant offers one of the best burgers in the state, a farm-to-table menu and a fully stocked bar.
You'll feel like you've turned back the clock on Galena's charming Main Street, which is full of dining options for every palate. Situated in a historic building, Fried Green Tomatoes steakhouse originally housed a leather shop where Galena's famous son, Ulysses S. Grant, worked. Down the block, Klein's Market Bakery offers up fresh bread, cookies and cinnamon rolls. Who could resist?
Any true foodie can't leave town without popping into some of Main Street's gourmet food shops like Galena Garlic, Pasta Perfetta and the Great American Popcorn Co. Bring home some tasty delicacies (if you can resist snacking in the car!) so you can keep enjoying a taste of Galena long after you're gone. After all that delicious food, treat yourself to some homemade goodies! Candy, chocolate, cupcakes, oh my! Sweet Alice's, in Stockton, has everything to satisfy your sweet tooth.
Time for Romance
Any time is the right time for an enchanting weekend with your sweetheart. Galena is the perfect place for that romantic rendezvous - just for the two of you. For a dreamy stay, hide away at the super-romantic Inn at Irish Hollow, a country resort with luxury cottages on a 500-acre working farm in the Galena countryside. Take advantage of the full gourmet breakfast, enjoy massage treatments and, at the end of the day, sink into your cloud-like organic bed.
What's a romantic getaway without some pampering? Take time for yourselves at one of the many spas (Galena Day Spa, Indulge Day Spa and Stone Drift Spa at Eagle Ridge, to name a few) for full-service,deluxe body treatments. Plus, many accommodations will help you arrange spa services right in your room. There's no better way to take a piece of Galena Country home with you than in a bottle of wine. While the budding wine region has many options to choose from, the views from Fergedaboudit Vineyard will leave you with memories that will last for years to come.
Time for the Arts
For years, artists have been inspired by Galena's beauty. Wander through the many art galleries and discover one-of-a-kind pieces created by local artists and artisans. Start your arts tour at the Galena Center for the Arts. The Center has galleries highlighting regional artists, rental studios, regular music and theatrical performances, plus historical photos of Galena and Jo Daviess County. Galena's Main Street is chock-a-block with independent boutiques and galleries. At Pinder Pottery you can pick out a piece of hand-thrown stoneware crafted right here in Galena.
Ride over to Elizabeth and visit acclaimed Eshelman Pottery, which offers contemporary stoneware. Featured in art shows across America, each piece—from cups to plates to serving dishes—is inspired by the vision of bringing everyone together around the table. Hightail it to Stockton to see its unexpected, colorful murals. Located along U.S. Route 20 in eastern Jo Daviess County, Stockton has one of the most beautiful main streets, with some buildings now lovingly adorned with large-scale paintings. The Welcome to Stockton mural makes that picture-perfect selfie photo op.
A great way to take in all the arts is to do the self guided 113-mile Scenic Art Loop. Meet various photographers,painters, jewelry designers, musicians and wood carvers in their studios while also making time to visit nearby wineries, craft breweries and restaurants.Real shutterbugs can join a bespoke photography workshop with Joint Photography Adventures. From beginner to expert, any photographer is welcome and will come away with incredible images and new skills.
Have a Ghostly Time
When it comes to ghosts, Galena is notorious for tales of spirits who haunt old buildings and roam the countryside looking for that eternal rest. Whether you believe in ghosts or not, join the fun with some of these spooky tours. Every Saturday, bootlegger" Ted Williams takes you into three allegedly haunted Galena establishments during the Spirits and Spirits Tour with the Haunted Galena Tour Company. Learn about the ghosts who haunt these buildings and a bit about the area's dark history while enjoying some real happy hour "spirits."
On Matthew's Haunted Pub Crawl, one of Galena's best storytellers guides you to different haunted pubs in and around Galena. He might even let you use his special "ghost equipment" to interact with spirits. Hop on a bus for the Ghost Tour with Amelia. Learn about the "Lady in Black" who roams the basement of the DeSoto House Hotel and the spirits who dwell at Galena Cellars One Eleven Main, a funeral home-turned-tasting-room. For those who want to balance history with the hereafter, All About A Ghost Tour may be more up your alley.
For more frightful fun, you can explore haunted Galena on your own. If dead bodies don't scare you, wander through Greenwood Cemetery. It's the final resting place of many Civil War veterans along with some staff from President Grant's administration. When the witching hour comes, join a psychic evening with Chris McBrien. McBrien gets in touch with those on the "other side" at his Victorian parlor on Main St.
Written by Lisa Lubin for Galena Country Tourism
Galena Country transports people to another time and place to enjoy one-of-a-kind experiences and adventures. Some historic, some timeless and some brand-new, but always original. Start planning a trip today by browsing the latest Galena Country Visitors Guide and be sure to book your accommodation early!