Let's talk about Dad! We love him more than he knows and, every year on Father's Day, we shower him with gifts and adoration. Traditionally, it's socks, ties, and tools that make Dad smile. It's time for new traditions… break free from the expected and surprise Dad with the gift of Galena Country!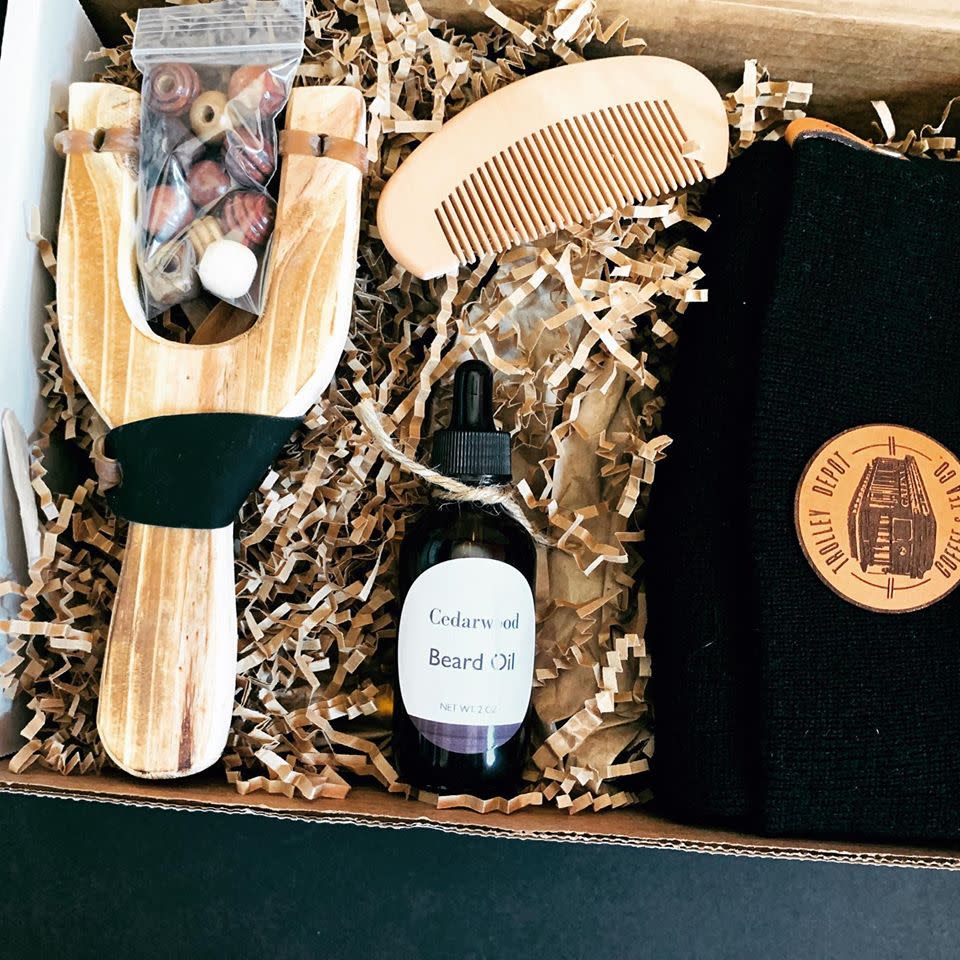 Credit: @trolleydepotcoffee Galena Country not only offers one-of-a-kind gifts to purchase for Dad but also experiences that you can enjoy together and create special memories. From kayaking  and golfing to the plethora of gift shops along Galena's Main Street, you'll be able to give Dad nothing less than the best to thank him for all he has done.
Float among the clouds
Is a hot air balloon ride on his bucket list? Galena On The Fly will take care of that! Liftoff in one of the largest hot air balloons in the country. Drift above the rolling landscapes of Galena Country while taking in views of Illinois, Iowa, and Wisconsin from your 3,000-foot high perch.
Pedal it out   
Little too high for Dad? Okay… what about renting a couple of bikes from  Fever River Outfitters  or Nuts Outdoors and cycle along the beautiful Galena River Trail just steps away from downtown Galena? It features towering bluffs and beautiful views of the river. If you complete the 8.8-mile stretch, you will reach stunning views of the Mississippi River at the foot of Chestnut Mountain Resort.
Reel in memories 
Nothing beats a good bonding session while fishing! Fine-tune your fishing skills with a guided fly fishing experience with Galena Fly Fishing Outfitters or spend the day picnicking and fishing at Apple River Canyon State Park. If Dad just wants to float down the river and have you listen to "when I was your age" stories… grab some kayak's from Fever River Outfitters  or Nuts Outdoors and get a-floatin' down the serene Galena River.
Shop for Fan Gear
What's his favorite team? Whether it's the lovable losers, winners, or that team only Dad cheers for… the gear to get can be found on Galena's Main Street. Check out  Country Crafts & Sports  for sports memorabilia, and Fan Zone for licensed jerseys, shirts, and limited edition team hats. Another great option is For Bare Feet, which offers the largest selection of licensed sports socks made in the USA. Yes, we know… we told you to steer away from the usual socks and ties, but trust us, he will totally rock these team socks! While you're at it, keep Dad up-to-date on the freshest apparel trends with multiple clothing stores and boutiques found on Galena's Main Street, such as The Cotton Club, Galena Tees, and The Neighborhood Co.
Cigars and Coffee
Cigars have been linked to celebrations, forming bonds, or just kicking back and relaxing for over a thousand years. It sounds like a good way to celebrate Dad's special day. Find premium hand made cigars at Nine Generals Cigar Company as well as a selection of men's grooming accouterments and barware! If Dad is a coffee lover, he's in for a treat! Spoil him with a gift box from Trolley Depot Coffee & Tea Co. or signature blend locally roasted coffee from Galena Roasters, Bill Bill's Coffee, or Mean Bean Roasters.
Golf Par Excellence
Challenge Dad to a round of golf at one of Galena Country's scenic Golf Courses or enjoy the Drive 20 Golf Trail! Can you believe there are ten courses to choose from in Galena Country? Remember to let him win and then celebrate his winnings with a glass of wine from one of the area's four award-winning wineries when you get home!
Reconnect with nature 
There's no better way to relax Dad than to get him outdoors and surrounded him with nature! Take him birding at the Valley of Eden Bird Sanctuary in Stockton, featuring more than 100 bird species and 6.6 miles of mowed trails on 409 acres. Notable Illinois species of conservation concern include the Henslow's sparrow, bobolink, red-headed woodpecker, and northern harrier. Explore the many other parks and trails throughout Galena Country too.
Brews and Burgers
Once you've worked up an appetite, grab a burger served with hand-cut fries from Durty Gurt's Burger Joynt before heading to Galena Brewing Co. for a growler filled with Dad's favorite brew to enjoy at home. In the mood for pizza instead? Stop at Wally's Pizza in Warren which is conveniently located next door to Pecatonica Beer Company Tap House. If he's more of a spirits kinda guy, treat him to some fine whiskey from Blaum Bros. Distilling Company. Click here for more dining options.
We know the importance of taking the time for the things that matter most, whatever you choose to do for Dad in Galena Country, you will make it a memorable Father's Day!